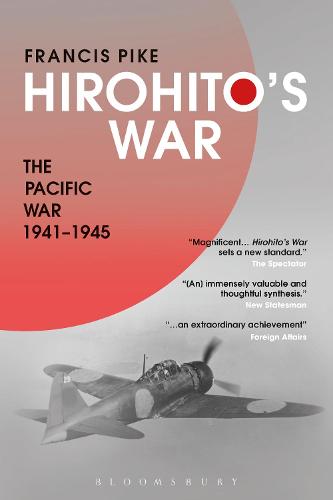 Hirohito's War: The Pacific War, 1941-1945 (Paperback)
Dr Francis Pike
(author)
Paperback
1208

Pages / Published: 08/09/2016
We can order this from the publisher
Named one of Foreign Affairs' Best Books of 2016 In his magisterial 1,208 page narrative of the Pacific War, Francis Pike's Hirohito's War offers an original interpretation, balancing the existing Western-centric view with attention to the Japanese perspective on the conflict. As well as giving a 'blow-by-blow' account of campaigns and battles, Francis Pike offers many challenges to the standard interpretations with regards to the causes of the war; Emperor Hirohito's war guilt; the inevitability of US Victory; the abilities of General MacArthur and Admiral Yamamoto; the role of China, Great Britain and Australia; military and naval technology; and the need for the fire-bombing of Japan and the eventual use of the atom bomb on Hiroshima and Nagasaki. Hirohito's War is accompanied by additional online resources, including more details on logistics, economics, POWs, submarines and kamikaze, as well as a 1930-1945 timeline and over 200 maps.
Publisher: Bloomsbury Publishing PLC
ISBN: 9781472596710
Number of pages: 1208
Weight: 1768 g
Dimensions: 234 x 156 x 61 mm
---
MEDIA REVIEWS
Magnificent ... Hirohito's War by Francis Pike sets a new standard: oceanic in scope, comprehensive in detail, subtle in dissection, magisterial in organisation and consistently readable. * The Spectator *
Francis Pike's monumental new book, a thoughtful and detailed synthesis of the English-language secondary scholarship on the war, is a welcome addition to the work on the period ... [A]n immensely valuable and thoughtful synthesis. * New Statesman *
Pike's book is an extraordinary achievement; it is as definitive as any single volume history of the Pacific War can be. As the title suggests, Pike does not let Japanese Emperor Hirohito off the hook for the battles fought in his name. Pike sets the fighting firmly in the context of the regional tensions that had been developing for some time before any combat took place, not least as a result of the Japanese invasion of China in 1937. The book covers all the major campaigns and battles of the war, from Pearl Harbor to Hiroshima, but also pays close attention to often overlooked topics, such as the Burma Campaign (which pitted the British and the Chinese against Indian, Japanese, and Thai forces) and the Chinese resistance to Japan. Pike's analysis is careful but never dry, and he pens lively portraits of his main characters. * Foreign Affairs *
Pike's study of the Pacific War is the most comprehensive and readable account of this epic conflict to date. Unlike most previous historical examinations, which concentrate on only one or two dimensions, Pike devotes equal time to the war in China and the Burma-India Theater as well as MacArthur's southwestern Pacific campaign and King/Nimitz island hopping in the central Pacific. Pike does not evade controversial topics and is highly judgmental of war leaders on all sides. He sees Douglas MacArthur as a prima donna more concerned with his own image than with winning the war. Even worse, according to Pike the narcissism of General Joseph Stilwell was largely responsible for the eventual triumph of communism in China...[T]his is an excellent overview of the Pacific War that should be in all public and university libraries ... Summing Up: Highly recommended. All levels/libraries. * CHOICE *
Pike offers a spectrum of fresh perspectives on a war generally presented in Western terms that minimize Japan's agency. He addresses the Pacific conflicts in WWII in the context of a comprehensive century-long struggle for dominance over the Pacific. Within that framework, Pike establishes Hirohito's central position in 'the mythology of Japanese exceptionalism.' ... Pike's integrated analysis of Japan's simultaneous victories in Malaya, Burma, Philippines, and Dutch East Indies presents them as a virtuoso performance unsurpassed in modern warfare. Yet these victories resulted in a strategic overreach, due to Japan's belief that quick victories would be followed by rapid settlement ... Pike tells the epic story on a fitting scale. * Publishers Weekly *
In Hirohito's War, Francis Pike surveys the secondary literature on the Pacific War ... offer[ing] a refreshingly non-US perspective ... [The book] contains important insights. * Times Literary Supplement *
This momentous occurrence is covered in extraordinary detail in Francis Pike's new book Hirohito's War: The Pacific War, 1941-1945. ... This volume appears intended to be the definitive work on the Pacific war and succeeds in being just that. * WWII History Magazine *
[Pike] has spared no effort in creating what is likely to stand as the definitive reference book for students of the Pacific War. The book contains a wealth of detail on subjects such as logistics, the economic situation of the chief belligerent powers, submarine warfare, and the dreaded kamikazes. * Military History Monthly *
Drawing on the most up-to-date scholarship as well as a broad range of first person accounts, Francis Pike offers readers a comprehensive, vivid, and fast paced history of Hirohito's War from the frontiers of India to the plains of Manchuria, and across the trackless stretches of the Pacific. Pike is equally at home in discussing high politics, strategy, and tactical maneuver. His attention to the logistical requirements of war fought on such a vast scale is especially welcome as is his unflinching discussion of the major historical and moral debates that emerged from the conflict. -- Marc Gallicchio, Professor of History, Villanova University, USA
Francis Pike, drawing on a wide array of English-language sources, has written an encyclopedic book about Japan's World War II and its enemies' response. He gives many pages to the most important battles of the war, and also describes some that have not been widely discussed before. I particularly recommend his sections on General Tomoyuki Yamashita's campaign to seize Singapore in 1941-42, and on Field Marshal William Slim's efforts to retake Burma in 1944-45. I also enjoyed his verbal snapshots of Japanese, Chinese, British, and American commanders in the war. He not only paints portraits of the most famous commanders such as Douglas MacArthur and William Halsey, but also of some of the lesser known ones such as William Slim and Raymond Spruance. This is not a book to take down in one gulp; the reader benefits by absorbing it bit by bit, a few hundred pages at a time. -- Richard Smethurst, University of Pittsburgh, USA
In Hirohito's War, The Pacific War 1941 - 1945, Francis Pike has produced a detailed, meticulously researched, highly readable synthesis of the Second World War in East Asia and the Pacific. Always fully in command of his sources, Pike has skillfully woven a vast amount of information into a lucid, coherent narrative. The introductory chapters, which trace the long and short term causes of the war, provide a useful historical background to readers unfamiliar with East Asian history. In the remaining chapters, Pike naturally gives most space to the epic struggle between the United States and Japan, but he also devotes much attention to the Chinese contribution to the war effort, usually neglected or ignored completely in the standard accounts of the conflict. While providing a blow-by-blow account of military operations, Pike also analyzes the quality of military leadership in refreshingly iconoclastic fashion. Thus he lambastes the monumental incompetence of British generals in Malaya and Singapore, is harshly but justifiably critical of idols such as General MacArthur, Admiral Halsey and Admiral Yamamoto, but pays homage to the brilliance and daring of generals such as Yamashita Tomoyuki, the Tiger of Malaya and William Slim. Pike's book can be read from cover to cover as narrative history but will also be valuable as a reference work. In either case, it will be indispensable for every serious student of military and East Asian history as well as the general reader. -- Christopher W. A. Szpilman, Professor of Modern Japanese History and International Relations, Kyushu Sangyo University, Japan
Francis Pike's Hirohito's War, The Pacific War, 1941-1945 is a major scholarly work and accomplishes a great many things to advance an understanding of the massive war between Japan and the United States. In fact, through the depth, breadth, and scope of research, factual conclusions, and stories, the work tries to be everything to everyone. The strengths of the work come screaming forward to a reader by effectively conveying an understanding of how and why Japanese leaders decided to go forward with a seemingly illogical decision to fight the industrial juggernaut of the United States. The portrayals of the tactical challenges faced by individual combatants on both sides are worthy of reading and filled with eye-opening capabilities that will satisfy the most demanding 'technocrat.' -- David C. Fuquea, U.S. Naval War College, USA
You may also be interested in...
×
Download the Waterstones App
Would you like to proceed to the App store to download the Waterstones App?
Reserve online, pay on collection


Thank you for your reservation
Your order is now being processed and we have sent a confirmation email to you at
When will my order be ready to collect?
Following the initial email, you will be contacted by the shop to confirm that your item is available for collection.
Call us on or send us an email at
Unfortunately there has been a problem with your order
Please try again or alternatively you can contact your chosen shop on or send us an email at