We regret that due to the technical limitations of our site, we are unable to offer eBooks or Audio Downloads to customers outside of the UK.
For further details please read our eBooks help.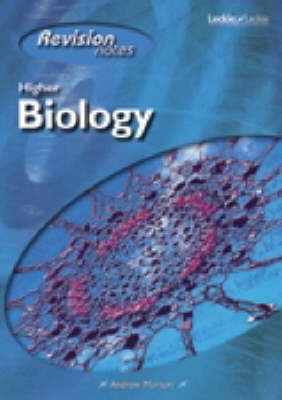 This title is designed to provide an overview of the whole of the Higher Biology National Qualification and deliver a focused course approach to compound student knowledge and understanding of key processes and functions. Comprehensive notes in this handy slim-line edition cover Cell Biology, Genetics, Evolution and Adaptation and Control and Regulation in three distinct units. Extensive diagrams and accessible, clearly presented explanations support student understanding and help students in the revision process to feel confident of their subject knowledge. Introduction Unit 1: Cell biology * Cell structure and function * Cell variety * Cell membranes * Absorption and secretion of materials * Photosynthesis * Chloroplasts and photosynthesis * Adenosine triphosphate (ATP) * Respiration * The variety and function of proteins * DNA structure and replication * Protein synthesis * Cell defence and the nature of viruses * Rejection of tissue transplants * Cellular defence in plants Unit 2: Genetics, evolution and adaptation Genetics * Variation and meiosis * Monohybrid inheritance * Dihybrid inheritance * Sex linkage * Mutation * Polyploidy Evolution * Natural selection and speciation * High speed evolution * Conservation of species * Artificial selection * Genetic engineering Adaptation * Maintaining a water balance - animals * Maintaining a water balance - plants * Obtaining food - animals * Obtaining food - plants * Coping with danger - animals * Coping with danger - plants Unit 3: Control and regulation * Growth and development * Growth patterns * Regeneration * Genetic control * Phenylketonuria * Hormone influences * Plant mineral requirements * The influence of diet on animal growth * Light and its effect on plants and animals * Physiological homeostasis * Population dynamics * Saving the environment * Succession Answers
Publisher: Leckie & Leckie
ISBN: 9781898890188
You may also be interested in...