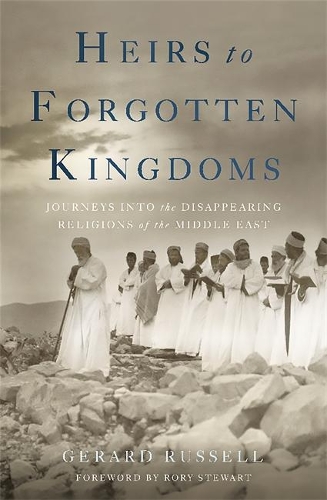 Heirs to Forgotten Kingdoms: Journeys Into the Disappearing Religions of the Middle East (Paperback)
Gerard Russell
(author)
Paperback
368

Pages
Published: 01/12/2015
Despite its reputation for religious intolerance, the Middle East has long sheltered many distinctive and strange faiths: one regards the Greek prophets as incarnations of God, another reveres Lucifer in the form of a peacock, and yet another believes that their followers are reincarnated beings who have existed in various forms for thousands of years. These religions represent the last vestiges of the magnificent civilizations in ancient history: Persia, Babylon, Egypt in the time of the Pharaohs. Their followers have learned how to survive foreign attacks and the perils of assimilation. But today, with the Middle East in turmoil, they face greater challenges than ever before. In Heirs to Forgotten Kingdoms , former diplomat Gerard Russell ventures to the distant, nearly impassable regions where these mysterious religions still cling to survival. He lives alongside the Mandaeans and Ezidis of Iraq, the Zoroastrians of Iran, the Copts of Egypt, and others. He learns their histories, participates in their rituals, and comes to understand the threats to their communities. Historically a tolerant faith, Islam has, since the early 20th century, witnessed the rise of militant, extremist sects. This development, along with the rippling effects of Western invasion, now pose existential threats to these minority faiths. And as more and more of their youth flee to the West in search of greater freedoms and job prospects, these religions face the dire possibility of extinction. Drawing on his extensive travels and archival research, Russell provides an essential record of the past, present, and perilous future of these remarkable religions.
Publisher: Basic Books
ISBN: 9780465049912
Number of pages: 368
Weight: 388 g
Dimensions: 211 x 142 x 34 mm
---
MEDIA REVIEWS
Wall Street Journal "It is difficult to imagine a more timely book than Gerard Russell's Heirs to Forgotten Kingdoms: Journeys Into the Disappearing Religions of the Middle East. Equal parts travelogue and history, Mr. Russell's meticulously researched book takes readers into some of the region's least-known minority communities: the Mandaeans of Iraq, the Copts of Egypt, the Zoroastrians, the Samaritans, and, yes, the Yazidis." New York Review of Books "[A] remarkable book... The great virtue of Russell's book is its courageous spirit of sympathy for an immense range of human experience... An urgently needed corrective in our age of deepening religious divisions." Financial Times "A fascinating survey of threatened and vanishing minority religions across the broader Middle East, written in an even tone sprinkled with wonder." New York Times Book Review By the Book "[A] highly topical study of Middle Eastern anomalies which is teaching me a lot, and should be read by all Western policy makers -- those who do read." Literary Review (UK) "Part vivid odyssey, part lucid history... Gerard Russell's timely and humane depiction of [these cultures] is a compelling read." Ali Asani, Professor of Indo-Muslim and Islamic Religion and Cultures, Director, Prince Alwaleed bin Talal Islamic Studies Program, Harvard University "An eloquent and sensitive portrayal of the Middle East's lesser known religions, whose existence is severely threatened by the strident nationalisms and proxy wars that are currently tearing apart a region once renowned for its tolerance. Gerard Russell gives a voice to those who cannot speak for themselves, those whose traditions--handed down through many centuries--are being disregarded and indeed obliterated in a blaze of violence and hatred. He lifts the 'veil of ignorance' and reveals just what is at stake--both in the Middle East and around the world. Through extensive and meticulous research, and encompassing years of travel to distant places to meet in person those whose lives have been turned upside down, Mr. Russell's passionate message touches the heart and reminds us of the value and beauty of tolerance." Tom Holland, author of In the Shadow of the Sword: The Battle for Global Empire and the End of the Ancient World "It is unbearably poignant that a book so learned and so beautifully written should have been written about the religious minorities of the Middle East just as many of them seem on the verge of extinction. Rarely have I read anything so timely." Carne Ross, former diplomat and founder of Independent Diplomat "Heirs to Forgotten Kingdoms has the beauty, wisdom, and tragedy of the best elegies. Gerard Russell's book is both timely and necessary, a scholarly and personal observation of religions that are the heritage of all mankind, yet are rapidly disappearing. It is part travelogue and part history of some of the original wellsprings of human culture, both ancient and modern, but also a meditation upon rites and beliefs that are mysterious and fascinating but grievously threatened. Heirs to Forgotten Kingdoms is essential reading for everyone who cares about the Middle East, religion, and indeed our common history." Peter Bergen, author of Manhunt: The Ten-Year Search for Bin Laden from 9/11 to Abbottabad "As the al-Qaeda splinter group, ISIS, storms across Syria and Iraq and attempts to destroy the Yazidi religious sect, now comes Gerard Russell, an erudite, polylingual former British diplomat, who documents the fates of the ancient religions of the Middle East, many of which are on the brink of extinction. Russell writes beautifully and reports deeply, and his account of these 'disappearing religions' will be an enduring anthropology of largely-hidden worlds that may disappear within our own lifetimes." Emma Sky, Senior Fellow at the Jackson Institute for Global Affairs, Yale University "Gerard Russell's beautifully written book provides wonderful insights into the Middle East and the beauty of the different cultures that have flourished there for centuries. It is a welcome respite from the usual portrayal of violence in the region, and at the same time a wake-up call of what will be lost if a perverse form of violent extremism is allowed to prevail. At a time when religion is so often seen as a cause of war, this book shows how lives can be enriched by maintaining rituals and beliefs through generations." James Traub, columnist for foreignpolicy.com "Gerard Russell has written a wonderfully beguiling Baedaker to the vastness of the Middle East, where ancient religions have survived like the remnants of an all-but-extinct species. At a time when the region is boiling with sectarian violence, Russell reminds us that the Arab world, and Islam itself, has given shelter to ancient faiths when Christian Europe would not. Heirs To Forgotten Kingdoms is a loving tribute to the ancient and the strange, to spliced genealogies, and to the heroic defense of heterodoxy in an increasingly intolerant world." Bookforum "A nation-hopping guidebook to the theology and customs of believers who can't fully inhabit the imaginations of many Western readers without a proper introduction... Engaging and informative... Russell introduces a cast of characters who, even when offering cagey responses to his earnest questions, humanize groups that news reports tend to treat as extras on the world stage." The National "Gerard Russell, a former British diplomat who has served throughout the region, is a worthy successor to the great British Arabists of the past, passionately interested in the area and its people... Heirs to Forgotten Kingdoms is informative, thought-provoking and timely. It provides fascinating insights into the mosaic of religious beliefs that can be found throughout the Middle East, and also into how that diversity emerged and survived. Eschewing discussion of modern politics, it presents a challenge, nevertheless, to those who bear the responsibility for how this diversity can be preserved in the years to come. All humanity will be the loser should it disappear." Shelf Awareness for Readers "An important and engaging book for anyone interested in the Middle East." Kirkus "Russell penetrates the secret workings of these religions tolerated throughout the ages by Christian or Islamic rulers, even pursuing his research to immigrant churches in Dearborn, Michigan. A pertinent work of history and journalism. As armies again march in the Middle East, these communities are at new risk." Ambassador Peter W. Galbraith, author of The End of Iraq "This beautifully written account of the Middle East's unknown and vanishing religions could not be more timely. Just as the world turns its attention to the extremist attacks on Iraq's Yazidis, Gerard Russell tells us who they are. Russell's book--based on his travels among the Yazidis, Mandaeans (followers of John the Baptist), Zoroastrians, Samaritans, Copts, and Druze--is the story of people and faiths that have links back to the dawn of civilization. It is travel writing in the tradition of Rebecca West and Robert Kaplan, but possibly better." Publishers Weekly, starred review "[A] fascinating account of minority religions in Middle East... By tying modern practice to historical context, Russell provides a valuable briefing on the ancient and medieval history of the region. He also muses on the immediate future of each community, particularly with respect to political instability and immigration, and his cheerfully personal tone makes all this information lively. This important and enjoyable glimpse into little-considered religious dynamics of the Middle East deserves to be widely read and distributed." Booklist "Russell, a former British and UN diplomat who lived in the Middle East for 15 years, proves an excellent tour guide as he introduces the remnants of these near-extinct groups...a fascinating read, especially when it becomes clear that, with a few twists of history, some of these religions would have been at the top, not the bottom." Library Journal "A fascinating and gracefully written study of minority religions, recommended for its appreciate of cultural richness and variety."
You may also be interested in...
×
Download the Waterstones App
Would you like to proceed to the App store to download the Waterstones App?
Reserve online, pay on collection


Thank you for your reservation
Your order is now being processed and we have sent a confirmation email to you at
When will my order be ready to collect?
Following the initial email, you will be contacted by the shop to confirm that your item is available for collection.
Call us on or send us an email at
Unfortunately there has been a problem with your order
Please try again or alternatively you can contact your chosen shop on or send us an email at