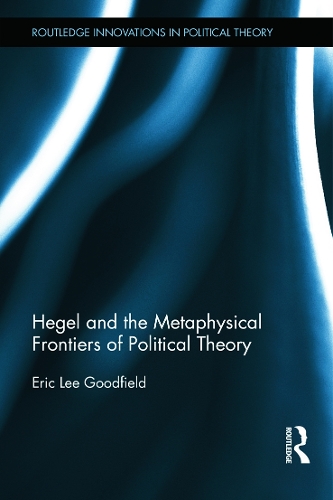 Hegel and the Metaphysical Frontiers of Political Theory - Routledge Innovations in Political Theory (Hardback)
Eric Lee Goodfield
(author)
Hardback
256

Pages / Published: 25/06/2014
For over one hundred and fifty years G.W.F. Hegel's ghost has haunted theoretical understanding and practice. His opponents first, and later his defenders, have equally defined their programs against and with his. In this way Hegel's political thought has both situated and displaced modern political theorizing.
This book takes the reception of Hegel's political thought as a lens through which contemporary methodological and ideological prerogatives are exposed. It traces the nineteenth century origins of the positivist revolt against Hegel's legacy forward to political science's turn away from philosophical tradition in the twentieth century. The book critically reviews the subsequent revisionist trend that has eliminated his metaphysics from contemporary considerations of his political thought. It then moves to re-evaluate their relation and defend their inseparability in his major work on politics: the Philosophy of Right. Against this background, the book concludes with an argument for the inherent metaphysical dimension of political theorizing itself. Goodfield takes Hegel's reception, representation, as well as rejection in Anglo-American scholarship as a mirror in which its metaphysical presuppositions of the political are exceptionally well reflected. It is through such reflection, he argues, that we may begin to come to terms with them.
This book will be of great interest to students, scholars, and readers of political theory and philosophy, Hegel, metaphysics and the philosophy of the social sciences.
Publisher: Taylor & Francis Ltd
ISBN: 9780415698474
Number of pages: 256
Weight: 499 g
Dimensions: 235 x 159 x 18 mm
---
MEDIA REVIEWS
Eric Lee Goodfield's book is, in fact, two books in one. ...Both elements are strikingly well conceived and defended. Goodfield's Hegel here is freed from over a century of a scholarship aimed more at dismissing or domesticating him than in taking his most striking claims seriously. As such, it is among the most important works on Hegel and contemporary political theory in recent memory. ...Goodfield's Hegel stands as an immensely instructive reminder to engage the full scope of political theory with its attending metaphysics and not merely the parts that affirm our own prejudices. - David Lay Williams, DePaul University, USA
This splendid book embodies a welcome effort to do justice to the ambitious multi-dimensionality of Hegel's philosophy, particularly with respect to the inseparability of its metaphysical and political aspects. Eric Goodfield fruitfully places Hegel in the context of positivistic revolts against idealistic philosophy in general, and Hegel's philosophy in particular, in the nineteenth and the twentieth centuries. Among its excellences is its intelligent recuperation of a rich sense of political theory, by contrast with political science's more positivist inclination. It courageously and deftly takes issue with recent revisionist readings of Hegel in which the metaphysical dimensions have been expurgated. In helping restore a more genuine Hegel, Goodfield offers very thoughtful suggestions for the reassessment of contemporary political thought with an eye to a renewed engagement with the resources of the philosophical tradition. Very warmly recommended. - William Desmond, KU Leuven, Belgium, Villanova University, USA
This outstanding book does many things. The book begins by connecting the...nineteenth-century critique of Hegel to the emergence of...analytic philosophy. The rejection of Hegel's philosophy...is then in turn connected to the contemporary emergences of both a political science based on methodological positivism and a reading of Hegel...that separates his political philosophy from its logical and metaphysical antecedents... [It] offers a reading of Hegel's Encyclopaedia Logic as an attempt to resolve the ancient problem of universals...[and] provides an original account of Hegel's political philosophy [as a] `resolution to the problem of universals in political terms'... [Goodfield] concludes the book by arguing that...our [political] `responses to metaphysical problems are inescapably metaphysical'. Thus, it is only through a return to Hegel...that a war of position might be waged.... Goodfield's phenomenal book deserves to be read closely and taken seriously by philosophers and political scientists, as well as anyone interested in Hegel and his influence on contemporary philosophical discussion. - Matthew Smetona, Temple University, USA
In his engaging new book, Eric Goodfield argues persuasively for the significance of metaphysics to Hegel's political thought, and indeed to political thinking more generally. His reconsideration of the metaphysical basis of Hegel's position and the nature of political theory as a whole represents a significant development and contribution. His conclusions are timely and important, and will be of great interest to all those concerned with Hegel's work and with how modern political science and theory have developed, and should be developed in the future. - Robert Stern, University of Sheffield, UK
I recommend Goodfield's book as a valuable contribution to Hegel scholarship and an enlightening challenge for political theory, especially in the English speaking world. Goodfield is correct to advocate that Hegel is a systematic philosopher whose deepest and most compelling insights make use of a method and vocabulary which gets worked out in the Logic. Hegel scholars, least of all, should fear stepping out onto what Goodfield aptly calls the metaphysical frontiers of political thought. - Nathan Ross, Oklahoma City University, USA
"Goodfield explains that Hegel's metaphysics is defensible... [and] contends that Hegel's overall approach is neither wrongheaded nor idiosyncratic: political theory is, at some level, related to metaphysics, and theories that deny or fail to acknowledge this are subject to dogmatism and ideological blind spots. Anyone interested in these questions (scholars of either PR or the Logic, political theorists interested in the relationship between their work and theoretical philosophy, intellectual historians of the nineteenth and twentieth centuries) will find plenty worth considering in his careful study. ...anyone sympathetic to (or otherwise intrigued by) these claims will find them forcefully argued, and a good deal of careful work to draw on." - Todd Hedrick, Michigan State University, USA
I am delighted to see Eric Goodfield remind political theorists and metaphysicians alike that Hegel's political theory, like all political theory, involves metaphysical commitments necessarily. All the better that the implicit metaphysics of Hegel's treatment of universality turns out to be Hegel's own metaphysics of universals. - Ruth Porter Groff, Saint Louis University, USA
[Goodfield's] book goes beyond existing defenses...by providing a more extensive treatment of Hegel's logic and by attempting to link the position that we should abjure appeals to metaphysics to what he calls the 'liberal-positivist school' of political science... I want to emphasize that he deserves to be commended for laying out the controversy so starkly and pointing to a deeper issue about the role of metaphysics in political theory that is of concern to a wider audience than students of Hegel. - Mark Tunick, Florida Atlantic University, USA
This book happily pursues the re-emergent and salutary tradition of reading Hegel's political philosophy explicitly in the light of his larger metaphysical system. At the same time, it effectively situates Hegelian theory securely within its broader intellectual contexts. As such, it makes a notable contribution to the history of political thought. - Peter J. Steinberger, Reed College, USA
You may also be interested in...
Simply reserve online and pay at the counter when you collect. Available in shop from just two hours, subject to availability.
Thank you for your reservation
Your order is now being processed and we have sent a confirmation email to you at
When will my order be ready to collect?
Following the initial email, you will be contacted by the shop to confirm that your item is available for collection.
Call us on or send us an email at
Unfortunately there has been a problem with your order
Please try again or alternatively you can contact your chosen shop on or send us an email at