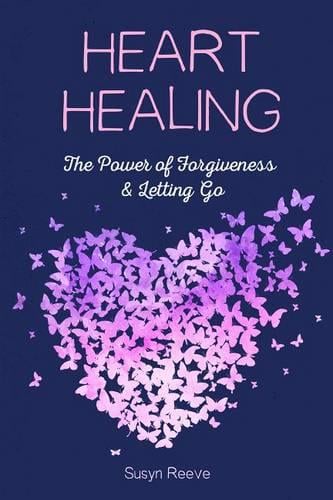 Paperback
194

Pages
Published: 01/11/2018
#1 New Release in Personal Growth, Philosophy, and Family A Practical Self-Help Guide to Letting Go and Healing with Forgiveness Letting go of the past: Is it really possible to free your heart and mind of the emotional wounds of the past? Are anger, pain, and suffering blocking you from the love and happiness your desire? Healing painful relationships, memories, and experiences: Whatever the cause of your heartbreak - the end of a relationship, the death of a loved one, a divorce, shattered dreams, a family feud, a life-threatening diagnosis, career turmoil, or past abuse that repeats over and over again - it is never too early or too late to courageously forgive and let go. Long-term happiness through love and compassion: In Heart Healing you are expertly guided to put compassion and unconditional love into action in practical, easy, and lasting ways. With the insight of someone who has walked the road from heartbreak to forgiveness to living a life she loves, Susyn Reeve invites you to heal the emotional wounds in your life. Emotional intelligence through spirituality and meditations: This book is filled with potent opportunities for lasting life-changing heart-healing. Filled with stories, proven exercises, and powerful affirmations to free you from any resentment and anger you are holding towards yourself or others. The "emotional clutter" of old resentments, grudges, guilt, and shame are blocks to love and a direct call for heart-healing. Readers will learn: The distinction between a closed and broken heart To identify the specific beliefs that continue to activate your emotional wounds and unresolved anger How to forgive yourself and others using the Deal - Heal - Forgive Process How healing your heart contributes to healing the broken-heartedness in the world today. Motivational wisdom from experience: In Heart Healing Susyn Reeve shares her own heartbreak story and how that galvanized her to help others practice forgiveness. With wisdom gained from decades of study with Joseph Campbell, Jean Houston, Robert Fritz, don Miguel Ruiz and her thousands of clients and students Susyn has written in her wise, warm trademark style. This book is a refreshingly honest and practical guide to living a life of contentment, connection, and long-overdue love. Susyn does not gloss over life's pain and struggles. Rather, she shows how to use them as springboards to new open-hearted perspectives and possibilities, so you can readily feast on the magnificent gift of life.
Publisher: Mango Media
ISBN: 9781633535886
Number of pages: 194
Dimensions: 216 x 140 mm
---
MEDIA REVIEWS
"Who hasn't been heart-broken? Who hasn't cried themselves to sleep after being dumped? Who hasn't been enraged at being ill-treated and disrespected? Most, if not all, of us have been there. Heartbreak is the potential outcome we want to suppress and forget about when we open our one and only tender heart and become vulnerable to another human; when we love. What makes Susyn Reeve's approach to the topic so different is that she asks us to \welcome all the messiness, the tears, the strong emotions, and our hidden shadows, imps and monsters not to a pity party but to a life-affirming bash from which we are certain to emerge stronger, happier, wiser and, crazily enough, more open and trusting. Let Susyn's gift for working emotions through to that happy ending you were hoping for guide you through the process. Don't turn inward without guidance and nurse your rage, grief, loss. Turn to this book and grow. You have the choice." Hilary V. O'Donnell, Author of Naxos: An Unexpected Life on a Greek Island
In her new book, Heart Healing: The Power of Forgiveness to Heal a Broken Heart, Susyn Reeve answers the question, Is it really possible to free your heart and mind of the emotional wounds of the past? Not only is her answer a resounding YES - but she provides the inspiration, information, and easy to apply guidance and practices to heal your heart from heart break. She knows the territory and invites you to step fully into your own heart healing journey." G. Brian Benson l author of Habits for Success: Inspired Ideas to Help You Soar
"Heartbreak is a painful fact of life. Be prepared to free your heart, because you were born worthy. Read Heart Healing: The Power of Forgiveness to Heal a Broken Heart and learn how to live." Nell Merlino Creator of Take Our Daughters to Work Day and Born Worthy
"Susyn Reeve is an amazing champion of finding ways to heal one's heart. Experience fostered by paying attention to her own challenges and working at devising ways for others to read their own signs of hurts, Susyn brings new awareness on reconnecting with one's own love within. We are proud to have Susyn in our Hampton's community. And you will find answers on how to heal yourself. BRAVO, SUSYN!" Eva Growney, Founder of Ensouled Hearts (TM) East Hampton, NY
"If ever there was a time to dive deeply into forgiveness, it's now, today, this moment. This moment, when waves of "US vs. THEM" are raising their ugly heads once more, calling us to step away from building community and honoring diversity and back into competition and winning at all cost. How did we get here? In Heart Healing, Susyn Reeve helps us see that the real struggle and the first solution is within. With loving hands and a wise heart, Susyn invites us to heal our wounded hearts as we move through her gentle processes to forgive ourselves, our body, family, and relationships. Want to live in a more Loving and forgiving world? Start here." Janet Conner, author of, Soul Vows and Find Your Soul's Purpose
"What makes this book so powerful is Susyn has been through it and has done the work. She walks her talk. It's a heart warming read." Mary Guarino Reflexologist
"It's one thing to know the importance of doing forgiveness work; it's another thing entirely to know how to forgive in order to heal a broken heart. In "Heart Healing," Susyn delivers an inspiring and pragmatic how-to guide for walking the tumultuous path of heartbreak with courage, so that you can ultimately forgive, heal and enjoy life again, even more fully." Megan Walrod Business & Life Coach www.MeganWalrod.com
You may also be interested in...
×
Download the Waterstones App
Would you like to proceed to the App store to download the Waterstones App?
Reserve online, pay on collection


Thank you for your reservation
Your order is now being processed and we have sent a confirmation email to you at
When will my order be ready to collect?
Following the initial email, you will be contacted by the shop to confirm that your item is available for collection.
Call us on or send us an email at
Unfortunately there has been a problem with your order
Please try again or alternatively you can contact your chosen shop on or send us an email at