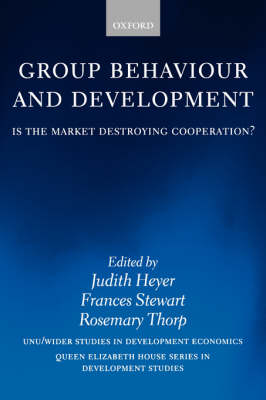 Paperback
Published: 19/09/2002
Can be ordered from our supplier
This book focuses on group behaviour in developing countries. It includes studies of producer and community organizations, NGOs, and some public sector groups. Despite the fact that most economic decisions are taken by people acting within groups - families, firms, neighbourhood or community associations, and networks of producers - the analysis of group functioning has not received enough attention, particularly among economists. Some groups function well, from the perspectives of equity, efficiency, and well-being, while others do not. This book explores why. It covers groups that perform three types of function: overcoming market failures (e.g. producer organizations); improving the position of their members (e.g. Trade Unions), and distributing resources to the less well-off (e.g. NGOs and the public sector). It contrasts three modes of group behaviour: power and control; cooperation; and the use of material incentives. It explores what determines modes of behaviour of groups, and the consequences for efficiency, equity, and well-being. The book includes eleven case studies by different authors, including producers' associations in Brazil, farmers' organizations in Korea and Taiwan, community forestry groups in South Asia, organizations of sex-workers in Calcutta, and health NGOs in Uganda. Claims groups tended to be the most cooperative, cooperation fostering empowerment and self-esteem. Distributive or pro bono groups mostly operated according to power and control, while market failure groups often combined all three modes. The studies show the strong impact of norms in society as a whole on group behaviour. The recent shift towards a stronger role for market incentives has exerted powerful pressures on groups to use more material incentives, undermining the cooperation essential to sustain efficiency and equity. The universal presumption in favour of monetary incentives needs to be abandoned. Non-market behaviour needs to be valued and protected as well.
Publisher: Oxford University Press
ISBN: 9780199256921
You may also be interested in...
We would love to hear what you think of Waterstones. Why not review Waterstones on Trustpilot?