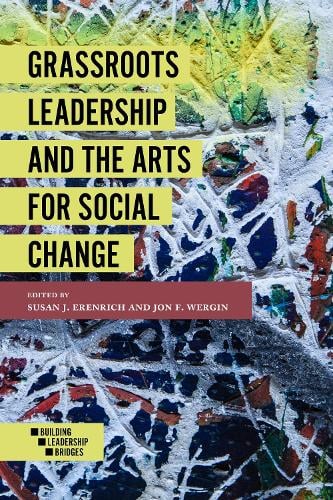 Paperback
392

Pages / Published: 29/03/2017
Throughout history artists have led grassroots movements of protest, resistance, and liberation. They created dangerously, sometimes becoming martyrs for the cause. Their efforts kindled a fire, aroused the imagination and rallied the troops culminating in real transformational change. Their art served as a form of dissent during times of war, social upheaval, and political unrest. Less dramatically perhaps, artists have also participated in demonstrations, benefit concerts, and have become philanthropists in support of their favorite causes. These artists have been overlooked or given too little attention in the literature on leadership, even though the consequences of their courageous crusades, quite often, resulted in censorship, "blacklisting," imprisonment, and worse. This forthcoming book seeks to explore the intersection of grassroots leadership and the arts for social change by accentuating the many victories artists have won for humanity. Through this forthcoming book readers will vicariously experience the work of these brave figures, reflect on their commitments and achievements, and continue to dream a better world full of possibility.
Publisher: Emerald Publishing Limited
ISBN: 9781786356888
Number of pages: 392
Weight: 522 g
Dimensions: 229 x 152 x 23 mm
---
MEDIA REVIEWS
"As someone who has simultaneously been both an organizer and an artist for over 50 years, it's a deep pleasure to welcome a book that honors the critical but rarely understood relationship between social justice and cultural work. Because organizing helps everyday people build power, it's absolutely necessary if we are ever even to approach establishing justice and equity in this world we share. But power alone, however necessary, is never sufficient. It does not necessarily help us become better people, more understanding, kinder, more welcoming and supportive of those we see as different from ourselves. That's exactly what, coupled with strategic social justice organizing, the arts can help individuals and communities do, questioning our assumptions, our prejudices so that we become willing and able to take the radical risk of transforming ourselves even as we work together to challenge and change the world around us. 'Grassroots Leadership and the Arts for Social Change' is a contemporary Guide for the Perplexed for those who dream of and work for a 'Bread and Roses' future for us all." * Si Kahn, Organizer and Musician *
"This wonderful collection brings new meaning to the phrase "the art of leadership."Grassroots movements again fill our streets, our campuses and our communities. We are witnessing an outpouring of poetry, imagery, music, and media that by their very autonomy from the state represent independent voices and creative imaginations. This book reminds us of art's liberating function to inspire social change and imagine democracy. From music to theater, poetry to street art, the chapters in this book reassure us that art is deeply connected to our freedom and that artists speak truth to power in every age and every country. To support the arts is to support social change." * Laurien Alexandre, Provost, Graduate School of Leadership & Change, Antioch University *
"To quote Phil Ochs, one of the prominent voices collected in this volume, this book provides insight into those links on a chain between the grassroots protests of the 1960s and the present. This is an important collection because of this and also because of its focus on the practice and performance of protest. A very timely text which will get a wide readership." * Ron Eyerman, Yale University *
"Exactly the book needed now when so much grassroots leadership has erupted for social change. Many will learn deep lessons from the stories related here - activists, advocates, teachers and students, artists and creative folks of all kinds, all who share dreams for a just and humane world. The leaders and artists speaking in this volume give life to oppositional culture that questions the status quo. We need these tools to sustain and inspire. As Paulo Freire challenged us to make history with our own hands, these splendid chapters teach how to make art that heals society, for building a world of democracy, equality, ecology, and peace." * Ira Shor, Professor of English and Urban Education, City University of NY Graduate School *
"In the spirit of responding to past tragedies as springboards for a better future, the editors have brought together essays highlighting the many different art forms integrated into social change efforts. The book bears witness to people who do not give up being artists to work for the public good, and artists who do not stop being people in their responsibility to contribute to their times. A fine read for arts and politics students and the general population alike." * Jan Cohen-Cruz, Director of Field Research, a Blade of Grass *
"During these highly conflicted times, this book of essays is most welcome. What is most exciting is the wide range of topics and approaches to understanding the world-wide implications of appreciating the arts and social change. The authors bring diverse backgrounds and approaches to their very fresh subjects. I believe that their insights and perspectives will reach a wide international audience, that is thirsting for such understandings during these times of struggle, exploitation, but also hope. I am pleased to add my congratulations to the editors and all of the authors for this most stimulating book." * Ronald D. Cohen, Professor Emeritus of History, Indiana University Northwest, Gary, Indiana *
"Grassroots Leadership & the Arts for Social Change is an important book, for it not only validates artistry as a vehicle for activism, but also shows how the myriad components of culture are integral to movements for social justice. While discussing specific projects, all over the globe, that have used art and popular education to effect positive change, this volume is also a guidebook, a how-to for implementing such techniques within organizations and communities. I hope that activists at the base will read it widely. Doing so will make their activism more effective still." * Marie-Claire Picher, Ph.D, Co- founder (1990) and Artistic Director of the Theater of the Oppressed Laboratory (TOPLAB), New York City *
"This extraordinary book provides a platform for displaying how a broad array of artistic mediums dance, theater, songs, murals, graffiti, photography, and more ? are essential to social change movements. While the rich experiences shared have strong historical roots, in the current era of political turmoil and resistance, there are powerful lessons to be learned by activists today. What a great contribution Erenrich's and Wergin's collection offers, by demonstrating the deep power of the arts to provoke, to inspire, and to move us forward." * Marcy Fink Campos, Director, Center for Community Engagement & Service, Adjunct Professor, American University *
"This timely and compelling volume shines a spotlight on the creative cultural work of artists, musicians, performers and scholar-activists who spark and unleash the catalytic and transformative power of art to mobilize grassroots citizen action for meaningful social change. This wide ranging collection of essays focuses on the roles that artists and cultural activists play in inspiring people to take action. By providing valuable principles and practices, this work ultimately offers hope for a world in need of guideposts for human liberation, justice and peace. This volume is an invaluable resource for fellow artists, performers, scholar-activists and practitioners of conscience who are committed to renewing the spirit of community from the local to the global level." * James V. Riker, Director, Beyond the Classroom Living & Learning Program, University of Maryland, College Park *
"In this fine compilation, enhanced by Juan Gabriel Valdes' preface of loss and resilience, activist scholar, Susan J. Erenrich and Antioch professor, Jon F. Wergin demonstrate the well worn wisdom that is carved into the entrance hall of Chicago's Fine Art building, 'Art Alone Endures'. Together, the editors have assembled herein an inspiring mosaic of such art-poetry and plays, portraits and photos - all of which illustrate how art and culture inform the struggle for social change." * ThomasM. Grace, Ph.D, Assistant Professor of History, Erie Community College and author of Kent State: Death and Dissent in the Long Sixties *
You may also be interested in...
Simply reserve online and pay at the counter when you collect. Available in shop from just two hours, subject to availability.
Thank you for your reservation
Your order is now being processed and we have sent a confirmation email to you at
When will my order be ready to collect?
Following the initial email, you will be contacted by the shop to confirm that your item is available for collection.
Call us on or send us an email at
Unfortunately there has been a problem with your order
Please try again or alternatively you can contact your chosen shop on or send us an email at