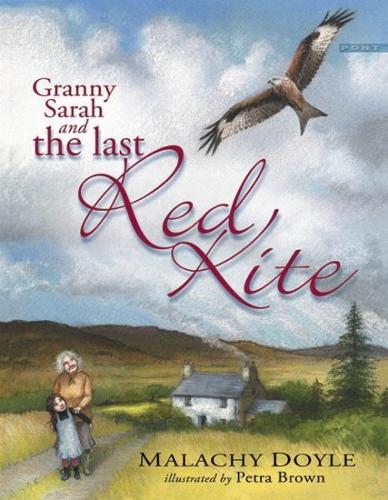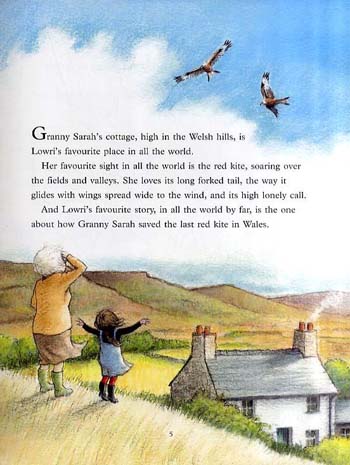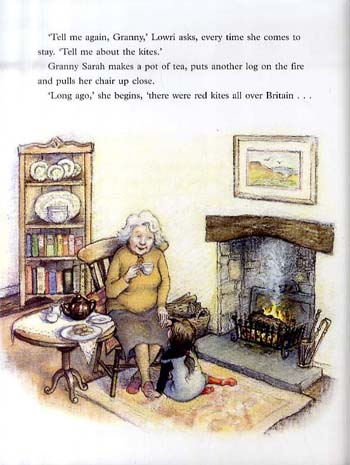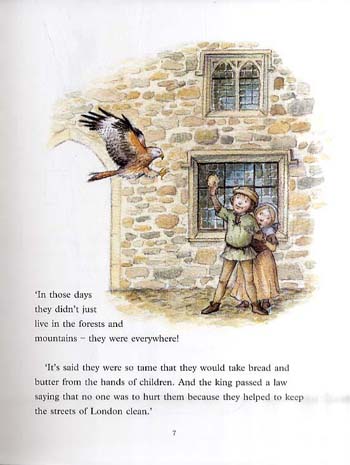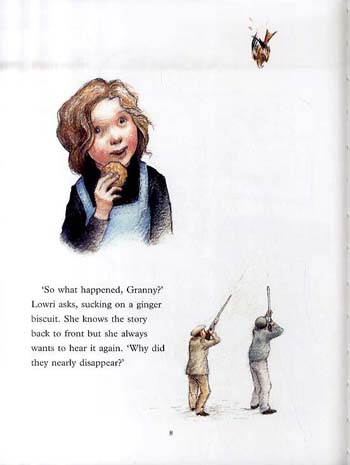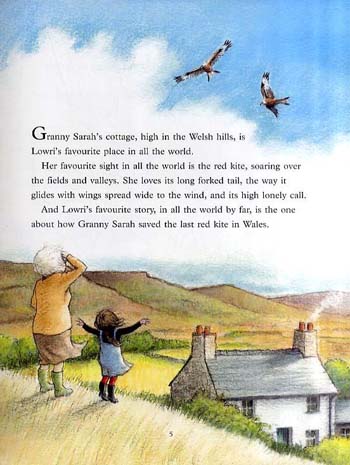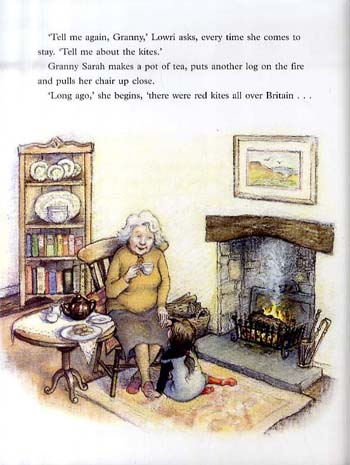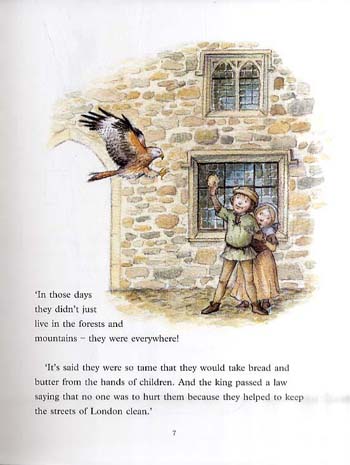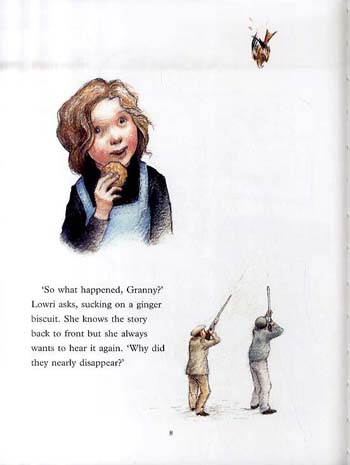 Paperback
32

Pages / Published: 16/01/2017
A story featuring Granny Sarah and her granddaughter Lowri. Lowri loves hearing about the last red kites which nested on the farm when Granny Sarah was a little girl. The environment is an important theme as is Welsh conservation. Suitable for readers aged 7-9 years. Reprint; first published in 2006.
Publisher: Gomer Press
ISBN: 9781843236771
Number of pages: 32
Dimensions: 259 x 200 x 4 mm
---
MEDIA REVIEWS
Additional review follows The stories our grandparents tell us about life when they were young are often far more interesting than those we read about in story books because theyre real, they involve real people and somehow they must be true. I believe my grandmother did drive to her wedding through the cobbled streets of a Northern city in a glass-sided coach and that my great- grandfather was a poor water boatman on the Thames, who went north to the woollen mills, in search of fortune if not fame. And in this carefully crafted story by Malachy Doyle we can believe, like modern day Lowri, that her Granny Sarah was personally involved in saving Welsh red kites from extinction. Its a theme which has been explored in many different forms and each time it brings a mixture of excitement and shame excitement that this magnificent bird is so much a part of our mountain landscape, and shame that still these birds and other breeds across the world are being needlessly hunted for eggs and plumage. Sian Lewiss earlier classic Project Kite for older juniors is here complemented by a delightfully illustrated younger childrens picture book, Granny Sarah and the last Red Kite, where Lowri stands open-mouthed and biscuit-handed as her grandmother retells the story, as she has done so many times before, of how she fearlessly out-shames an older boy, forced by poverty into egg-gathering, into leaving the last pair of red kites in Wales to bring up their young. The dialogue is both simple and convincing, the characterisation both endearing and amusing. I certainly wouldnt have wanted to cross Granny Sarah as a pre-teen, pre-RSPB voluntary warden; and Dad is such a proud Dad, as he bends on one knee on the forest floor to listen to his daughters explanation of the rescue. The book concludes with a factual update on the breeding population of red kites in Wales, and a list of feeding stations which you can visit, and where you can be certain to see these National Birds of Wales. For myself, Im just waiting for the first one to reach my own home (theyve been seen about 4 miles away), and to soar above Llawhaden castles ruins for the first time in living memory. Then Ill have a tale to tell my grandchildren! P.S. Knowing what I know now about glass-sided carriages in late Victorian times, I think my Grandma went to her wedding in a converted hearse! Chris S. Stephens * * * Did you know that the Red Kite was the National Bird of Wales? If you want to find out more about it, read on. Granny Sarah and the last Red Kite presents a fictionalised account for 6 to 8 year olds of how the last breeding pair of Milvus milvus the reddish-brown bird of prey with angled wings and a deeply forked tail may have been saved from extinction by Sarah of the title when she was a child. Readers will enjoy the way Malachy Doyle shares the narrative in a familiar but appropriate way as Lowri persuades her granny once again to tell her about her part in protecting the tree where the birds were nesting near her home in Mid Wales and the way she alone when she was just about her granddaughters age saw the young man who was climbing up to steal the precious eggs and sent him packing. Long ago, she begins, there were red kites all over Britain The eavesdropping reader is immediately absorbed by the cosy relationship and the sense of intrigue and excitement. In a few pages of clear storytelling prose, interspersed by Lowris natural-sounding questions and prompts, a potted history of the decline of the species is presented, culminating in the brave challenge and resulting in the birds survival to breed. By today it is a source of pride that the Red Kite is re-established in Wales and colonies have been reintroduced to parts of England and Scotland because of the vigilance and hard work of farmers, landowners and organisations such as the Royal Society for the Protection of Birds. And according to the writer the proudest of all is Lowri, for without Granny Sarah there would be no more red kites. Illustrator Petra Browns work sets off the text in an accomplished manner. There is no doubt as to the geographical setting as she presents the typically Welsh environment of landscapes, habitats and interiors: she displays her versatility through expressive portraits, archaic architecture and action scenes. The pictures are gentle on the eye and carefully observed with precise attention to detail, ranging from the warmth of Grannys house with its log fire and table set for tea, to the green coolness of the nesting tree from a bird's-eye-view perspective. Throughout the picture book, and including the end papers, she has captured the Red Kites movements, matching Malachy Doyles final paragraph so that the observer is virtually able to watch those magnificent birds flying free above the treetops, twisting and gliding in the swirling of the wind. And if you want to find out more, a handy About the Red Kite page has been incorporated at the end to provide further details of places to visit and sources for research. (Older readers interested in Red Kites will enjoy the Pont novel, Project Kite, by Sin Lewis. M. Lorna Herbert Egan It is possible to use these reviews for promotional purposes, but the following acknowledgment should be included: A review from www.gwales.com, with the permission of the Welsh Books Council. Gellir defnyddio'r adolygiadau hyn at bwrpas hybu, ond gofynnir i chi gynnwys y gydnabyddiaeth ganlynol: Adolygiad oddi ar www.gwales.com, trwy ganiatd Cyngor Llyfrau Cymru. -- Welsh Books Council
You may also be interested in...
Simply reserve online and pay at the counter when you collect. Available in shop from just two hours, subject to availability.
Thank you for your reservation
Your order is now being processed and we have sent a confirmation email to you at
When will my order be ready to collect?
Following the initial email, you will be contacted by the shop to confirm that your item is available for collection.
Call us on or send us an email at
Unfortunately there has been a problem with your order
Please try again or alternatively you can contact your chosen shop on or send us an email at