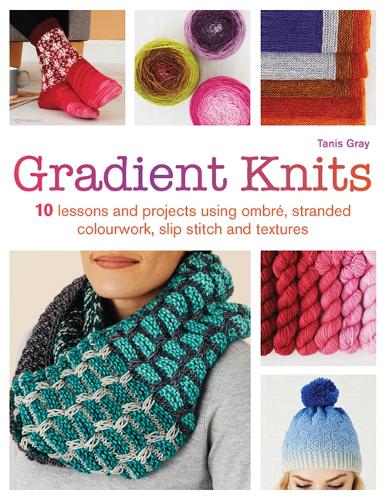 Gradient Knits: 10 Lessons and Projects Using Ombre, Stranded Colourwork, Slip Stitch and Textures (Paperback)
Tanis Gray
(author)
Paperback
144

Pages / Published: 03/08/2017
Intrigued by the stunning gradient yarns out there but unsure of what to knit with them? Perhaps you struggle with colour? Dive right in and knit with these eye-catching yarns with 10 unique lessons teaching skills such as cabling, lace, alternating stripes, thrums, stranded colourwork, mosaic, intarsia, short rows and simple knit and purl combinations all using gradient yarns. Build up your skills with patterns for garments and accessories from designers around the world.
Gradients are a perfect way to add a unique dimension to your work. Go from light to dark, mix things up, work with multiple colourways or knit your way through the rainbow! With countless options available, the possibilities are as endless as what your imagination can create!
This book offers a blend of beginner through to advanced projects, allowing the knitter to build their skills with each project.
Publisher: Search Press Ltd
ISBN: 9781782215691
Number of pages: 144
Weight: 460 g
Dimensions: 246 x 190 x 10 mm
---
MEDIA REVIEWS
Tanis Gray is a knitwear designer who enjoys using colour in her work. With the increase in designer yarns and the multitude of colours available it is not always easy to know how to use them to best effect. This book includes 10 lessons and projects using ombre, stranded colourwork and texture to help both the new and experienced knitter do just that. Techniques covered include intarsia, Fair Isle, thrumming, lace and cabling. There is also information on modular knitting, short-row shaping and knitting-in-the-round. The latter part of the book comprehensively covers basic knitting techniques with clear instructions and photographs to illustrate. There are even illustrations to show the difference between English and Continental ways of holding yarn. Tinking (un-knitting) and frogging (ripping out) also get a mention, something you don't often see in how-to books but so very necessary! This book would be perfect for knitters who wish to increase their repertoire of skills and techniques. Having personally never come across thrumming, the mittens would be an ideal first project, whilst the lace shawl would be the perfect way to show off a single-gradient yarn ball. Either for yourself, or as a gift combined with a ball of gradient yarn, this book would be a good addition to your collection.
-- Judith Evans (Birmingham & District Guild) * Journal for Weavers, Spinners and Dyers *
A great book, the patterns are easy to follow.
* Jo Udall *
really is a book which can be used by beginners & more experienced knitters as there are projects to suit all levels. Each project has an introduction which explains what skills will be involved & the aim of the project. This page includes a list of what items you will need to complete the project, the tension and the approximate finished size. Each pattern also includes a section on pattern notes giving helpful tips about why certain techniques are used at points in the pattern. Where a new skill is introduced there are clear photographs with equally clear instructions given which I find straightforward to follow.
Additionally, the book includes an introduction to colour theory & choosing yarns whilst at the back are many helpful basic knitting techniques explained very clearly & the abbreviations used in the patterns.
I would highly recommend this book to anyone who wanted to put more colour into their knitting but feels a little lacking in confidence, this is the guidance you have been looking for
-- Louise Waters
Gradient Knits by Tanis Gray ..... Love this book ..it has a hive of information ...beautifully illustrated pictures with easy to follow wording from how to cast on to easy to follow charts for the patterns. This book has a lovely array of knits that make you want to pick up your needles and have a go at making a pair of soxs or mittens or maybe start by knitting a hat. Then for those that want to learn to knit (which can be very daunting) this book will teach you step by step . A book to enjoy and share .......
-- Pauline Forster
beautiful book by the publishers - but this has not swayed my thoughts on this colourful book.
I have been knitting for a number of years now but was looking for something new to do, when this book arrived on my doorstep.......
It has ten projects, all of which have an explanation at the beginning (lesson). There are pictures to show you what she is talking about. The patterns are clear, including any important notes.
For those who are still getting to grips with knitting there is a chapter at the end of the book that explains basic knitting techniques, again this includes pictures where appropriate.
Overall I found this a very well thought out book.
There are some easy projects, but there are definitely projects for the more advanced knitter.
Fantastic book. Well worth a look! X
-- Nicola Taylor
Thank you to Search Press for sending me a review copy of Gradient Knits.
I'd recommend this book to all knitters, whether you're a beginner or your skills are more advanced. There are ten lessons and projects using ombre, stranded colourwork, slip stitch and textures, so there's something to appeal to all tastes and skill levels. After a brief introduction from the author, Tanis Gray, about gradient yarns, and a double page spread about how to use the book, Chapter 1 takes you through choosing the right gradient, Chapter 2 contains ten lessons and projects, Chapter 3 is a guide to the tools, materials and core knitting skills you'll need so that you can work through the techniques in the book, and there's a useful list of abbreviations at the back, and an index. The photographs demonstrating each technique are clear and the instructions easy to follow, and all are in wonderful colour.
The only criticism I have is that if I were putting the book together, I'd have put the contents of Chapter 3 before the lessons and projects, but that's just an observation.
A lovely book to give or receive!
-- Dorothy Thomas
This is a lovely book which would make a good addition to the library of any knitter who loves colour (as if we need an excuse!)
The cover is eye-catching and the book is a great size to tuck into my knitting bag for projects 'on-the-go'
After a short introduction and some useful information about colour theory, the projects start. Each lesson has a techniques section which could be practised before starting the actual project - maybe to try out before buying the yarn. The photos for each new technique are clear, as are the written instructions. Each project is a little more technically demanding than the previous one, enabling the knitter to develop skills and build confidence before tackling some of the trickier techniques. There's something to learn for everyone. Even as an experienced knitter I have never seen thrumming before - I'll be trying that out for some warm winter mittens.
Chapter 3 on basic knitting techniques is useful for those who are newer to knitting and gives good photographic and written instructions.
I would have liked to see a reference to the abbreviations page at the start of each of the patterns/lessons. It's tucked away at the back of the book - which is fine but I had to go searching for it as I didn't see it mentioned (editors, there's also a mistake in the alphabetical listing of the abbreviations, but that's just me being picky!)
Also, I was a little disappointed that I could find few, if any, of the named yarns in the UK, meaning that I would have to work out substitutes for every project. Not such a problem, but might be off-putting to some who like to recreate exactly what they see. Maybe some more widely available yarn alternatives could have been added in to yarns used page.
Overall, this is a beautiful book full of colour and with lots of good photographs and some interesting use of gradient yarns (some yarns are maybe more accurately described as yarn sets rather than gradients). I'll be casting on the 'Colour-study Cowl' and the 'Thrummed Mittens' very soon.
-- Steph Saward
Received this book and was really excited to be inspired to use one of the gorgeous gradient sets in my stash. I like how the book is laid out with the instructions for the specific stitch and a bit of history prior to the pattern which then uses that stitch or technique. I think I may struggle with the lace pattern as it is written in chart format and is not clear when to change colour, I am hoping once I have cast on this will become more apparent, although I am still apprehensive.
I would have liked to have seen more pictures or patterns that use same colour gradients or ombre effect to create the work.
-- Ellen Jury
This book is a little delight.... The world of ombre (gradient colour) and knitting has always intrigued me...yet if I'm honest scared me as well!
I am not the world's best knitter by a long mark but this book has introduced me to new, previously unknown cast on stitches, knitting techniques and most of all the delights of colours.
Wool is available in a host of variants, you think about buying but don't because you're not sure what to do ... well, the book is simply perfect for that task.
It gently guides you through, stitches, wools, patterns of course and the end products are modern and up to date, yet........... depending on your choice of colourways could be retro for that added twist.
Personally, this book will be a great addition to any crafters bookcase....... Although I am not sure how much time it will spend there as will be in use more often than not when a knitting project is on the go... from refresher how-to reading, or simply a colour fix project, you will find it all in here.
-- Vera Lily
You may also be interested in...
Simply reserve online and pay at the counter when you collect. Available in shop from just two hours, subject to availability.
Thank you for your reservation
Your order is now being processed and we have sent a confirmation email to you at
When will my order be ready to collect?
Following the initial email, you will be contacted by the shop to confirm that your item is available for collection.
Call us on or send us an email at
Unfortunately there has been a problem with your order
Please try again or alternatively you can contact your chosen shop on or send us an email at