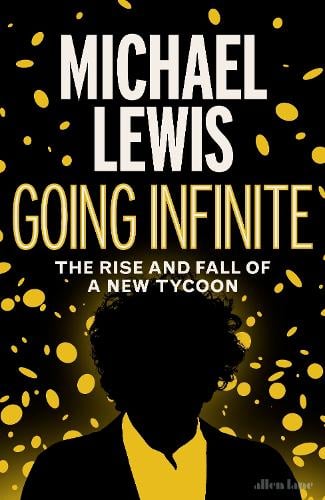 Going Infinite: The Rise and Fall of a New Tycoon (Hardback)
Michael Lewis
(author)
Hardback
272

Pages
Published: 03/10/2023
The bestselling author of The Big Short and The Premonition spins a breathlessly exciting true story with his characteristic pace and panache as he charts the meteoric rise and dramatic fall of enigmatic crypto-currency entrepreneur Sam Bankman-Fried.
'I asked him how much it would take for him to sell FTX and go do something other than make money. He thought the question over. "One hundred and fifty billion dollars," he finally said—though he added that he had use for "infinity dollars"…'
Sam Bankman-Fried wasn't just rich. Before he turned thirty he'd become the world's youngest billionaire, making a record fortune in the crypto frenzy. CEOs, celebrities and world leaders vied for his time. At one point he considered paying off the entire national debt of the Bahamas so he could take his business there.
Then it all fell apart.
Who was this Gatsby of the crypto world, a rumpled guy in cargo shorts, whose eyes twitched across TV interviews as he played video games on the side, who even his million-dollar investors still found a mystery? What gave him such an extraordinary ability to make money – and how did his empire collapse so spectacularly?
Michael Lewis was there when it happened, having got to know Bankman-Fried during his epic rise. In Going Infinite he tells us a story like no other, taking us through the mind-bending trajectory of a character who never liked the rules and was allowed to live by his own. Both psychological portrait of a preternaturally gifted 'thinking machine', and wild financial roller-coaster ride, this is a twenty-first-century epic of high-frequency trading and even higher stakes, of crypto mania and insane amounts of money, of hubris and downfall. No one could tell it better.
Publisher: Penguin Books Ltd
ISBN: 9780241651117
Number of pages: 272
Weight: 460 g
Dimensions: 236 x 158 x 32 mm
---
MEDIA REVIEWS
Going Infinite is insanely readable and I devoured it, marvelling at Lewis's ability to pace, structure and humanise a story about something as dense and unfriendly as crypto… As with previous outings such as Moneyball (nerdy baseball stats), The Big Short (credit default swaps), and Flash Boys (high-frequency trading), Going Infinite shows off Lewis's peculiar genius for making arcane information as transporting as fantasy fiction. Going Infinite is a stupefyingly pleasurable book to read. It's perfectly paced, extremely funny, and fills in many gaps in a story that has been subjected to an unholy amount of reporting... What he began with Moneyball has come into full flower with Going Infinite. Lewis has surveyed a landscape taken by convention as settled and found it destabilized, at least here and there, by uneven and unreliable information. Perhaps Lewis's book should encourage an update, however minuscule, in our own priors. Going Infinite is a portrait of grandiose ambitions, youthful arrogance, and the distorting power of money... [Lewis] remains the greatest living exponent of the plain style in reporting. His eye for detail is unsurpassed... And as a chronicle of collective delusion - a modern version of the Dutch tulip mania - Going Infinite is an instant classic... Michael Lewis deserves huge credit for capturing [SBF] in all his infinite weirdness... Mark Zuckerberg, another boy genius in ratty shoes, once described Twitter as a clown car that fell into a gold mine. Sam Bankman-Fried was a Seth Rogen character who fell into a tulip field circa 1634. Another one will be along in a minute. We never learn. Going Infinite is in many ways Lewis at his best. He marshals a complex global story without losing sight of the delightful and revealing human details. He is a world-class noticer … Lewis is a generous writer with a humane intelligence, and it is to his credit that he doesn't reach for easy cynicism or cheap effects. Lewis' storytelling is as good as ever… In the past, Mr Lewis has focused on little-known people doing extraordinary things. This time his subject is notorious… Mr Bankman-Fried's hyper-rationality sets him apart from everyone. He views people not as good or bad, but as "probability distributions" around a mean… By tolerating the idea that hyper-rationalists cannot make sense of the rules of the game the way most people do, Mr Lewis implicitly asks readers to reconsider whatever they thought they knew about Mr Bankman-Fried. In the court of public opinion, he is already convicted. That's reason enough to give this book a read. Going Infinite is wildly entertaining, surprising multiple times on pretty much every page, but it adds up to a sad story, even a tragedy, for its central character and for all the people who lost so much thanks to his actions… Lewis tries to answer the first question he was asked about Bankman-Fried: who was this guy? The question of his guilt or innocence Lewis leaves to the criminal justice system. I think that's good practice, given that the trial is happening right now. For what it's worth, I see no contradiction between the person described in Going Infinite and the things SBF is accused of having done. In fact I think the book makes it easier to understand how and why he did what he allegedly did. Michael Lewis has an uncanny instinct for a big story, and is now right in the thick of the action again... Reading Lewis can feel like being a passenger in an expertly piloted bobsleigh. You're moving so fast down the mountain, but you know you're going to be delivered safe and sound – hot chocolate waiting at the bottom. There is no need to stress, only to thrill to the scenery as it hurtles past. In November 2022, FTX collapsed in a matter of days after it suffered billions of dollars in customer withdrawals, sending shockwaves through the crypto world. To make sense of all this, with perfect timing, comes Michael Lewis… Going Infinite is his superbly detailed picture of the man behind it... So where might the money have gone? We still don't entirely know, though Lewis offers some preliminary balance sheet calculations — which remain more detailed than anything FTX ever published. Michael Lewis is the world's finest financial storyteller… Going Infinite is at its best in describing Bankman-Fried's rise… Lewis is equally sharp on how the effective altruism movement shifted its priorities, from donating to prevent disease and mortality in the global south to worrying about (putative) trillions of human lives across the galaxy in the distant future. When the stories of our times are told, there will be no more seminal documents than the books of Michael Lewis. I would read an 800-page history of the stapler if he wrote it. In the hands of Michael Lewis, anything is possible. He is so good everyone else may as well pack up. Life is what happens between Michael Lewis books.
You may also be interested in...
×
Download the Waterstones App
Would you like to proceed to the App store to download the Waterstones App?
Reserve online, pay on collection


Thank you for your reservation
Your order is now being processed and we have sent a confirmation email to you at
When will my order be ready to collect?
Following the initial email, you will be contacted by the shop to confirm that your item is available for collection.
Call us on or send us an email at
Unfortunately there has been a problem with your order
Please try again or alternatively you can contact your chosen shop on or send us an email at