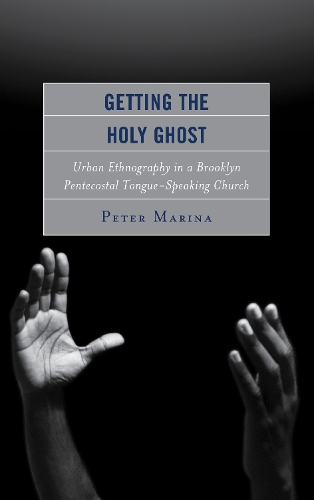 Getting the Holy Ghost: Urban Ethnography in a Brooklyn Pentecostal Tongue-Speaking Church (Hardback)
Peter Marina
(author)
Hardback
322

Pages / Published: 30/01/2013
This book carries an ethnographic signature in approach and style, and is an examination of a small Brooklyn, New York, African-American, Pentecostal church congregation and is based on ethnographic notes taken over the course of four years. The Pentecostal Church is known to outsiders almost exclusively for its members' "bizarre" habit of speaking in tongues. This ethnography, however, puts those outsiders inside the church pews, as it paints a portrait of piety, compassion, caring, love-all embraced through an embodiment perspective, as the church's members experience these forces in the most personal ways through religious conversion. Central themes include concerns with the notion of "spectacle" because of the grand bodily display that is highlighted by spiritual struggle, social aspiration, punishment and spontaneous explosions of a variety of emotions in the public sphere. The approach to sociology throughout this work incorporates the striking dialectic of history and biography to penetrate and interact with religiously inspired residents of the inner-city in a quest to make sense both empirically and theoretically of this rapidly changing, surprising and highly contradictory late-modern church scene. The focus on the individual process of becoming Pentecostal provides a road map into the church and canvasses an intimate view into the lives of its members, capturing their stories as they proceed in their Pentecostal careers. This book challenges important sociological concepts like crisis to explain religious seekership and conversion, while developing new concepts such as "God Hunting" and "Holy Ghost Capital" to explain the process through which individuals become tongue-speaking Pentecostals. Church members acquire "Holy Ghost Capital" and construct a Pentecostal identity through a relationship narrative to establish personal status and power through conflicting tongue-speaking ideas. Finally, this book examines the futures of the small and large, institutionally affiliated Pentecostal Church and argues that the small Pentecostal Church is better able to resist modern rationalizing forces, retaining the charisma that sparked the initial religious movement. The power of charisma in the small church has far-reaching consequences and implications for the future of Pentecostalism and its followers.
Publisher: Lexington Books
ISBN: 9780739170731
Number of pages: 322
Weight: 617 g
Dimensions: 236 x 160 x 29 mm
---
MEDIA REVIEWS
This four-year ethnographic study of a small African American church in Brooklyn, a revision of the author's PhD dissertation, is exceptionally well organized. Sociologist Marina highlights what he sees as "exotic" aspects of Pentecostal worship, and is most interested in the processes of religious conversion, which he relates to speaking in tongues. He uncovered tremendous diversity of opinion within church members' thoughts concerning glossolalia. Earlier researchers examined glossolalia as a form of altered states of consciousness, but Marina offers mainly sociological explanations and ultimately argues that church members understand tongue speaking primarily as a form of social empowerment. He also insightfully analyzes church organization, outlining the formal and informal structures of the Holy Ghost Church with attention to charismatic authority. Earlier studies of Pentecostalism predicted that church authority would become increasingly bureaucratic over time, but Marina convincingly argues that leaders in smaller Pentecostal congregations are better able to maintain their claims to charisma. The author's presentation is clear, his attention to ethnographic detail exemplary, and his scholarship sound. A significant contribution to the study of African American Pentecostalism. Summing Up: Highly recommended. All levels/libraries. * CHOICE *
Getting the Holy Ghost makes significant contributions to our understanding of African-American Pentecostalism and to the sociological study of religious conversion. The author successfully highlights some of the tensions between traditional religion and the complexities of urban life . . . . [Getting the Holy Ghost] is an excellent study. Marina's presentation is clear, his attention to ethnographic detail is exemplary, and his scholarship is thorough. Highly recommended. * PentecoStudies *
Marina's dramatic narrative style mixed with sociological analysis is . . . enticing. . . .The results remain invaluable for a better understanding of the internal processes operative within individuals and congregations and the impact of the local on the global future of Pentecostalism. * Religious Studies Review *
[This book] provides a viable and authentic voice to the Holy Ghost Church congregation of working class African-American and African Caribbean in the Brownsville neighborhood of Brooklyn. . . .In essence, Marina provides a[n] . . . objective, well-cited ethnography of a semi-autonomous Pentecostal church. His confession about being a non-religious, non-African Cuban-American, learned of the church through a colleague who belonged, leans credence to his search for objectivity . . . Scholars in the humanities will find this work a useful model to make inquiry of the shifting urban landscape . . . Scholars in theology and religious studies will benefit. . . .It is imperative that Pentecostal scholars and students critically examine the institutional church. * Pneuma: The Journal Of The Society For Pentacostal Studies *
Through a detailed and densely written observation of a small, non-denominational African/Caribbean Pentecostal church in Brooklyn, New York, Peter Marina. . . .aims to provide a thick and rich description of this church's practices and beliefs, while it makes key theoretical interventions in the field of sociology of religion. . . .One of the strengths of the book lies particularly in these thick and detailed descriptions resulting from close participant observations that give us lively glimpses into ineffable events. . . .Marina succeeds in providing us with an intimate and in-depth look into this one particular Brooklyn Afro/Caribbean Pentecostal church. . . .The book is a valuable contribution to scholarship across a number of subfields. . . .The author is to be applauded for deftly weaving together a compelling story about this charismatic church through insightful personal observation with sophisticated theoretical interventions. * Contemporary Sociology *
Peter Marina presents a rare portrait of religious rites in a small community church in Brooklyn, New York. Marina's skillful use of qualitative data based on first hand accounts, in-depth interviews and daily encounters with neighborhood residents tell an intriguing story involving 'speaking in tongues,' rites of aggregation, and a moving pathos that is part of the historical circumstance of African-American life since slavery. It is powerful ethnography where outsiders are allowed into an often hidden world in plain sight. It is a fascinating account, thoughtful, and dynamic that deserves wide praise and should be read by all interested in life in the city. -- Terry Williams, The New School
Getting the Holy Ghost is a richly descriptive ethnography of an African American Pentecostal congregation in Brownsville, New York. Marina challenges the crisis model of religious conversion and instead argues that conversion is a life-long decision making process. Marina uses in-depth analysis of the conversion stories of ten participants, from pastors to recent converts, to make his case. While reading the life stories of these struggling Pentecostals, you'll feel as if you know each of them personally. -- Peter Althouse, Southeastern University
Getting the Holy Ghost is a skillfully researched account of a small African/Caribbean Pentecostal congregation in Brooklyn, N.Y. Framing the work with sociological theories on Pentecostalism and religious conversion-some supported, others modified and still others rejected-Peter Marina narrates a delightful story through his use of rich interview data and personal observation. His account points to the importance of considering the role emotion plays in the growth of Pentecostalism, a global movement launched over 100 years ago with a host of paranormal experiences, including "tongue-speaking." Marina's analysis of how this small congregation balances charisma with institution in an age when spirituality increasingly challenges religious bureaucracy will be of interest not only to Pentecostal scholars but to all serious students of religion. -- Margaret A. Poloma, University of Akron
Peter Marina has achieved something quite rare in the annals of sociological ethnography: he has entered a community with which he had little in common and has told a compelling story about its innermost meanings, its organization, its cultural rituals and practices with the analytical deftness and observational acuity of an old hand. Yet, this is Marina's first book! It is a wonderful accomplishment by an expert chronicler of the everyday among the urban poor. Read it and experience life in a house of worship as you've never seen it. -- David Brotherton, The City University of New York
Getting the Holy Ghost is a marvelous ethnography which takes us to the hidden places and strange raptures of Pentecostalism , the largest Christian movement in the world today. Peter Marina has a fine eye for both physical and social detail: he writes like a dream and his text springs to life. In places it reads like a film script. You feel you are there amongst the dancers, the singers the people speaking in tongues and you share both his attraction and disquiet for this movement to reclaim the supernatural from the cold rationality of conventional religion. -- Jock Young, The City University of New York
You may also be interested in...
Simply reserve online and pay at the counter when you collect. Available in shop from just two hours, subject to availability.
Thank you for your reservation
Your order is now being processed and we have sent a confirmation email to you at
When will my order be ready to collect?
Following the initial email, you will be contacted by the shop to confirm that your item is available for collection.
Call us on or send us an email at
Unfortunately there has been a problem with your order
Please try again or alternatively you can contact your chosen shop on or send us an email at