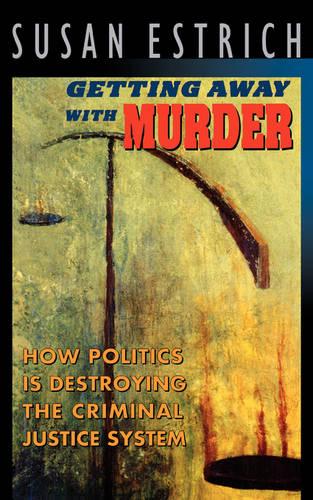 Getting Away with Murder: How Politics Is Destroying the Criminal Justice System (Paperback)
Susan Estrich
(author)
Paperback
245

Pages
Published: 01/10/1999
Justice isn't blind. It's winking. This is the message Americans get when, against the weight of overwhelming evidence, high-profile suspects go free; when there are special sentencing rules for battered wives or adult survivors of childhood abuse; when murderers are released from prison to rape and murder again, and politicians make political hay out of these cases; when lawyers look less like servants of higher values and more like profit seekers reaping fortunes by helping clients get away with murder. This book is a penetrating look into what's wrong with the American legal system, a devastating critique of how politics has corrupted criminal law in America.

Written with clarity and simplicity, Getting Away with Murder is a lesson in how the law works and a blueprint for how it should work. Susan Estrich takes on the enflamed issues, from the O. J. Simpson trial to three strikes legislation, but pushes well beyond the soundbite answers. Drawing on her background as a lawyer, political commentator, professor, and national campaign manager for Michael Dukakis, she brings academic expertise and political experience together in a way that very few people can.

In particular, Estrich argues that group-based jury nullification, like group-based abuse excuses, is precisely the wrong answer to the biases of the criminal justice system. Getting Away with Murder also views this system in the wider political arena, where fiascoes like the Willie Horton case stifle political debate and promote policies that tie the hands of judges in dealing with dangerous offenders. Lawyers do not escape Estrich's notice; she directs some of her most pointed remarks at the failure of the legal profession to tend to the ethical duties and legal values that it professes.

At a time when three quarters of black Americans believe that the criminal justice system is racist and unfair; when nearly half of all whites think it's ineffective and in decline; when crime, though falling, still tops the list of public concerns, and politicians exploit public distrust of the system to get elected, Getting Away with Murder makes a statement that is powerful, controversial, and urgently needed.
Publisher: Harvard University Press
ISBN: 9780674354128
Number of pages: 245
Weight: 227 g
Dimensions: 210 x 140 x 9 mm
---
MEDIA REVIEWS
Don't be fooled by the subtitle of this smart and lively book: Susan Estrich is not against politics in our criminal justice system, but for it. Indeed, she thinks some sort of politics is inevitable, so the key question about, say, criminal juries is not whether they should do politics, but how. What is destroying the system, Estrich says, is a 'separatist,' 'balkanized' and 'dishonest' politics. In its place, she summons up a vision of a unifying politics, focusing not on what tears Americans apart but on what brings us together...She delivers an impressive product--a broad critique of the current system and a road map for reform built on faith in the common sense of common people. -- Akhil Reed Amar * New York Times Book Review *
[Reading this book] is like being...at a dinner party [with a] scintillating legal expert overflowing with enthusiasm and insights into virtually every topic within [her] field of expertise. From the trials of O.J. Simpson and the Menendez brothers to the insanity defense, battered wives syndrome, [and] Willie Horton...[Estrich] renders one clever, thought-provoking opinion after another--each connected to [her] personal philosophy of law...Focussing particularly on the criminal law process, Getting Away with Murder describes a system that has become a forum for indulging our deepest social divisions--'a lowest common denominator search for false equality'--rather than a place for restoring the ties of trust and good faith that ought to bind up our ever more diverse society...These days, the emperor of law may have been reduced to his undergarments. But the nation will be [well] served following Estrich's attempt to reclothe him in all the finery we can muster. -- Edward Lazarus * L.A. Times *
In this short, lively and spirited book, Ms. Estrich tries to reestablish for the average reader the enormous importance that the law attaches to the 'reasonable person.' It is by the standards of that person that we judge the motives of criminals and the circumstances they confront...If you wish a stimulating introduction to this problem [of corruption in the U.S. legal system], her book is a good place to start. -- James Q. Wilson * Washington Times *
Ms. Estrich has set herself the complex task of dismantling US attitudes with rather more effective tools than the prevailing prejudices. In this lively, well-debated book, she fires continuous questions at the reader like bullets...Ms Estrich's key point is that under US law everybody is supposed to be treated the same but the way in which the same is interpreted is steeped in political connotations...She illustrates her arguments with an array of extraordinary cases that demonstrate just how much the US and British criminal justice systems are prey to the questions of where to set boundaries--and the issue of who should set them. -- Rachel Halliburton * The Gazette *
The scope of the topic is wide, encompassing equality in criminal punishment, racism in the jury system, legislative reactions to crime and legal ethics in representing accused criminals...The brevity of author Estrich's work is due to her mental nimbleness. She scurries through her field of ideas and inspects facts like found objects, turning them around to see them from all angles. She wants her readers to be explorers too, so she hypothetically changes facts by degrees, keeping our minds limber. No doubt, this is a style she has honed as a professor of criminal law at [the University of Southern California]. -- Eve Lichtgarn * California Journal of Law *
In Getting Away With Murder Estrich wants to save our troubled criminal justice system from various threats, including a pervasive tendency to employ 'abuse excuses' to defend people who commit crimes of extreme violence. She believes we are agents of free will, in spite of our genes and personal circumstances. In her view, we must hold one another accountable for our choices if we are to have a functioning society...[She] explores all sides of an issue, even raising prospective rebuttals and facing mitigating arguments head on...[Her book] is, at bottom, persuasive: We must have a unified vision of our justice system if it is to serve us as a society. -- Beret E. Strong * California Lawyer *
Estrich writes clearly and carefully but still with great verve, so even her reporting on material from a typical first year class holds interest...A book about the inevitable relationship between crime, lawyers, and politics...What makes it so interesting is Estrich's unexcelled 'ear' in all three areas and her experience as a teacher and politician. -- James Vorenberg, Harvard Law School
No one knows the criminal justice system from more angles than Susan Estrich--law professor, presidential campaign manager, and one-time rape victim. And no one writes about it with sharper insight or greater candor. This book combines a powerful diagnosis of what ails our criminal law with frank suggestions about how we might change it. It is superbly written, ferociously smart, and refreshingly clear. Anyone who cares about crime policy should read it. -- Kathleen M. Sullivan, Stanford Law School
Estrich writes with fire and passion, and it can jump right off the page and instill these emotions in the reader...In clear, concise language the author graphically describes the destructive influence of politics on the system. This book would be very suitable for students in criminal justice, political science, public policy, or law. It will challenge the reader's assumptions on every page. -- Edward Tromanhauser * Criminal Justice Review *
You may also be interested in...
×
Download the Waterstones App
Would you like to proceed to the App store to download the Waterstones App?
Reserve online, pay on collection


Thank you for your reservation
Your order is now being processed and we have sent a confirmation email to you at
When will my order be ready to collect?
Following the initial email, you will be contacted by the shop to confirm that your item is available for collection.
Call us on or send us an email at
Unfortunately there has been a problem with your order
Please try again or alternatively you can contact your chosen shop on or send us an email at