We regret that due to the technical limitations of our site, we are unable to offer eBooks or Audio Downloads to customers outside of the UK.
For further details please read our eBooks help.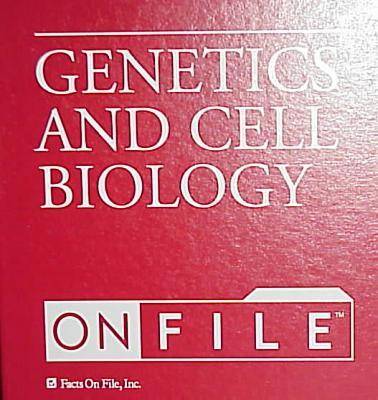 Hardback
Published: 15/06/2006
On File TM is our award-winning collection of visual reference materials. Each On File TM depicts complex subjects in a way that both engages and informs students and researchers. These flexible resources fit into every curriculum. -- Instructors can use the pages for handouts, overheads, posters, and testing. -- Students can use them as quick sources of information, to reference curriculum topics, or to supplement their essays and reports. -- On Files TM are available in either binder or electronic format. -- All of the maps, charts, diagrams, and illustrations are designed in clean black-and-white graphics and are printed on sturdy pages. -- Pages are housed in durable three-ring binders. -- Replacement pages are available if they are lost or stolen. Interdisciplinary Coverage Enhances High School Science Curricula Genetics and Cell Biology On File TM provides over 250 images on all aspects of cell biology and genetics, including hard-to-find material on history, theory, and application. Designed with the most current pedagogical requirements in mind, this On File TM features an interdisciplinary focus that includes the history of how the field has developed. Science-Technology-Society (STS) material offers students information central to the way the subject is currently being taught. Coverage is divided into three main sections: -- Major Techniques and Tools, including the microscope and genetic engineering -- Cells, including the main types of cells, their parts, and their evolution; structures and functions; and the process of cell division -- Inheritance, including pioneering experiments; DNA and current DNA analytical techniques, including gene therapy and theories of evolution. Partial Table of Contents: Techniques Units of Measurement Principles of Microscopy Cell Fractionation Chromatography Protein Sequencing Cell Types and Evolution Prokaryotic and Eukaryotic Cells: A Comparison Generalized Plant Cell: Function of Parts Generalized Animal Cell: Structure Types of Bacteria Viruses Cell Biology Robert Hooke Describes Cells Osmosis and Osmoregulation Nerve Impulses The Life Cycle of Red Blood Cells Photosynthesis: Dark Reactions Cell Division Prokaryotic Cell Division Mitosis and Meiosis: A Comparative Overview Homologous Chromosomes and Crossover Gamete Formation in Humans: Spermatogenesis Cancer: Development, Spread, and Causes Classical Genetics The Study of Inheritance through the Ages Dihybrid Inheritance in Fruit Files Barbara McClintock and Jumping Genes Gene Mutations Human Sex-linked Genes and Genetic Disorders Molecular Genetics DNA Replication: Meselson-Stahl Experiment Cracking the Genetic Code Bacterial Genetics: Impacts of Viral Infection DNA Fingerprinting Gene Therapy Finding the Gene for Cystic Fibrosis Genome Projects Physical Gene Mapping Applications of Analytical DNA Technology Population Genetics and Evolutions Concepts of Evolution Through the Ages c. 450 B.C.E.-1862 C.E. The Theory of Evolution by Natural Selection Traditional Evidence for Evolution Modern Evidence for Evolution Sources of Genetic Variatio
Publisher: Facts On File Inc
ISBN: 9780816035724
You may also be interested in...