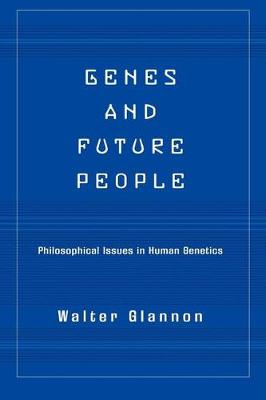 Genes and Future People: Philosophical Issues in Human Genetics (Paperback)
Walter Glannon
Paperback
Published: 12/11/2001
Advances in genetic technology in general and medical genetics in particular will enable us to intervene in the process of human biological development which extends from zygotes and embryos to people. This will allow us to control to a great extent the identities and the length and quality of the lives of people who already exist, as well as those we bring into existence in the near and distant future. Genes and Future People explores two general philosophical questions, one metaphysical, the other moral: (1) How do genes, and different forms of genetic intervention (gene therapy, genetic enhancement, presymptomatic genetic testing of adults, genetic testing of preimplantation embryos), affect the identities of the people who already exist and those we bring into existence? and (2) How do these interventions benefit or harm the people we cause to exist in the near future and those who will exist in the distant future by satisfying or defeating their interest in having reasonably long and disease-free lives?Genes and Future People begins by explaining the connection between genes and disease, placing genetic within a framework of evolutionary biology. It then discusses such topics as how genes and genetic intervention influence personal identity, what genetic testing of individuals and the knowledge resulting from it entails about responsibility to others who may be at risk, as well as how gene therapy and genetic enhancement can affect the identities of people and benefit or harm them. Furthermore, it discusses various moral aspects of cloning human beings and body parts. Finally, it explores the metaphysical and moral implications of genetic manipulation of the mechanisms of aging to extend the human life span.The aim Genes and Future People is to move philosophers, bioethicists, and readers in general to reflect on the extent to which genes determine whether we are healthy or diseased, our identities as persons, the quality of our lives, and our moral obligations to future generations of people.
Publisher: The Perseus Books Group
ISBN: 9780813365602
You may also be interested in...
We would love to hear what you think of Waterstones. Why not review Waterstones on Trustpilot?