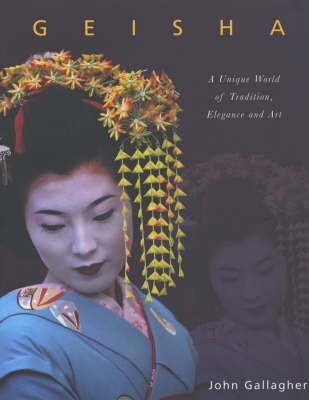 Geisha: A Unique World of Tradition, Elegance and Art (Board book)
John Gallagher
Board book
Published: 31/10/2003
Exotic, mysterious, elusive, Japan's geisha have fascinated and allured westerners from Puccini to Madonna, from Picasso to Arthur Golden. But just who are the geisha? This work delves into their lives and history, with detailed coverage of their rigorous training, their sumptuous costumes and the fantastically intricate world of tradition in which the geisha live and work. Geisha bureaucrats and ribald male geisha are just some of the unexpected denizens of this often misunderstood world in which nothing (including the vexed question of prostitution) is quite what it seems. The book details the minute gradations of geisha rank, clothing and makeup, and the subtle changes of geisha appearance through the round of seasonal events. From wigs to clogs, it catalogues the array of specialist equipment geisha need to perform their demanding jobs. It explores the network of dance schools, teahouses, temples and offices that form the "world of flowers and willows". A dense network of traditional crafts and occupations supports this world, with calligraphers, dyers and sake warmers among the many occupations serving in the hanamachi of "flower towns" as geisha districts are known. The geisha craft itself draws on an array of ultra-aesthetic traditional Japanese arts such as dance, tea ceremony, traditional music and games. Above all, the geisha world preserves a unique sensibility of leisure, unlike any other. This book explains how this complex dreamworld evolved, how it fits into the ever-changing scenery of modern Japan and how it is changing in order to survive there.
Publisher: Pavilion Books
ISBN: 9781843401605
You may also be interested in...
We would love to hear what you think of Waterstones. Why not review Waterstones on Trustpilot?