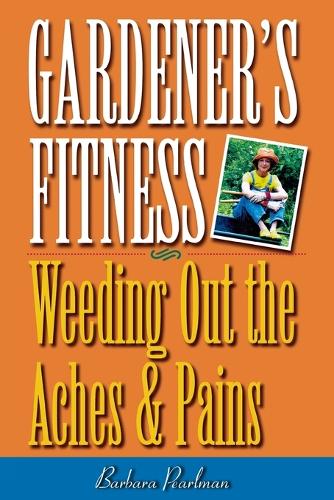 Gardener's Fitness: Weeding Out the Aches and Pains (Paperback)
Barbara Pearlman
(author)
Paperback
176

Pages / Published: 01/04/1999
A practical, easy-to-follow manual, Gardener's Fitness includes conditioning exercises, postural guidance for moving correctly and safely, therapeutic stretches to relieve discomfort, and a variety of gentle exercises designed to relax tired muscles and restore energy after laboring in the garden. Pearlman explains each exercise through simple directions and photographs. She also provides solid information on precautions to take in the gardening environment, where both major and minor dangers lurk: the sun, insect bites and bee stings, inclement weather, and many others.
Publisher: Taylor Trade Publishing
ISBN: 9780878332038
Number of pages: 176
Weight: 281 g
Dimensions: 229 x 153 x 11 mm
---
MEDIA REVIEWS
If you want your time outdoors to be productive and injury-free, make sure you do some simple exercises to get your body in shape before the annual dig. -- Charles Downey * Los Angeles Times *
Contains basic tips on how you can maximize your time in the garden without all the pain the next day. Whatever you do, try and keep outdoor endeavors light and carefree. * Better Homes and Gardens *
This book is a well-researched, sound compendium covering just about everything you need to know to garden safely and healthfully. It belongs on every gardener's reference shelf... make sure you follow the advice in it each time you go out to work in the garden. -- Nancy Wingate * The News Journal *
For answers, we turn to fitness guru Barbara Pearlman, or rather to her new book: Gardener's Fitness. It is a slim, chatty volume that covers everything from strengthening and stretching exercises to proper tools, from remedies for scrapes and rashes to warding off bugs. -- Stephanie Cavanaugh * The Washington Post *
Most other gardening books help you to enjoy gardening; this one will make you feel good about it. -- Lynn Lustberg * Garden Showcase *
Pearlman has written a balanced, thoughtful, and very useful book filled with simple conditioning exercises to help our bodies survive the gardening season. -- Sarah Robertson * The News-Review *
It's not just our gardens that need a spring tuneup. Our winterized bodies could use some help this time of year, too. Gardener's Fitness gives a series of stretching and strengthening exercises designed especially with gardening in mind. * The San Diego Union-Tribune *
An hour of gardening can burn as many calories as a 3 1/2-mile brisk walk, according to Barbara Pearlman, author of Gardener's Fitness. The sport of gardening requires strength, flexibility, and agility. Here Pearlman offers some dos and don'ts for your work in the dirt. * Natural Health *
Follow Pearlman's suggestions for warm-ups, and reap all the pleasures made possible by your green thumb, without suffering from a complaining back. Gardening should never be a painful experience. * Victoria *
[Pearlman's] book has easy-to-follow exercises and illustrations that include therapeutic movements to relieve discomfort, conditioning exercises and stretches to relax muscles and restore energy after working in the garden. * Colorado Springs Gazette, Springs Gazette *
This unique book is recommended for public libraries. * Library Journal *
Your muscles are on fire... it feels like they've been impaled by red-hot skewers. It's painfully clear you've overdone the gardening thing. [Pearlman's] book offers simple exercises to help you get out of bed the next day. -- Dan Vierria * The Sacramento Bee *
Owwww, garden elbow. Ohhhhh, the aching back. Pearlman has written a book addressed to the special needs of recreational dirt grubbers. Gardener's Fitness includes therapeutic stretches, correct posture positions, and exercises to relax tired muscles and restore energy. * Fort Worth Star-Telegram *
With proper conditioning, gardening should not wreak havoc on your body. * Columbus Dispatch *
With spring close at hand, I welcome this little book with its dozens of how-to line drawings and its handy advice for making gardening less stressful on our bodies. -- Marcella Garcia Moore * Eugene Register-Guard *
A good book [Gardener's Fitness] has come out, aimed at conditioning you to minimize the chances of getting hurt while gardening. * Chicago Tribune *
Do you have a love-hate relationship with your garden? You love working in it, but you hate the aches, pains, sunburn and bug bites. A new book, Gardener's Fitness, filled with information, has some tips on how to avoid the latter. * Milwaukee Journal Sentinel *
Undoubtedly, Pearlman loves gardening, and her background in fitness makes her the ideal candidate for writing this book, which should appeal to any gardener. [Gardener's Fitness] is an excellent reference book to help people who love to garden continue to enjoy their labor of love. -- Marlene Feduris * Amarillo Globe-News *
Exercise maven Barbara Pearlman also happens to have a green thumb. In her book Gardener's Fitness, she presents gardener-specific stretching and strengthening moves-along with inspirational quotes and useful illustrations-that will help your body and your backyard into shape. * Health *
Okay, gardening may be Grandma's workout, but you still can burn up to 400 calories per hour and strengthen leg muscles digging in the dirt. But if you don't use proper form, you may throw out your back along with the weeds. To do it right, follow tips from Gardener's Fitness. * Fitness *
A handy guide for preventing strain in the garden. * Garden Gate *
No wonder Martha Stewart looks so good: Gardening is a total-body workout that burns between 200 and 500 calories in an hour. But pulling weeds can be tough on your body, so follow these tips from Gardener's Fitness. * New Woman *
Let Barbara Pearlman show you how to garden safely and comfortably with her new book, Gardener's Fitness. Add a little fitness to your garden to-do list, and you'll enjoy working in the garden for a long time to come. -- Amy Engelhardt * Flower and Garden *
This health guide for gardeners features conditioning exercises to prepare for the new season; therapeutic movements to relieve discomfort; and stretches that help relax tired muscles and restore energy. * Gardener *
Have you been digging, raking, lifting, and hauling while going along with the theory that gardening is a matter of your enthusiasm holding up until your back gets used to it? If so, do yourself a big favor and read Gardener's Fitness. It can make you a truly fit and happy gardener. -- Nellie Nichols * Perennial Notes *
As any serious gardener knows, putting in those plants is no job for pansies. Digging holes, pulling weeds and lugging bags of soil for hours is a serious workout. Pearlman shows gardeners the right moves in her book, Gardener's Fitness. * New York Post *
Stop and stretch before you smell, or prune, the roses. Gardener's Fitness offers advice on how to garden safely and painlessly regardless of age. -- Korky Vann * Newark Star-Ledger *
If you're looking for advice on how gardening can keep you in shape for a lifetime, try Gardener's Fitness. * Florida Times-Union *
Until recently, I thought the only preventive actions I could take were bending my knees when picking up manure bags and saying nightly prayers. Then I met Barbara Pearlman. -- Tovah Martin * The New York Times *
You may also be interested in...
Simply reserve online and pay at the counter when you collect. Available in shop from just two hours, subject to availability.
Thank you for your reservation
Your order is now being processed and we have sent a confirmation email to you at
When will my order be ready to collect?
Following the initial email, you will be contacted by the shop to confirm that your item is available for collection.
Call us on or send us an email at
Unfortunately there has been a problem with your order
Please try again or alternatively you can contact your chosen shop on or send us an email at