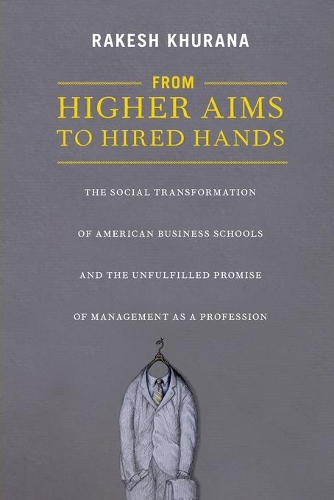 From Higher Aims to Hired Hands: The Social Transformation of American Business Schools and the Unfulfilled Promise of Management as a Profession (Paperback)
Rakesh Khurana
(author)
Paperback
568

Pages / Published: 23/04/2010
We can order this from the publisher
Is management a profession? Should it be? Can it be? This major work of social and intellectual history reveals how such questions have driven business education and shaped American management and society for more than a century. The book is also a call for reform. Rakesh Khurana shows that university-based business schools were founded to train a professional class of managers in the mold of doctors and lawyers but have effectively retreated from that goal, leaving a gaping moral hole at the center of business education and perhaps in management itself. Khurana begins in the late nineteenth century, when members of an emerging managerial elite, seeking social status to match the wealth and power they had accrued, began working with major universities to establish graduate business education programs paralleling those for medicine and law. Constituting business as a profession, however, required codifying the knowledge relevant for practitioners and developing enforceable standards of conduct. Khurana, drawing on a rich set of archival material from business schools, foundations, and academic associations, traces how business educators confronted these challenges with varying strategies during the Progressive era and the Depression, the postwar boom years, and recent decades of freewheeling capitalism. Today, Khurana argues, business schools have largely capitulated in the battle for professionalism and have become merely purveyors of a product, the MBA, with students treated as consumers. Professional and moral ideals that once animated and inspired business schools have been conquered by a perspective that managers are merely agents of shareholders, beholden only to the cause of share profits. According to Khurana, we should not thus be surprised at the rise of corporate malfeasance. The time has come, he concludes, to rejuvenate intellectually and morally the training of our future business leaders.
Publisher: Princeton University Press
ISBN: 9780691145877
Number of pages: 568
Weight: 680 g
Dimensions: 235 x 152 x 30 mm
---
MEDIA REVIEWS
Winner of the 2009 Gold Medal Book Award in Career, Axiom Business Winner of the 2008 Max Weber Award for Best Book, Organization, Occupations and Work Section of the American Sociological Association Winner of the 2007 Best Professional/Scholarly Book in Business, Finance and Management, Association of American Publishers "If Prof. Khurana wanted to torment business--school deans, alumni and current students, he couldn't have picked a better way. Prof. Khurana has identified an important imbalance. In the current environment, many brilliant young MBAs don't aspire to be corporate chief executive officers, who struggle to uphold their agendas against pressure from all sides. These students would rather be consultants who earn big money fomenting change. Better yet, they want to be the powerful investors who hire and fire CEOs."--George Anders, The Wall Street Journal "The book is extremely well written and provides a detailed historical account of US business education from the 1880s to the present day...This text will help many of us in business schools to think about who we are and where we need to go in future. Rakesh Khurana has done a great service to management education with this scholarly and important book."--Gary L. Cooper, Times Higher Education Supplement "A fascinating history of business education."--The Economist "Is corporate management a real profession? The intellectual rigor that legitimized business schools and turned the M.B.A. into a recognized credential has fallen by the wayside, argues Khurana, an associate professor at Harvard Business School. Instead of producing young professionals, he says, business schools are treating students as consumers and their education as a commodity. Exhaustively researched, Khurana's book examines the birth of the managerial class, the rise of the business school as an academic institution and what he calls its recent deterioration. This failure has created a climate ripe for corruption, and Khurana issues a call to arms for business schools to take back the high ground."--Tiffany Sharples, Time Magazine "Khurana's is an insightful work of sociology and of history. It is about the business school's many transformations in relation to professions and disciplines; in relation to the changing face of capitalism through its progressive, depressive, managerial and investor phases; in relation to societal and industrial expectations; and in relation to public interest and self-interest."--Malcolm Gillies, Times Higher Education "Khurana's meticulously researched account ends with a call for renewal of the idea of management as a profession... Coming as it does out of Harvard, the most iconic of business schools, From Higher Aims ... could hardly be a more provocative and timely intervention... Anyone remotely interested in management and its future should get hold of it--and ignore its lessons at their peril."--Simon Caulkin, Observer "Khurana's From Higher Aims to Hired Hands is an important and surprisingly disparaging look at business-school education in the U.S. from the late 19th century to the present...In the new volume, he strikes closer to home, concluding that 'fundamental questions exist as to whether business schools retain any genuine academic or societal mission'...As Khurana supplies layer upon layer of evidence in this admittedly dense work, it becomes increasingly difficult to disagree with his conclusions."--Hardy Green, BusinessWeek "Khurana presents his argument in rich detail and the book is worth reading by anyone interested in the current trends in the commercialization of academia."--Donald Stabile, EH.net "Rakesh Khurana's sweeping history of American business schools offers a bold overview and a moral message."--Neil Fligstein, American Historical Review "Khurana's criticism is measured--and is the more damning for it. His book is an impressive tour of the social and intellectual history of American university business schools...Drawing on rich archive material, Khurana traces how the fledgling American business schools confronted these challenges with varying strategies during the early 1900s and the Depression, the postwar boom years and recent decades of freewheeling capitalism. The book is, however, more than just an historical odyssey; it is also a heartfelt plea for business schools to rediscover their higher purpose. The university-based business schools were founded to train a professional class of managers akin to doctors and lawyers. But, he argues forcefully, they have retreated from that goal."--Des Dearlove, Times (London) "Rarely does one have the pleasure of reading a scholarly work as complete and as comprehensive as From Higher Aims to Hired Hands. Khurana presents a well-crafted social history of the plight of business school education in the context of a broader framework of American higher educationSKhurana exposes inadequacies in current business education programs and advocates for needed reforms."--J.B. Kashner, Choice "This is a powerful, compelling, and well-researched narrative... Far from a nihilistic rant about the state of American business education, Khurana paints a sympathetic but critical portrait of what this education has become."--Kevin T. Leicht, Journal of Higher Education "It is not uncommon today for critics to ask if business schools have lost their way, but Harvard's Rakesh Khurana poses the question against such a vivid, detailed, and compulsively researched historical background that it becomes more provocative than ever."--Biz Ed Magazine "Khurana has produced an excellent institutional history, albeit one in which many of the ingredients were already well-known from earlier accounts... However, these separate accounts had not been stitched together over such a broad canvas as Khurana constructs. The book should be compulsory reading for all Deans of business schools with a concern to learn from history."--Stewart Clegg, Australian Review of Public Affairs "In From Higher Aims to Hired Hands, Khurana, a management professor at the Harvard Business School best known for his writing on leadership, has produced an instant classic... [I]t is an evenhanded, comprehensive, and exhaustively documented work demonstrating how the history of the American business, reflecting the evolution from 19th-century entrepreneurial capitalism to mid-20th-century managerial capitalism to today's investor capitalism. Criticisms of today's business schools abound, but Khurana provides the historical perspective needed to understand how those institutions became what they are."--Strategy + Business "[U]ntil the publication of From Higher Aims to Hired Hands, nobody had provided such a detailed historical survey leading to conclusions of great significance for American academia and, implicitly, for American corporations... Khurana's book will no doubt continue to stimulate debate on both sides of the Atlantic about both managerial professionalism and the role business schools ought to play in a modern, knowledge-based society."--John Wilson, Business History Review "From Higher Aims to Hired Hands provides an invaluable resource for those of us attempting to understand how the university continues to be shaped and transformed by a confluence of economic forces and political interests. For this reason, Khurana's book deserves to be widely read within academia, in the business school and beyond."--Nick Butler, Ephemera "[W]hether or not one agrees with the author's argument as to what went wrong and how it might have gone right, this is a highly important work that should be read by anyone with either an interest in the history of American business schools and American management, or a concern for their future roles in our society."--Richard Marens, Eastern Economic Journal "The book is an impressive and thouroughly researched work reviewing the social history of American business education."--Andrew May, Professional Manager "Not only is this book fully documented and well-written, but its author also achieves here a truly complete social science analysis... It is a pleasure to discover such a meticulous work that is not only methodologically strong but is also conceptually powerful. The quality of this historical work is enriched by its developments in social sciences which allow an exceptional production... [T]he work done here by Khurana remains both strong and riveting."--Yoann Bazin, Society and Business Review
You may also be interested in...
×
Download the Waterstones App
Would you like to proceed to the App store to download the Waterstones App?
Reserve online, pay on collection


Thank you for your reservation
Your order is now being processed and we have sent a confirmation email to you at
When will my order be ready to collect?
Following the initial email, you will be contacted by the shop to confirm that your item is available for collection.
Call us on or send us an email at
Unfortunately there has been a problem with your order
Please try again or alternatively you can contact your chosen shop on or send us an email at