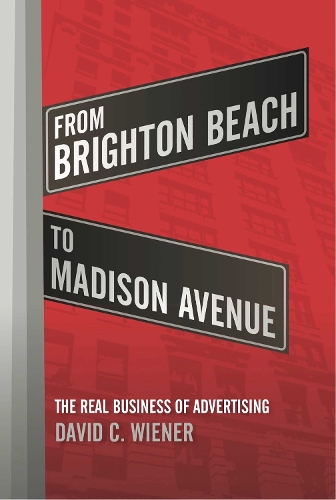 Hardback
208

Pages / Published: 08/08/2018
Unlike any accountant most people ever meet, David C. Wiener rose from humble beginnings in a Jewish neighborhood of Brighton Beach, to the heights of accounting success by carving out a niche in the advertising industry in midtown Manhattan. He moved from accounting to financial assessment to negotiating deals with an ever widening array of companies. His uncanny ability to size up in an instant a situation on all levels-not only financial and economic, but all aspects related to it-his disarming sense of humor, and his no-nonsense approach make him the perfect deal maker. This book lifts the curtain on the stage of advertising agencies from the 1970s to the present and shares life lessons on how to succeed in business and in life.
Publisher: EverAfter Romance
ISBN: 9781635765717
Number of pages: 208
Dimensions: 229 x 152 mm
---
MEDIA REVIEWS
"I've never known a successful person who didn't have a good accountant. David is to a good accountant what a Lamborghini is to your neighbor's SUV. Buying this book is like holding a Lamborghini ignition key in your hand. Reading the book is the best step you can take to creating the most value for your company. David's advice is golden. Trust me. I trusted him, and that was one of the biggest ideas I've had." -Donny Deutsch, Chairman, Deutsch Inc.

"David is a unicorn. His unerring eye for detail, his insistence on financial best practices, and his total intolerance for laziness and stupidity make him one of my favorite people. His advice is invaluable to business owners, CEOs, and entrepreneurs in the marketing- services space. The best move you can make is to get David's accounting advice. The next best thing is to read his book, and if you can manage it, I recommend you do both." -Marina Maher, CEO, Marina Maher Communications

"David Wiener has been counselor to many of the most significant entrepreneurs of the advertising industry for decades. His wisdom on business and in life is a treasure and an invaluable part of the story of 72andSunny." -Matt Jarvis, CEO, 72andSunny

"David Wiener is the General Patton of dealmakers. When he's on your side, your opponents shiver in their boots and you win the war. David mows them down with his no- nonsense approach, a mix of street smarts and sound strategy. Read this book and learn how to win." -Richard Kirshenbaum, CEO, Swat Advertising; Author, Rouge

"David is known as the "money guy": smart, diligent, and ethical. He is kind, generous and funny too, the best type of friend to have." -Adelaide Horton, Co-founder, Horton- Maroun Studio

"As someone who can't always handle the truth, I have really treasured the advice David has given me over the years. He is forthright, funny, globally knowledgeable, and dammit, always right. I'm sure there are great lessons to be learned herein, and you won't have to pay as much as I did to learn them." -Jeff Goodby, Co-Chair, Goodby, Silverstein & Partners

"It's no secret that the advertising business is full of prima donnas, artistes, and egos the size of Trump Tower. What's amazing is that David has been able to herd, manage, persuade, and make deals with pretty much all of them. I hope he does an audio version of the book. There'll be a lot of yelling." -Chuck Porter, chairman, Crispin Porter + Bogusky

"David is an insightful businessman, tenacious negotiator, and a great advocate for his clients. He presents information with radical simplicity, no BS, and always a gentle (or not so gentle) dose of levity." -David Demuth, CEO, Doner

"David is one of the most honorable people I have worked with over my career. He negotiates hard but fair. Once he gives his word, you can take it to the bank." -Jay Weinstein, Partner, EisnerAmper

"David was this sweet little yeshiva boychik who negotiated with as filthy a mouth and clarity of purpose as I could imagine. We did the deal and he invited me to go to a Friars Club roast with Sheila and my wife. And I hired him to do some work for Grey." -Steven G. Felsher, former vice chairman and CFO, Grey Global Group Inc.

"David is an extraordinary individual, highly intelligent, very focused, and able to get transactions completed on a mutually beneficial basis. David has been an important factor to the success of MDC Partners' numerous iconic acquisitions of leading- edge agencies that have helped to contribute to MDC's reputation as a thought leader and the place where great talent lives." -Miles Nadal, former CEO, MDC Partners

"David Wiener is a force of nature. He is sharp as a tack and someone who advocates feverishly for his clients. David always follows through with exactly what he said he will do. He therefore has a healthy degree of impatience for those who don't operate the same way. For those who do, David provides a master class in mergers and acquisitions involving the marketing communications industry. It's a class that any entrepreneur in the business should take. -Brad J. Schwartzberg and Michael C. Lasky, Partners, Davis & Gilbert LLP

"Mercury was a small shop with one office when we met David Wiener. His able guidance and deep Rolodex were key to our initial sale, and his continued strategic counsel helped us grow the company to eighteen offices. We could not have done that without the unique financial structure David helped create." -Kieran Mahoney, Managing Partner, Mercury

"David isn't a person; he's a force of nature. For decades, he did most if not all of the important deals in the advertising/marketing business. If that sounds like he's too serious for fun, he's not. He also has one of the nuttiest senses of humor of all time!" -Martin Puris, CEO, Puris & Partners

"To the smartest, toughest, nicest, and funniest negotiator, counselor, and friend a guy could have. May this be a very happy and healthy milestone." -Bruce Miller, President, Suissa Miller Advertising

"Over a number of years, I have been privileged to work with David as his counsel and as counsel to a number of shared clients. David's business sense and knowledge are unique and extensive, and I have personally witnessed his ability to find hidden value for his clients. He is unique in many ways- including his ability to get deals done and in his facile and (at times) nuanced approach to clients and adversaries. David is extremely knowledgeable regarding the marketing services industry and has deep contacts with most of the major players. He is a significant figure in marketing service agency M&A, and I have been extremely fortunate to learn the business intricacies of these transactions from someone as gifted as David. In particular, I always consider myself to be very fortunate to be sitting on the same side of the table as David!" -Jeffrey M. Davis, Moses & Singer

"We interviewed many merger and acquisition firms. David was by far the most insightful and realistic. We loved his no- nonsense style, and within minutes we knew he was the one. He overdelivered!" -Madeline DeVries, chairman of the board, DeVries Public Relations

"I couldn't put this book down but I just did because I read it cover to cover. I have not done that since the Lincoln letters. Thank God it's shorter! It's a gift to our industry as are you, David. Thank you. This is your gift I'll share with others!" -John Boiler, Founder & Creative Co-Chair, 72andSunny

"It's an extremely interesting and insightful education to some of the business aspects of particularly buying and selling companies: deal making; how it works and doesn't; what needs to be done, what not. There are also some jaw-dropping stories. I trusted David even when he was representing the other side because he was always honest, smart, insightful and told it like it was whether you wanted to hear it or not. Hard to find this kind of integrity these days. As a bonus, there are some great stories about various interesting people with whom David interacted over the years. If you're at all interested in advertising; deal making; personal and business values or David Wiener, check out the book." -Jeff Goldberg, Founder, Goldberg Moser O'Neill


You may also be interested in...
Simply reserve online and pay at the counter when you collect. Available in shop from just two hours, subject to availability.
Thank you for your reservation
Your order is now being processed and we have sent a confirmation email to you at
When will my order be ready to collect?
Following the initial email, you will be contacted by the shop to confirm that your item is available for collection.
Call us on or send us an email at
Unfortunately there has been a problem with your order
Please try again or alternatively you can contact your chosen shop on or send us an email at