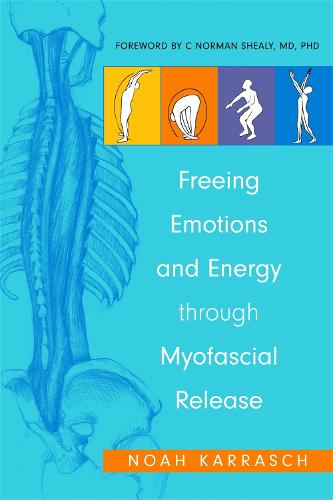 Paperback
224

Pages
Published: 15/01/2012
Too many of us hold our physical, mental and emotional pain within our bodies, where it slows energy, manifests as tension and can have a damaging impact upon our health. In his new book, Noah Karrasch shows that wellbeing and healing come from the detangling of blocked emotions and the restoration of the free flow of energy through the body.

Written for bodywork and manual therapy practitioners from a wide variety of disciplines, as well as other healers who want to expand their skills, this generously illustrated book explains how and where emotions and static energy are held in the body, and how they can be released and rebalanced in therapies that challenge bodymindcore awareness. It includes many new ideas and techniques: useful conversation starters to help practitioners encourage clients to self-identify their challenges, detailed explanations of myofascial release techniques and self-reflective exercises designed to first help the practitioner truly understand the process for him or herself, through his or her own body, in order to become a more empathetic and effective therapist.

This important book will enable bodywork and manual therapy practitioners to work more confidently, and more intuitively, with their clients.
Publisher: Jessica Kingsley Publishers
ISBN: 9781848190856
Number of pages: 224
Weight: 340 g
Dimensions: 228 x 152 x 14 mm
---
MEDIA REVIEWS
Although directed at bodyworkers and other healers, this experiential manual combines easily understandable postural and emotional releasing techniques, common-sense medical wisdom and superb chakra system explanations, making it completely accessible to both therapists and clients. Personally, I believe the essential reason for life is to do good to others, to nurture them. Noah's CORE program is a tremendous evolution in the nurturing practice of fascial, muscle, tendon and skeletal alignment. In this exciting new book, Noah goes well beyond the physical adjustments with practical exercises. Follow his CORE advice to optimal health. Noah Karrasch - recognizing that the line between therapist and client is a thin one indeed - has written a book that would serve either consumer or provider in reaching below the surface to the psychological and expressive correlates that nearly always accompany postural pain/strain patterns. So many somatic psychology books are psychobabble with a smattering of the body thrown in for 'holism'. By contrast, this book starts with the body, giving exercises and insights that provide a way in to authentic self-expression. Blending informative case histories and examples from his own work, Noah brings a blend of ancient and modern thought to his bodywork approach. Littered with useful and provocative images and exercises, this book will help a therapist get to many of their clients' 'Core' issues by contacting both the emotional and the physical aspects of pain. A worthy addition to any bodyworker's bookshelf. Just as a skilled bodywork session should speak to all the layers and unite the disparate energies of the body, Freeing Emotions and Energy Through Myofascial Release brilliantly unites the specific manual techniques and structural theory of a holistic bodywork session with the deeper psychological and emotional understanding of, not only our clients, but of our own processes. In this fine book, Noah Karrasch moves knowledge to the next plateau of wisdom. Freeing Emotions and Energy Through Myofascial Release expands our awareness of the many ways we get 'stuck' in the flow of our lives. I'm fascinated by the powerful parallel of this work with Interactive Imagery and Biofeedback, and encouraged at the multiple avenues we have to be HEALTHY HUMANS. While respecting our emotions, we can release 'stuck' and move freely. Freeing Emotions and Energy Through Myofascial Release is an immensely valuable book for everyone who wants to be alive, fully alive. It is a practical guide to health and emotional freedom, integrating models from East and West into an empowering vision of how free and unblocked we can be, if only we dare to. For many people - especially physicians, and health care providers, discussions about chakras and Chinese healing concepts are so far out of our frame of reference, and so far out of our knowledge and experience, that it is something that we avoid. In this book, Noah brings together in a 'physical way' relating or connecting the chakras and traditional Chinese medicine with physical human anatomy. Now, I can picture the concepts, and begin a process of integrating traditional western and eastern forms of healing. He also 'brings a challenge' to each healer, regardless of our title, to go deeper into the core structure and function of the person - combining the dimensions of physical, emotional, intellectual, and spiritual self. It is a 'good read', but also an enlightening and refreshing view of the integrated whole person. I first came to know of Noah through a mutual friend who recommended I meet this 'American therapist' who had a different approach to soft tissue work. Over the years he has shared those views with many of my students who have all come away from his classes both enriched and inspired. I have witnessed his generosity of spirit, his compassion for those he serves, and it is reflected in this gem of a book. He has brought together a philosophy that in essence has been around for a long time, but not connected in a way in which Noah has been able to demonstrate. Follow his journey, make it yours, it will bring a new dimension to your treatments as well as yourself. Hugely informative, easily accessible to body worker, student and receiver alike. Everyone will come away with something useful. My coffee sat cold on the counter as I paged through. It's exciting to see a book written about putting the spirit back in bodywork both for the client and the therapist. YES. I love the way you have blended your CORE Fascial Release Bodywork with the chakra system as you think about the areas being worked on. Attention and Intention of both client and therapist working together. Perfect. As a Chartered Physiotherapist and Pilates teacher, Noah's CORE Fascial Release technique and its representation in this book have quite simply changed the way I work. It has helped to make complex cases simple, creating new parallels with the manual work used in Physiotherapy and the exercises prescribed in Pilates. Freeing Emotions and Energy Through Myofascial Release will aid any movement therapist to 'bridge the gaps' in their ability to deliver consistently successful therapy. Freeing Emotions and Energy Through Myofascial Release is a compendium of classical structural bodywork principles, concepts from Oriental Medicine, and psychological common sense. Noah Karrasch challenges healers of all disciplines to explore their own body-mind connections and disconnections in order to become more fully present with their clients. We are blessed to be beneficiaries of his twenty-five years of dedication to holistic healing. Based on a wealth of personal experience and a blend of 'East meets West', it is packed full of useful, expertly explained nuggets of 'things to consider' and 'hands on techniques' to aid the bodyworker and inspire the layperson.
You may also be interested in...
×
Download the Waterstones App
Would you like to proceed to the App store to download the Waterstones App?
Reserve online, pay on collection


Thank you for your reservation
Your order is now being processed and we have sent a confirmation email to you at
When will my order be ready to collect?
Following the initial email, you will be contacted by the shop to confirm that your item is available for collection.
Call us on or send us an email at
Unfortunately there has been a problem with your order
Please try again or alternatively you can contact your chosen shop on or send us an email at