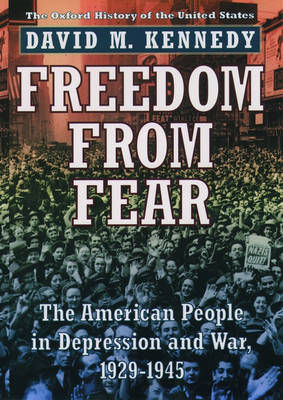 Freedom from Fear: The American People in Depression and War 1929-1945 - Oxford History of the United States (Paperback)
David M. Kennedy
(author)
Paperback
956

Pages / Published: 30/08/2001
Between 1929 and 1945, two great travails were visited upon the American people: the Great Depression and World War II. Freedom from Fear tells the story of how Americans endured, and eventually prevailed, in the face of those unprecedented calamities. The Depression was both a disaster and an opportunity. As David Kennedy vividly demonstrates, the economic crisis of the 1930s was far more than a simple reaction to the alleged excesses of the 1920s. For more than a century before 1929, America's unbridled industrial revolution had gyrated through repeated boom and bust cycles, wastefullly consuming capital and inflicting untold misery on city and countryside alike. Nor was the fabled prosperity of the 1920s as uniformly shared ag legend portrays. Countless Americans, especially if they were farmers, African Americans, or recent immigrants, eked out thread bare lives on the margins of national life. For them the Depression was but another of the ordeals of fear and insecurity with which they were sadly familiar. Franklin Roosevelt's New Deal wrung from the trauma of the 1930s a lasting legacy of economic and social reform, in cluding the Social Security Act, new banking and financial laws, regulatory legistlation, and new opportunities for organized labour. Taken together, those reforms gave a measure of security to millons of Americans who had never had much of it, and with a fresh sense of having a stake in their country. Freedom from Fear tells the story of the New Deal's achievments, without slighting its shortcomings, contraditions and failures. It is a story rinch in drama and peopled with unforgettable personalities, including the incandescent but enigmatic figure of Roosevelt himself. Even as the New Deal was coping with the Depression, a still more fearsome menace was developing abroad-Hitler's thirst for war in Europe, coupled with the imperial ambitions of Japan in Asia. The same generation of Americans who battled the Depression evenutally had to shoulder the arms in another conflict that wreaked world wide destruction, ushered in the nuclear age and forever changed their own way of life and their country's relationship to the rest of the world. Freedom from Fear explains how the nation agonized over its role in World War II, how it fought the war, why the United States won, and why the consequences of victory were sometimes sweet, sometimes ironic. In a compelling narrative, Kenney analyses the determinants of American strategy, the painful choices faced by commanders and statesmen, and the agonies inflicted on the millions of ordinary Americans who were compelled to swallow their fears and face battle as best they could. Freedom from Fear is a comprehensive and colourful account of the most convulsive period in American history, excepting only the Civil War - a period that formed the crucible in which modern America was formed.
Publisher: Oxford University Press Inc
ISBN: 9780195144031
Number of pages: 956
Weight: 1376 g
Dimensions: 237 x 157 x 49 mm
---
MEDIA REVIEWS

"A grand historical synthesis...[T]his is the kind of book prizes are made for."--Chicago Tribune
"This is modern America's story--modern America's most thrilling, most irresistible, and most significant story--and in this massive volume, David M. Kennedy makes it his story in a way that no one has before. Freedom From Fear, the fourth installment of the new Oxford History of the United States to appear, is as much a triumph as its predecessors, providing every indication that the series, once completed, will stand as the most comprehensive and most compelling narrative history of the nation."--Boston Globe
"Rarely does a work of historical synthesis combine such trenchant analysis and elegant writing as does Kennedy's spectacular contribution to the Oxford History of the United States. Kennedy uses a wide canvas to depict all aspects of the American political, social and economic experience from 1929 to 1945. He also provides a stunningly original reinterpretation of the competing forces and interests that combined to shape the New Deal under FDR's direction. The book's final 400 pages admirably demonstrate exactly how the U.S. emerged victorious in WWII....Because of its scope, its insight and its purring narrative engine, Kennedy's book will stand for years to come as the definitive history of the most important decades of the American Century."--Publishers Weekly
"An engrossing narrative of a momentous time. The best one-volume account of the Roosevelt era currently available....Good old-fashioned history."--The New York Times Book Review
"An indispensable account of the two great formative events of 20th century American history--the Great Depression and the second World War."--The Economist
"The book...has my strong approval. As it will have, I cannot doubt, that of the many readers it deserves."--John C. Gilbraith, The Washington Monthly
"An invaluable compendium of the hyperactive period that contains the Great depression and the Second World War."--The Washington Times
"Kennedy's book is the most illuminating, riveting, comprehensive, and graceful one-volume history of this nation's experiences during the Great Depression, New Deal, and WWII published to date....This is social, political, dipolmatic, and military history written magisterially with broad but nuanced strokes across a 16-year span that utterly transformed the lives of Americans and the world....Librarians should order this book for their libraries, faculty members should assign it, and everyone should read it."--CHOICE
"Kennedy's grasp of deep-rooted social problems and his enlightening, analytical style are very much in evidence....[He] brilliantly explores the conflicting nuances of [Roosevelt's] character and program....Kennedy has achieved a judicious balance in his treatment of the Depression and the military operations and diplomatic maneuvers of World War II. His narrative style is in the grand tradition of American historical writing, an unfaltering display of clarity and detail."--Philadephia Inquirer
"No other book so vividly captures the spirit of those 17 years that forever changed America."--Christian Science Monitor
"One of our most broad-gauged American historians brings us that increasing rarity: a big book about a big subject....The Stanford scholar takes on the job of tracing the American people through three of the most important and important and widely written about epochs in the century...and provides us with consistently original and sometimes startling conclusions."--The Washington Post
"A major achievement in objective historical writing that should be a legacy to generations of students seeking authoritative reference material on the period."--Kirkus Reviews
"David Kennedy...is absolutely masterful in this literate and lively history of the American people in the Depression and World War II."--The Waterbury Republican-American
"From its dramatic prelude depicting Franklin Roosevelt, Winston Churchill, Adolf Hitler, and Joseph Stalin hearing the news of the end of World War I on November 11, 1918, to its moving climax on board the USS Missouri in Tokyo Bay on September 2, 1945, this panoramic narrative pulses with life, color, incident, and action. We know how it all comes out, yet the fate of the nation seems to hang in the balance as Kennedy captures history's throat-catching contingency."--Jack Beatty, author of The Rascal King: The Life and Times of James Michael Curley and The World According to Peter Drucker
"We expect the best from David Kennedy and he will not disappoint anybody with this competent, complete and literate volume. Covering a time of large and intense change, it is all here. A major and thoroughly fine piece of work."--John Kenneth Galbraith
Freedom from Fear brings together in one place the epic story of how America faced the greatest challenges in its history. At a time when we tend to bemoan our selfish preoccupations, it is bracing to read David Kennedy's moving account of our better selves. This is history the way it ought to be."-- Alan Wolfe, Boston University, author of One Nation After All
"Displaying a literary craft uncommon in survey works, he has woven together narrative, sketches of character, and critical judgment to record and analyze the economic, political, social, and military events of these epic years....This account of the crucial struggles and events of the Depression and war years will lend perspective like few others."--Library Journal
"David Kennedy is one of America's most distinguished historians, and Freedom from Fear is a remarkable achievement: deeply researched, insightful, and beautifully written. Fast-paced, it presents vivid portraits of major actors such as Roosevelt, Churchill, and Hitler, as well as of the hopes and fears of millions of lesser-known people caught up in the tumultuous years of the Great Depression and of World War II."--James T. Patterson, Bancroft Prize-winning author of Grand Expectations
"Excellent text, well-written, focused."--David Lindquist, Indiana University

You may also be interested in...
Simply reserve online and pay at the counter when you collect. Available in shop from just two hours, subject to availability.
Thank you for your reservation
Your order is now being processed and we have sent a confirmation email to you at
When will my order be ready to collect?
Following the initial email, you will be contacted by the shop to confirm that your item is available for collection.
Call us on or send us an email at
Unfortunately there has been a problem with your order
Please try again or alternatively you can contact your chosen shop on or send us an email at