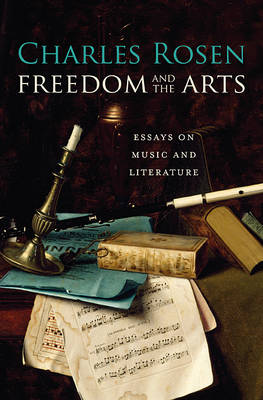 Freedom and the Arts: Essays on Music and Literature (Hardback)
Charles Rosen
(author)
Hardback
448

Pages / Published: 20/06/2012
In stock

Free UK delivery
Is there a moment in history when a work receives its ideal interpretation? Or is negotiation always required to preserve the past and accommodate the present? The freedom of interpretation, Charles Rosen suggests in these sparkling explorations of music and literature, exists in a delicate balance with fidelity to the identity of the original work.

Rosen cautions us to avoid doctrinaire extremes when approaching art of the past. To understand Shakespeare only as an Elizabethan or Jacobean theatergoer would understand him, or to modernize his plays with no sense of what they bring from his age, deforms the work, making it less ambiguous and inherently less interesting. For a work to remain alive, it must change character over time while preserving a valid witness to its earliest state. When twentieth-century scholars transformed Mozart's bland, idealized nineteenth-century image into that of a modern revolutionary expressionist, they paradoxically restored the reputation he had among his eighteenth-century contemporaries. Mozart became once again a complex innovator, challenging to perform and to understand.

Drawing on a variety of critical methods, Rosen maintains that listening or reading with intensity-for pleasure-is the one activity indispensable for full appreciation. It allows us to experience multiple possibilities in literature and music, and to avoid recognizing only the revolutionary elements of artistic production. By reviving the sense that works of art have intrinsic merits that bring pleasure, we justify their continuing existence.
Publisher: Harvard University Press
ISBN: 9780674047525
Number of pages: 448
Weight: 799 g
Dimensions: 235 x 156 x 31 mm
---
MEDIA REVIEWS
You can get lost in the world of Charles Rosen. He's quite possibly the richest cultural critic writing today in the vastness of what he offers...As a formidable pianist and a professor emeritus of music at the University of Chicago, his principal jumping off point is, of course, music. But once he jumps, he lands into psychology, literature, science, philosophy, art---everything that's in the primordial humanities brew...He deals in mountains of knowledge, and he covers more ground with that knowledge than anyone writing today. The title of this collection does not lie: the power he imparts on you the reader will set you free. -- Jimmy So * Daily Beast *
Even those of us who admire Charles Rosen as the most remarkable critic writing today must be startled by the polymathy in his new collection, Freedom and the Arts...Just to see the spectrum provided by [his essays'] titles is to marvel: "Structural Dissonance and the Classical Sonata," "Theodore Adorno: Criticism as Cultural Nostalgia," "Lost Chords and the Golden Age of Pianism," "La Fontaine: The Ethical Power of Style," "Hofmannsthal and Radical Modernism." To read them is to marvel further: Rosen's communicative power is as prodigious as his versatility. Each essay includes so much more than its specific topic. Large-mindedness matters more here than scholarship; cleverness is simply incidental...No other living critic has produced a corpus that so fully exemplifies the virtues and achievements of civilization. It's easy to believe that we will need to keep revisiting Freedom and the Arts. As I turn in these pages from bygone traditions of dislocation (also known as asynchronization or limping) in piano playing to the connections between cruelty and eroticism in the Marquis de Sade, and from the sound patterns in La Fontaine's poetry to the skill of Niccolo Jommelli's setting of recitative secco in his opera Olimpiade, I can't help laughing in amazement. Who else in the world could make all these things lucid, sensuous, and important? ...We return to Rosen not to remind ourselves of his greatness but to come to a better understanding of Mozart's and Mallarme's, to enrich our appetites for classicism, Romanticism, and modernism, and to deepen our love of music, literature, and civilization. Despite the casual disdain he often expresses for fools, his primary task is always to write about the art in which he takes pleasure. -- Alastair Macaulay * New York Review of Books *
[Rosen] is a writer who can write...One is reminded that Rosen is more than a musicologist. Not only is he a pianist, having recorded works from Bach to Boulez, but he also surveys with enthusiastic erudition a number of literary topics...The reader may rest assured of recommendation. If you know Rosen's work, you will doubtless require no urging; if not, then this is a good place to start. -- Mark Berry * Times Higher Education *
[An] astute new collection of essays. -- Eric Herschthal * Jewish Week *
Freedom and the Arts serves to enrich our appreciation, understanding, and passions of music, literature, and art...Freedom and the Arts embodies a corpus of creativity and achievement. Rosen leads readers through these pieces and eras and poignantly demonstrates the delicate features and everlasting joys we share when discussing and consuming art. -- Elisabeth Woronzoff * PopMatters *
Its scope, which touches on literature as well as music, is not only broad but invariably arresting. -- Conrad Wilson * Glasgow Herald *
An evident polymath, [Rosen] writes with equal grace and intelligence about the music of Mozart, the poetry of Mallarme, and Adorno's aesthetic framework. The overlap of critical observation and playfulness is evident throughout...Rosen has plenty to offer disciplined readers and students of the arts. * Publishers Weekly *
Which critic could offer a witty defense of the Marquis de Sade's sadomasochistic writings, muse on why gays love Maria Callas and give a subtle analysis of 'Structural Dissonance and the Classical Sonata,' complete with generous musical examples? Only one: Charles Rosen. All these topics and many more appear in this brilliant, amusing and often moving volume of essays. The word polymath is overused, but Rosen is one writer who surely deserves the epithet. The whole of Western culture seems to lie stored behind his domed forehead, allied to a penetrating intelligence that makes critical adversaries quail... The thread running through [the essays] is the liberating power of great art and literature... [One] can simply enjoy this wonderful book, both for its glittering surface and its hidden depths. -- Ivan Hewett * Daily Telegraph *
For Rosen, greater knowledge always brings greater pleasure... When discussing pieces of music in Freedom and the Arts, he frequently illustrates his arguments by reproducing passages from their scores. He quotes poetry in French and German, but he does provide translations (often his own). In short, he expects his readership to be as cultivated as he is. It is a great compliment, as well as a shrewd pedagogical device. One finishes any book by Charles Rosen intellectually re-energized, eager to become a deeper reader, a more attentive museumgoer, a better listener. -- Michael Dirda * Washington Post *
Charles Rosen has always written from a height in the Earth's atmosphere at which the gas exchange is not the same as it is for most regular folk. That's the edification, fun, exasperation--and chill--of reading him. The latest collection of his writings, Freedom and the Arts: Essays on Music and Literature, offers more communications from his particular beyond, yet collectively these pieces are not just bracing but pleasurable, revealing a personal, even affable side of Rosen...The scholarship and sheer range of knowledge in these essays are predictably dazzling. -- Tim Pfaff * Bay Area Reporter *
Offers clear evidence of Rosen's gifts as musical and cultural analyst...Many of the most compelling pages here reflect his profound understanding of, and insights into, writers as disparate as Diderot and Mallarme, periods ranging from the reign of Louis XIV to the Second Empire, and digressions that include, say, tedium, boredom, and ennui as 'one of the great literary subjects after 1700, particularly in France.' ...Rosen packs more detail and insights into nine pages than most critics could manage in a study ten times that length. -- Michael Morley * Australian Book Review *
[A] brilliant collection of essays...Whenever I read Rosen's work, I think of all the dim space in my brain that is occupied irreparably by old 'Brady Bunch' episodes and the sexual politics of 'Three's Company'; in Rosen's brain these areas are occupied by Montaigne, the complete works of Congreve, rival translations of Rimbaud, etc. etc. He bestrides culture. -- Jeremy Denk * New Yorker *
This is an engaging, thoughtful, and humorous collection of essays on such a wide variety of subjects that the book is difficult to categorize...At a time when cross-disciplinary work is not only exciting but expected, Rosen's writing takes the reader through musicological discourse into literature, philosophy, science, politics, and a host of other areas, all with the same agenda--to demonstrate that a work of art (any art, but in this case music) has intrinsic value regardless of the era or ethos in which it is received...An exciting volume for all. -- K. S. Todd * Choice *
You may also be interested in...
×
Download the Waterstones App
Would you like to proceed to the App store to download the Waterstones App?
Reserve online, pay on collection.
Or,
add to basket
, pay online, collect in as little as 2 hours, subject to availability.
Thank you for your reservation
Your order is now being processed and we have sent a confirmation email to you at
When will my order be ready to collect?
Following the initial email, you will be contacted by the shop to confirm that your item is available for collection.
Call us on or send us an email at
Unfortunately there has been a problem with your order
Please try again or alternatively you can contact your chosen shop on or send us an email at