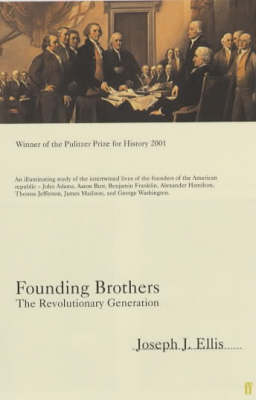 Founding Brothers: The Revolutionary Generation (Paperback)
Joseph J. Ellis
Paperback
Published: 04/02/2002
Ellis recounts the sometimes collaborative, sometimes archly antagonistic interactions between these men, and shows us the private characters behind the public personas: Adams, the ever-combative iconoclast, whose closest political collaborator was his wife, Abigail; Burr, crafty, smooth, and one of the most despised public figures of his time for killing in a duel Alexander Hamilton, whose audacious manner and deep economic savvy masked his humble origins; jefferson, renowned for his eloquence, but so reclusive and taciturn that he rarely spoke more than a few sentences in public; Madison, small, sickly, and paralyzingly shy, yet one of the most effective debaters of his generation; and the stiffly formal Washington, the ultimate realist, larger-than-life, and America's only truly indispensable figure. Ellis argues that the checks and balances that permitted the infant American republic to endure were primarily intensely personal, rooted in the interaction of leaders with quite different values and gives us a new perspective on the unpredictable forces that shape history.
Publisher: Faber & Faber
ISBN: 9780571212170
You may also be interested in...
We would love to hear what you think of Waterstones. Why not review Waterstones on Trustpilot?