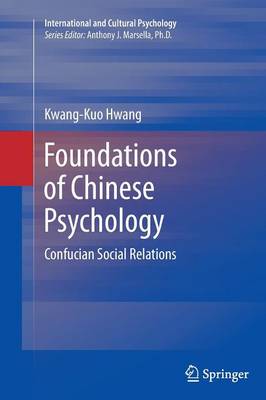 Foundations of Chinese Psychology: Confucian Social Relations - International and Cultural Psychology 1 (Paperback)
Kwang-Kuo Hwang
(author)
Paperback
378

Pages / Published: 03/03/2014
Mainstream psychology emanated from European-American and Judeo-Christian philosophical and scientific traditions. The application of this viewpoint, which embeds colonial and imperialist concepts is less relevant to Asian and other indigenous cultures. Although it has been accepted by non-Western scholars in an attempt to emulate Western scientific practice, the mainstream viewpoint is in a process of transformation to accommodate geographically relevant perspectives. In this light, Foundations of Chinese Psychology, bridges the gap between western and eastern traditions and elaborates on theories based on local phenomena, findings, and experiences by research methods that are contextually appropriate.
Using a guiding principle of cultural psychology - `one mind, many mentalities', this book advocates the balancing of a global psychology concept without sacrificing that of a specific locality and people. It analyzes the basics of Confucionism and compares them to Western ethical thinking, arriving at a series of theories concerning social exchange, face, achievement motivation, organizational behaviors, and conflict resolution.
Beyond the specifics of a particular culture, this book exemplifies the act of constructing autonomous social science that may be emulated in other non-Western settings. It also serves as an excellent guide for cross-cultural research as well as a caveat on the limitations of presumptive individualism and exclusionary perspectives.
Publisher: Springer-Verlag New York Inc.
ISBN: 9781489995360
Number of pages: 378
Weight: 623 g
Dimensions: 235 x 155 x 28 mm
Edition: 2012 ed.
---
MEDIA REVIEWS
From the reviews:
"Foundations of Chinese Psychology: Confucian Social Relations is an English version of Confucian Relationalism: Philosophical Reflection, Theoretical Construction, and Empirical Research, published in Chinese in 2009. The 13-chapter book is based on Kwang-Kuo Hwang's previous published works, in particular, the ideas he developed on Confucian relationalism as the foundation of Chinese psychology.
The centerpiece of this book is his face-and-favor model, which he developed in 1987 and later refined to be used as an exemplar in the epistemological development of indigenous psychology in non-Western cultures (Hwang, 1995, 2000, 2006a, 2006b). Hwang argued for the adoption of a tripartite approach to achieve the epistemological goal of indigenous psychology, namely, philosophical reflection, theoretical construction, and empirical research. Chapters 1-5 deal primarily with philosophical reflection, whereas Chapters 6-12 demonstrate theoretical construction and endeavors in empirical research.
Face-and-Favor Model: When the face-and-favor model was first introduced (Hwang, 1987), it was intended to explicate the structure of social exchange and social justice in Chinese cultures. The model outlined four kinds of interpersonal relationships.
Expressive ties are stable and occur between members of primary groups such as family and close friends and operate according to the need rule. Instrumental ties are diametric opposites of expressive ties and operate on the basis of the equity rule. They are unstable and temporary, occurring between strangers for the accomplishment of goals of common interests. Mixed ties lie somewhere between expressive and instrumental ties and refer to relationships between people who are known to each other. In mixed ties, the allocation of resources follows the rule of empathic reciprocity.
The fourth kind of relationship is the vertical relationship between the petitioner and allocator of resources, and it operates according to the rules of ritual propriety.
In a later work, Hwang (2000) introduced two important concepts. First, he illustrated the respective application of the Confucian tenets of ren (benevolence), yi (righteousness), and li (propriety) in judging the expressive and instrumental components of the relationship, determining the rule of social exchange, and managing psychological conflicts. Second, he demonstrated how these four types of interpersonal relationships correspond to the four elementary forms of social behavior described by Fiske (1992), namely communal sharing, equality matching, market pricing, and authority ranking. For instance, in the Chinese culture, which is characterized by Confucian relationalism, the petitioner and allocator of resources in an in-group are bound by expressive ties and are likely to observe the rules of communal sharing; in individualistic cultures such as the United States, interpersonal ties would tend to be instrumental, and social behavior would similarly emphasize market pricing.
Indigenous Psychology: As an ardent proponent of the development of indigenous psychology, Hwang has always contended that such development should not adopt an inductive or bottom-up approach, as the findings from such an approach are often too fragmented and impossible to be understood by those from outside the culture. Instead, he drew from the work of Shweder et al. (1998) to pinpoint that the epistemological goal of indigenous psychology must follow the principle of "one mind, many mentalities" (p. xiii). In other words, the epistemological goal of indigenous psychology is to aim at constructing a series of theories that "represents not only the universal mind of human beings, but also the particular mentality of a people within a given society" (p. xiii).
To achieve this, Hwang suggested that a tripartite approach be adopted, namely, philosophical reflection, theoretical construction, and empirical research. This approach is elucidated in the evolvement of the face-and-favor model, which started with a consideration of the inadequacy of the Western presumption of individualism to explain social behavior in non-Western cultures, such as the Chinese. Theoretical construction then followed, in which the presumption of individualism was replaced with the presumption of relationalism in an attempt to create a body of knowledge in social psychology that would more adequately explain and guide social behavior in non-Western cultures. Metatheory analysis and quantitative and qualitative research ensued to put the theory to the test for its degree of approximation to the truth.
Hwang's book embodies a detailed account of the manner in which the tripartite approach guided the construction of a series of theoretical models on Confucian relationalism in understanding Chinese moral thought and moral judgment, social exchange, life goals and achievement motivation, face and morality, guanxi (relationship) management, and conflict resolution.
Intended Readership: Huang's book is an important resource. First, it reveals the construction of a series of theoretical models on Confucian relationalism as foundations of Chinese psychology. Second, it makes a valiant attempt at untangling the link between individualism and universalism. Third, it challenges the relevance of the presumption of individualism in the construction of theories of social psychology for non-Western cultures, and it illustrates through empirical research the relevance of the alternative presumption of relationalism. Fourth, it demonstrates the wisdom of adopting a tripartite approach of philosophical reflection, theoretical construction, and research to achieve the epistemological goal of indigenous psychology.
Foundations of Chinese Psychology: Confucian Social Relations makes an invaluable contribution for students, teachers, scholars, and researchers in the fields of Chinese psychology and indigenous psychology."
Catherine Tien-Lun Sun, PsycCRITIQUES
September 5, 2012, Vol. 57, No., 35, Article 6
You may also be interested in...
Simply reserve online and pay at the counter when you collect. Available in shop from just two hours, subject to availability.
Thank you for your reservation
Your order is now being processed and we have sent a confirmation email to you at
When will my order be ready to collect?
Following the initial email, you will be contacted by the shop to confirm that your item is available for collection.
Call us on or send us an email at
Unfortunately there has been a problem with your order
Please try again or alternatively you can contact your chosen shop on or send us an email at