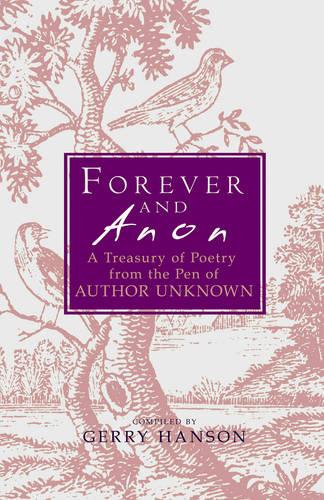 Forever and Anon: A Treasury of Poetry and Prose from the Pen of Author Unknown (Hardback)
Gerry Hanson
Hardback
Published: 01/10/2007
In this well-researched, imaginatively compiled and hugely enjoyable anthology, such gems as "The Vicar of Bray", "Greensleeves", "The British Grenadiers", "She was Poor but She was Honest", "The Foggy Foggy Dew" and "The Man on the Flying Trapeze", rub shoulders with lesser known, but equally enjoyable, works such as "The Alto's Lament" and "The Atheist's Hymn" ...and all by that famous author - Anon. Here, the serious saga of Agincourt, the thought provoking words of "The Loom of Time" and "The Dash between the Years", the tugging-at-the-emotions words of "God Called Your Name so Softly", contrast with the risque "Bleedin' Sparrer" and the humour of "The Irish Pig", "The Diplomatic Platypus" and "Dahn the Plug'ole". As with his highly successful England, my England, Gerry Hanson's "Forever" and Anon entertains inspires, delights and surprises in equal measure. There is something to please every palate, and on turning the pages one is struck by the mystery of how so many accomplished writers could fail to be identified with their work. Perhaps the most surprising mystery of all is how, for more than two centuries, the British have sung the words of their National Anthem without having the faintest idea of who wrote them. All three verses of the original Anthem are reproduced here, including the notorious and politically incorrect second verse which has been expunged from most hymnaries. As Gerry Hanson says in his introduction, if we are forbidden to sing this verse lest it give offence, then it is entirely appropriate that it ends with the words 'God Save Us All'. This is the first comprehensive anthology of the most prolific author ever - Anon. It includes favourite poems, songs, hymns, and prose - by the great Anon. Anon - famous or infamous? We'll never know. This is a delightful gift book for all occasions.
Publisher: JR Books Ltd
ISBN: 9781906217112
You may also be interested in...
We would love to hear what you think of Waterstones. Why not review Waterstones on Trustpilot?