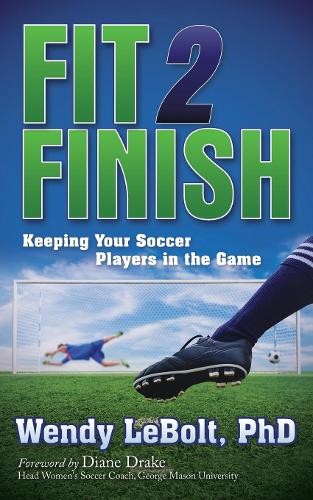 Fit 2 Finish: Keeping Your Soccer Players in the Game (Paperback)
Wendy Lebolt
(author)
Paperback
200

Pages / Published: 29/01/2015
Social Media: Author has a website, Facebook, Linkedin, Fit2Finish.com website, www.facebook.com/Fit2Finish and www.linkedin.com/ Book tours, talks and book signings: author is planning on talks, seminars, presentations, booths. Engagements with coaches and families in soccer clubs and also targeting Virginia Youth Soccer Association conference held Jan/Feb 2015 and National Soccer Coaches Association convention held Jan 2015. Targeting: * Medical and sports rehabilitation community, sports physicians, physical therapists, athletic trainers * Parents of competitive athletes, especially those with an athlete who has sustained an injury, who have younger children competing * High school and college athletes with a desire to give back to their sport by coaching * The American College of Sports Medicine conferences and membership * William and Mary Tribe Club and other collegiate booster organizations * Women/Mom coaches, a largely untapped resource * YMCA's and Fitness Centers, already committed to the value of long-term health * Area clubs and leagues, increasingly organized with technical directors, paid administrators and staff * High school coaches and sports booster organizations
Publisher: Morgan James Publishing llc
ISBN: 9781630472146
Number of pages: 200
Weight: 254 g
Dimensions: 203 x 127 x 13 mm
---
MEDIA REVIEWS
I would encourage coaches of all ages to read this book. Wendy LeBolt is a pioneer in the game of soccer, and this book brings out the best of her teaching and development methodology. As the landscape of soccer and all youth sports continues to change and evolve, you will find "Fit2Finish" full of practical information that creates energy while you read it. Wendy's passion, expertise, and real-life lessons in the field of player and team development will keep you intrigued from start to finish. Do yourself, your players and your team a favor and follow her advice; you will be glad you did! ---Larry R. Best, BRYC 95 Elite, BRYC Elite Director of Coaching--Girls
With today's youth athlete facing the rigorous physical demands of the modern game, best practices for sports performance are more critical than ever. Wendy LeBolt's invaluable compendium of information in "Fit2Finish" provides the perfect balance of practical wisdom and professional advice and is a must-read for anyone committed to youth development. ---Michael Calabretta, Wake Forest Women's Soccer
Wendy LeBolt's book "Fit2Finish" takes the reader on an informative journey through the complex issues that face young athletes. She has combined her experiences as a coach and sport science professional into a book full of information for anyone seeking to develop those in their sport care. Coaches, athletes and parents will enjoy this book, as it combines scientific information with practical application." ---Paul Shaw, Coaching Education Director, Virginia Youth Soccer Association
I've experienced firsthand how Dr. LeBolt has guided kids to enhance their athletic performance, to be healthier and more fit athletes and to reduce the risk of injuries. All of this is accomplished by educating them on topics such as flexibility, strengthening, balance, coordination, proper warm-up, stretching, cool down, recovery and nutrition. Her passion and genuine care for the kids lays the foundation for the insightful, powerful, effective, purposeful, influential and, most importantly, fun training provided by "Fit2Finish." ---Gerardo Ramirez, Vienna Youth Soccer Director of Coaching, Virginia Youth Soccer Association District Staff Coach
Wendy started working with my team when they were very young; she introduced the program to us and stayed with us through many years. In the early years, when the kids were young, it was serious teaching brought to the kids in the form of fun and games, an approach that really worked well. As they became older and more mature, the instruction always evolved with them and was captivating each time.
Over 9 years of working with Wendy, we only had one knee injury, and that was to a recent addition to the team who hadn't had the benefit of Wendy's training for very long. As anyone who has spent much time with highly competitive women's soccer sadly knows, knee injuries, particularly non-contact injuries, are a common element of the sport, and it's almost unheard of to have a team go 9 years without a serious knee injury. I highly recommend Wendy's program; I'm sure you'll benefit from it as much as we did. ---Rich Gleason, Women's Youth Soccer Coach, Repeat Virginia State Champions, 4-year National League Member
"Fit2Finish" is a wealth of great information for parents, players and coaches. The book provides answers and insight to fitness questions youth coaches encounter on a regular basis. Wendy uses modern day training solutions with a common sense approach. This handbook is a must read for serious youth soccer coaches! ---Mike Jorden, Technical Director, Chantilly Soccer Club, Past coach of two Region I Championship teams, two Region I finalists, and ten Virginia State Cup Champions
Dr. LeBolt's experience as a parent and coach, combined with her expertise as a scientist, brings thousands of hours of observation, evaluation and research to the forefront in an easy-to-use resource guide for coaches. "Fit2Finish" provides insight for practitioners at all levels in the quest to make athletes as fit as possible with scientifically based programs that address the issues of anaerobic and aerobic energy systems, requirements and training; neuromuscular pathways; fitness prescription; identifying weakness; overload principle; overtraining; return-to-play; stretching, flexibility and recovery; periodization; and nutrition.
If a coach commits to being their best, being equipped with the science to back up their training is critical. "Fit2Finish" provides the information in a succinct and practical manner. You don't need to be a scientist, but you can use this book as a pocket guide to better understand your athletes' anatomy and physiology, the background of soccer kinesiology and the drills/training that you can use to maximize their performance in a safe way.
"Fit2Finish" provides sound practices in the science of fitness while giving coaches simple ways to incorporate these into their own training programs. Dr. LeBolt lays out a plan for coaches of both boys and girls, at all levels, in order to improve fitness in a safe manner. Most importantly, she does so without increasing the time demands on the coaches or the athletes. ---Tanya Vogel, Senior Associate Athletic Director, Northern Arizona University, Former head coach, George Washington University Women's Soccer, First women's soccer player inducted into the GWU Hall of Fame
Kudos to Dr. LeBolt for such fantastic work on a subject that is so vitally important for coaches (in particular, youth coaches) to facilitate coaching education and knowledge. I can say with firm resolve that Dr. LeBolt's approach to fitness, training and developing a method which places athletes first is must-read material. Coaches at every level should put this book at the top of their list and keep it close by as a constant reference guide. ---Jim Nieves, Youth, high school and collegiate-level coach for over 20 years
Technical stuff to be sure, but if you've had a child go through injury, or coached several young players who have, this advice will be invaluable! Nothing is more difficult than to watch your player go down to an injury--even worse if it is your own child. Nothing is better than to see them recover from that injury to be able to take part again in the sports and the games they love so much!
Keeping your young athletes in the game mentally is always a challenge, and keeping them physically fit and able to compete when faced with such demanding schedules is also becoming tougher and tougher. Dr. LeBolt's methods and training will help keep them fit and prepared--the rest is up to you! ---Fred Matthes, Executive in professional soccer and basketball for over 25 years, Parent and long-time youth soccer coach, Former collegiate-level soccer player (UCLA)
I believe that most elite-level coaches overtrain their athletes and that, in the end, their training programs do as much harm as good. Elite-level coaches and athletes alike would do well to read this book and to implement this realistic and effective approach. ---Tom Larrick, Youth soccer coach and parent of a Division I collegiate athlete
Wendy's tremendous understanding of the human body and compassion for young athletes makes this a must-have practical guide for youth coaches. ---Lisa Bishop, Former collegiate soccer player and youth soccer coach for 13 years
I want my daughter to be a life-long athlete, not just to be able to play at a high level until she gets injured. Dr. LeBolt's expertise and advice show how to make this possible, and I am very grateful! ---Laurie Phillips, Long-time soccer parent, former collegiate athlete and current competitor
You may also be interested in...
Simply reserve online and pay at the counter when you collect. Available in shop from just two hours, subject to availability.
Thank you for your reservation
Your order is now being processed and we have sent a confirmation email to you at
When will my order be ready to collect?
Following the initial email, you will be contacted by the shop to confirm that your item is available for collection.
Call us on or send us an email at
Unfortunately there has been a problem with your order
Please try again or alternatively you can contact your chosen shop on or send us an email at