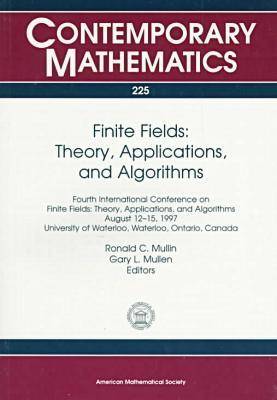 The Fourth International Conference on 'Finite Fields: Theory, Applications, and Algorithms' was held at the University of Waterloo in August 1997. This volume presents the refereed proceedings. Because of its applications in so many diverse areas, finite fields continues to grow in importance in modern mathematics. Finite fields now play particularly important roles in number theory, algebra, and algebraic geometry. They also play a crucial role in computer science, statistics, and engineering.The areas of application include but are not limited to algebraic coding theory, cryptology, and combinatorial design theory. Computational and algorithmic aspects of finite field problems are also growing in significance. The conference drew workers in theoretical, applied, and algorithmic finite field theory. All papers were refereed. They are loosely classified as theoretical and applied and are listed under these general headings. The work contains up-to-date results from leading experts in the field.
Publisher: American Mathematical Society
ISBN: 9780821808177
Number of pages: 233
Weight: 454 g
You may also be interested in...
×
Download the Waterstones App
Would you like to proceed to the App store to download the Waterstones App?
Simply reserve online and pay at the counter when you collect. Available in shop from just two hours, subject to availability.
Thank you for your reservation
Your order is now being processed and we have sent a confirmation email to you at
When will my order be ready to collect?
Following the initial email, you will be contacted by the shop to confirm that your item is available for collection.
Call us on or send us an email at
Unfortunately there has been a problem with your order
Please try again or alternatively you can contact your chosen shop on or send us an email at