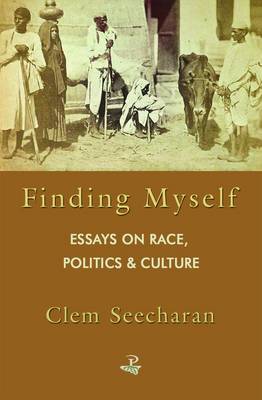 Finding Myself: Essays in Race Politics and Culture (Paperback)
Clem Seecharan
Paperback
Published: 02/03/2015
Can be ordered from our supplier
Shaped over a period of twenty years, this is an elegantly written, scholarly but highly accessible, collection of essays that are essentially a map of how one of the Caribbean's most distinguished historians has sought to discover himself through practise of his craft. It covers new ground in Indo-Caribbean history primarily, but it also explores innovatively aspects of the intellectual legacy of four eminent Caribbean writers and thinkers: Guyanese poet, Martin Carter, Guyanese historian, Walter Rodney, Nobel laureate, V.S. Naipaul, and C.L.R. James, author of one of the great books of the 20th century, Beyond a Boundary (1963). Several of the pieces by Professor Seecharan, author of many books, including Sweetening 'Bitter Sugar': Jock Campbell, the Booker Reformer in British Guiana, 1934-66 (awarded the prestigious Elsa Goveia Prize in 2005 by the Association of Caribbean Historians), adopt a revisionist approach in revisiting the migration of indentured labourers from India to the Caribbean, between 1838 and 1917.He challenges many of the received assumptions on the subject; and he rejects that it was 'a new system of slavery'; that all the people were duped or kidnapped into indentureship; indeed, that the migrants had no agency in the process. He counters that the reverse was invariably the case, documenting that most women and men dared to travel alone, fleeing a life of utter despair in Uttar Pradesh and Bihar in India to greater social freedom and a modicum of material success - flight to Guyana and Trinidad could therefore be considered, in most cases, an escape to freedom. Seecharan's essays demonstrate that the struggles on the plantations notwithstanding, Indians in Guyana gradually shaped a new persona of hope, rising quietly but confidently from the death of caste prejudice; thriving on the fruits of their new, vastly more open, environment with the making of communities rooted in rice, cattle and retail trade; maximizing the benefits of education while claiming the legacy of 'many Indias', part fact, part fiction, in advancing their civil and political rights in Guyana.Within this complex mix are located several Indo-Guyanese personalities, such as Joseph Ruhomon, a pioneer intellectual; Cheddi Jagan and Balram Singh Rai, politicians of contrasting visions; and the unsung cricketer, Ivan Madray. In the process, Seecharan finds not only himself, but he locates a rich narrative vein, illuminating a vital aspect of Caribbean life.
Publisher: Peepal Tree Press Ltd
ISBN: 9781845232474
You may also be interested in...
We would love to hear what you think of Waterstones. Why not review Waterstones on Trustpilot?