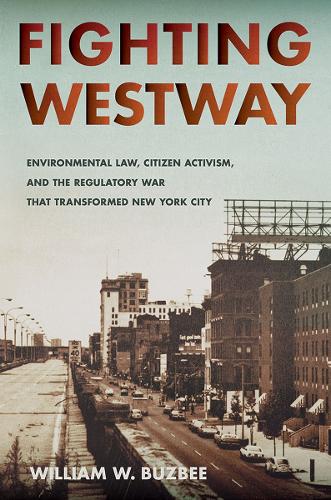 Fighting Westway: Environmental Law, Citizen Activism, and the Regulatory War That Transformed New York City (Hardback)
William W. Buzbee
(author)
Hardback
312

Pages / Published: 04/04/2014
From 1971 to 1985, battles raged over Westway, a multibillion-dollar highway, development, and park project slated for placement in New York City. It would have projected far into the Hudson River, including massive new landfill extending several miles along Manhattan's Lower West Side. The most expensive highway project ever proposed, Westway also provoked one of the highest stakes legal battles of its day. In Fighting Westway, William W. Buzbee reveals how environmentalists, citizens, their lawyers, and a growing opposition coalition, despite enormous resource disparities, were able to defeat this project supported by presidents, senators, governors, and mayors, much of the business community, and most unions. Although Westway's defeat has been derided as lacking justification, Westway's critics raised substantial and ultimately decisive objections. They questioned claimed project benefits and advocated trading federal Westway dollars for mass transit improvements. They also exposed illegally disregarded environmental risks, especially to increasingly scarce East Coast young striped bass often found in extraordinarily high numbers right where Westway was to be built.Drawing on archival records and interviews, Buzbee goes beyond the veneer of government actions and court rulings to illuminate the stakes, political pressures, and strategic moves and countermoves that shaped the Westway war, a fight involving all levels and branches of government, scientific conflict, strategic citizen action, and hearings, trials, and appeals in federal court. This Westway history illuminates how high-stakes regulatory battles are fought, the strategies and power of America's environmental laws, ways urban priorities are contested, the clout of savvy citizen activists and effective lawyers, and how separation of powers and federalism frameworks structure legal and political conflict. Whether readers seek an exciting tale of environmental, political, and legal conflict, to learn what really happened during these battles that transformed New York City, or to understand how modern legal frameworks shape high stakes regulatory wars, Fighting Westway will provide a good read.
Publisher: Cornell University Press
ISBN: 9780801451904
Number of pages: 312
Weight: 567 g
Dimensions: 235 x 156 x 23 mm
---
MEDIA REVIEWS
"Fighting Westway is a fluid historical narrative that offers rich political discernments about a legendary case study of environmental politics. Buzbee's chronological account and legal analysis of the rise and fall of the proposed redevelopment of an interstate along the Lower West Side of Manhattan island is accomplished with an inspirational, firsthand, objective, third-party storyline.... The author, an experienced environmental scholar, is insightful on numerous fronts but is profound when discussing what he refers to as the regulatory war.... Fighting Westway draws on an incredible amount of research from the primary actors in the courtroom battles that ultimately defined Westway's place in history. The story is a thoroughly detailed look into how regulatory policies function, are challenged, and can be altered. The importance of citizen activism in holding the relevant agencies accountable is great because the intent of environmental laws via citizen-suit provisions is a lesson that needs to be understood by public administrators and politicians."
-- Nicholas Guehlstorf * Law and Politics Book Review *
"Buzbee provides an excellent explanation of regulatory processes and the limitations of both the CAA and NEPA.... But the real heart of the book is Buzbee's able and compelling explanation of the legal strategy, evidence, and reasoning behind the Westway verdicts.... [The book] is exceptionally well suited to undergraduate courses on environmental law and politics... [and] it will give readers a clear understanding of how regulations work, how government institutions interact, and why it can be so difficult to stop a big project once it is underway."
-- Sarah S. Elkind * Environmental History *
"Buzbee tells the history of Westway in chronological fashion, detailing each twist in the regulatory road leading to the project's cancellation in 1985. The drama lies not in the outcome but in how a small group of activists managed to defeat much of the New York City and Washington, D.C., political establishment. Buzbee akes a persuasive case that the outcomes of Westway and similar environmental conflicts reflect the complex intermingling of law, politics, and regulatory procedures."
-- David Soll * Journal of American History *
"Just as a military history combines the chronology of each side's moves and blunders, the capabilities of each army's weapons, and the personalities of the generals to explain the outcome of a war, Professor Buzbee weaves the stories of the Westway camps' political tactics, shifts in the doctrines of environmental regulation and citizen access to courts, and the biographies and decisions of individual stakeholders into a comprehensive and definitive history. Part tactical postmortem, part courtroom drama, and part seamy tale of political intrigue (p. 6), Fighting Westway will be of interest to lawyers, environmentalists, and historians alike."
* Harvard Law Review *
"The Westway was envisioned by many prominent New Yorkers in the 1970s and early 1980s as a massive highway and commercial development along the city's Hudson River shore, generously financed with federal highway funds. But that vision was never fulfilled, for it aroused 14 years of intense opposition from a host of citizen groups, as chronicled here in detail by Buzbee (law, Emory Univ.).... This is an excellent study of how broadly written regulations can engender conflicts over their application to specific projects. It speaks strongly to students of public and environmental law as well as public administration. Summing Up: Highly recommended. Upper-division undergraduate, graduate, and research collections."
-- W. C. Johnson * CHOICE *
"Written by a law professorFighting Westway is a carefully researched and clear narrative for a broad audience. For community and environmental activists as well as professionals, it is well worth the read because it vividly illustrates the depth and complexity of the struggle that was needed in order to beat back the giant deal."
-- Tom Angotti * The Indypendent *
"Fighting Westway is a rich and illuminating analysis of an important highway project-as viewed particularly through a regulatory lens.... It will be valuable reading for those interested in the history of environmental policy, highways, neighborhood activism, and the complicated forces affecting cities' ability-or not-to manage their own development."
-- Francesco Russello Ammon * Planning Perspectives *
"Finally we have a much-needed historical analysis of the embattled West Side Highway Project, known as Westway. It's a page-turner as the reader seeks reasons for, and the outcome of, the wars that were fought over the future of Lower Manhattan's Hudson River waterfront from the 1971 Plan to the conclusive court decision. William W. Buzbee has amalgamated governmental, political, civic, and legal documents and interviews with participants into an insightful and thought-provoking story about the travails of a large physical project in the post-Robert Moses era."
-- Ann L. Buttenwieser, author of
Manhattan Water-Bound
"Finally! The first thorough, truthful account of one of the great environmental battles of the twentieth century! William W. Buzbee captures in rigorous detail the successful fight a group of dedicated citizens waged against the major economic and political powers of the day. Westway was a victory for honesty, principle, and the rule of law. Long live the Clean Water Act and the Hudson River striped bass!"
-- John H. Adams, Founding Director, Natural Resources Defense Council, co-author of
A Force for Nature
"William W. Buzbee's absorbing history unearths the complex and fascinating events, personalities, and regulations that conspired to create one of New York's most public failures of city planning-and one of its most memorable triumphs of citizen activism. At the beginning of a new mayoral administration, this book is a timely reminder that urban advocacy is never out of fashion in the city that never sleeps."
-- Elizabeth L. Bradley, author of
Knickerbocker
You may also be interested in...
Simply reserve online and pay at the counter when you collect. Available in shop from just two hours, subject to availability.
Thank you for your reservation
Your order is now being processed and we have sent a confirmation email to you at
When will my order be ready to collect?
Following the initial email, you will be contacted by the shop to confirm that your item is available for collection.
Call us on or send us an email at
Unfortunately there has been a problem with your order
Please try again or alternatively you can contact your chosen shop on or send us an email at