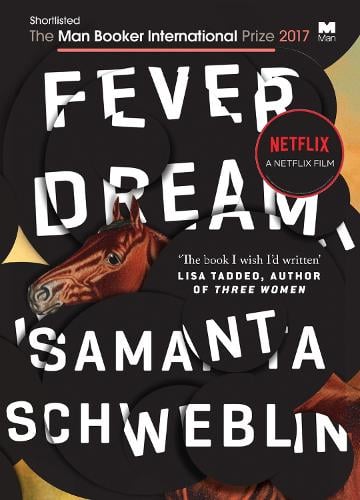 Paperback
160

Pages
Published: 05/10/2017
Shortlisted for the Man Booker International Prize 2017
They're like worms
What kind of worms?
Like worms all over
A young woman named Amanda lies dying in a rural hospital clinic. A boy named David sits beside her. She's not his mother. He's not her child. The two seem anxious and, at David's ever more insistent prompting, Amanda recounts a series of events from the apparently recent past.
As David pushes her to recall whatever trauma has landed her in her terminal state, he unwittingly opens a chest of horrors, and suddenly the terrifying nature of their reality is brought into shocking focus.
One of the freshest new voices to come out of the Spanish language, Samanta Schweblin creates an aura of strange and deeply unsettling psychological menace in this cautionary tale of maternal love, broken souls and the power and desperation of family.
The Man Booker International Prize judges comment: 'Schweblin has written a strange but compelling narrative. The prose, brilliantly translated by Megan McDowell, is as mesmerising, magical and enchanting, as the strange and horrific tale it tells. This is amazing storytelling that seems to be reminding us of the uncomfortable truth that there are forces stronger than love, that love – no matter how powerful, no matter how closely guarded – cannot always protect those we love.'
Samanta Schweblin was born in Buenos Aires, Argentina in 1978 and lives in Berlin. In 2001, she was awarded first prize by both the National Fund for the Arts and the Haroldo Conti National Competition for her debut, El Núcleo del Disturbio. In 2008, she won the Casa de las Américas prize for her second collection of stories, Pájaros en la Boca. Two years later, she was listed among the Best of Young Spanish Writers by Granta magazine.
Megan McDowell has translated many modern and contemporary South American authors, including Alejandro Zambra, Arturo Fontaine, Carlos Busqued, Álvaro Bisama and Juan Emar. Her translations have been published in The New Yorker, McSweeney's, Words Without Borders, Mandorla, and Vice, among others. Born in Mississippi in 1978, she now resides in Chile.
Publisher: Oneworld Publications
ISBN: 9781786072382
Number of pages: 160
Dimensions: 180 x 129 x 12 mm
---
MEDIA REVIEWS
'A shifting, unstable fantasia inspired by fears about GM and environmental degradation'
* Guardian *
'A book to read in one frantic sitting - bold, uncanny and utterly gripping.'
*
Observer
Best Fiction of 2017 *
'Read this in a single sitting and by the end I could hardly breathe. It's a total mind-wrecker. Amazing. Thrilling.'
* Max Porter, author of
Grief is the Thing with Feathers
*
'An unnerving read, straddling the realms of the supernatural and of Argentina's dark recent history.'
*
Financial Times
Best Books of 2017 *
'A gloriously creepy fable taking in bodyswapping, maternal dread and the dangers of GM crops.'
*
Guardian
Best Fiction of 2017 *
'Although I read it several months ago, this Argentinian novel, shortlisted for the Man Booker International Prize, is still lurking like a particularly noxious hangover... It's dazzling, unforgettable, and deeply strange. I've never read anything like it.'
*
Evening Standard
, Books of the Year *
'Each layer is soaked in dread, and the dread goes so deep that it works even on the third reading.'
*
London Review of Books
*
'Transcends the sensational plot elements to achieve a powerful and humane vision.'
*
Financial Times
*
'Samanta Schweblin's novella is a skilfully paced and intricate omen that tears not just at ecological anxieties but at the core of maternal love.'
*
Times Literary Supplement
*
'This daring, ambiguous thriller is an apocalyptic lamentation for our world in free fall, a place in which nothing and no one, not even a child or a horse in a field, is safe.'
*
Irish Times
*
'Magnificent.'
* i newspaper *
'Body horror, taut thriller and supernatural dread meet the psychological challenges of family.'
*
Move To Town & Country
*
'Explosive...delivers a skin-prickling masterclass in dread and suspense.'
*
Economist
*
'Terrifying and brilliant...Dangerously addictive.'
-- Chris Power *
Guardian
*
'Exceptionally written...a superlative work of the imagination, resonant, beguiling and truly memorable.'
*
Spectator
*
'Punches far above its weight...The sort of book that makes you look under the bed last thing at night and sleep with the light on.'
*
Daily Mail
*
'Impossible to put down even while it forces you to cower under the sheets, queasy with unnameable fear.'
*
Metro
*
'McDowell captures every nauseating drop of Schweblin's increasingly frantic text. Truly terrifying.'
*
Observer
*
'Marvellously ambivalent...Schweblin...should have a say in this prize with a dramatic and compelling story.'
-- Eileen Battersby *
Irish Times
*
'Exquisite and disquieting.'
*
Frieze
*
'Samanta Schweblin's electric story reads like a Fever Dream.'
* Vanity Fair *
'Mesmerizing...After reading Fever Dream, I wanted Schweblin to let the rope out more. Not because Fever Dream isn't an almost perfect short novel - because it most certainly is. But because I wanted to see what Schweblin could do when she went deeper into the place where she so skillfully had taken me.'
* Washington Post *
'This is a weird hallucination of a book - reading it feels like an experience, like something that happens to you, as infectious and mysterious and unstoppable and possibly magical as the disease that powers its plot.'
* LitHub *
'Fever Dream is worth reading for its inventiveness alone. Schweblin gives us memorable characters and a haunting parable, all in fewer than 200 short pages.'
* Huffington Post *
'Schweblin writes in a spare and highly impressionistic style that embraces instability: of space, identity, and the reader's trust...Schweblin, like Gray and Ball, has found ways to electrify and destabilize the physical world.'
* Los Angeles Times *
'The novel is brief and pulls the reader in enough to be finished in a few hours. But its suspense, like whiplash, will linger with you after Fever Dream ends.'
* Free Lance-Star *
'Samanta Schweblin's first novel, Fever Dream, is part contemplation, part living nightmare... Fever Dream may be contagious: the reader should beware the compulsion to read it in a single sitting, pulled helplessly along by the power of the story. Though brief, its stream-of-consciousness style and absence of chapters emphasize a sense of inexorable forward momentum. Megan McDowell's translation from the Spanish expertly delivers every atmospheric moment and line of near-panicked dialogue.'
* Shelf Awareness for Readers *
'[Fever Dream] is mysterious and creepy, intense and uncanny, disorienting and metaphorical. The story moves with a constant momentum. This mysterious and troubling short novel is worth a visit.'
* Missourian *
'With Fever Dream, Schweblin has created literature that is new: literature that places an overwhelming trust and faith in the reader to complete the emotionally harrowing picture she proposes.'
* Music & Literature *
'Schweblin spins a spare, hypnotic literary page-turner.'
* O Magazine *
'If you want to read something that terrifies you and upsets you, and makes you feel like you're going crazy, yet also makes you feel like you can't put it down and you never want it to end because you love it so much, this is the book for you... It's some of the most compelling, fantastic writing I've ever read!'
* BookRiot *
'An absorbing and inventive tale that some will label 'magical realism,' like the work of Schweblin's fellow South American writers Gabriel Garcia Marquez and Jorge Luis Borges. But Schweblin is a fine mythmaker, singular in her own fantastical artistry.'
* Houston Chronicle *
'A remarkable accomplishment in literary suspense.'
* New York Journal of Books *
'A breath of fresh air...Those who are willing to stay with this book will find the experience like no other and well worth the effort. Readers of Samuel Beckett, Jorge Luis Borges, Garcia Marquez, and other magical realism practitioners will devour this brilliant, unsettling novel.'
* Library Journal *
'With the urgency, attention to detail and threat of an abrupt ending that define short stories, the novel builds unease seamlessly through exceptionally well-paced dialogue...Minimalist yet complex, monochromatic yet textured, Fever Dream is a delicate and marvelously constructed tale, like a bundle of our darkest worries artfully arranged into our own likeness.'
* BookPage *
'Samanta Schweblin is one of Latin America's best young authors, and Fever Dream is her breathtaking English-language debut.'
* Paste Magazine *
'[A] pulsating debut...Schweblin guides her reader through a nightmare scenario with amazing skill.'
* Publishers Weekly *
'A taut, exquisite page-turner vibrating with existential distress and cumulative dread...Once the top blows off Schweblin's chest of horrors, into which we'd been peeking through a masterfully manipulated crack, what remains is an unsettling and significant dissection of maternal love and fear, of the devastation we've left to the future, and of our inability to escape or control the unseen and unimagined threats all around us. In a literary thriller of the highest order, Schweblin teases out the underlying anxieties of being vulnerable and loving vulnerable creatures and of being an inhabitant of a planet with an increasingly uncertain future.'
* Kirkus *
''Schweblin's sparse narrative, both familiar and mysterious, quickly grows in intensity as the hazy whispers of self-doubt and death itself descend. A thought-provoking story that provides ample opportunity for readers to grapple with its unanswered questions.'
* Booklist *
'The unique style, the quick paced rhythm and the amazingly wise and compact storytelling create a special novel that will stay in your mind long after you put this book down.'
* Etgar Keret, author of The Seven Good Years *
'Samanta Schweblin is one of the most promising voices in modern literature in Spanish.'
* Mario Vargas Llosa, Nobel Prize-winning author of The Feast of the Goat *
'The genius of Fever Dream is less in what it says than in how Schweblin says it, with a design at once so enigmatic and so disciplined that the book feels as if it belongs to a new literary genre altogether.'
* The New Yorker *
'A wonderful nightmare of a book: tender and frightening, disturbing but compassionate. Fever Dream is a triumph of Schweblin's outlandish imagination.'
* Juan Gabriel Vasquez, author of The Sound of Things Falling *
'Samanta Schweblin will injure you, however safe you may feel.'
* Jesse Ball, author of A Cure for Suicide and How to Set a Fire and Why *
'Fever Dream is a small masterpiece, a beautiful and chillingly contemporary book. Every word throbs a kind of wisdom that can only come from a meticulous and fully engaged observation of reality.'
* Alejandro Zambra, author of Multiple Choice and My Documents *
'Samanta Schweblin is a magician, and reading her work is an intense, almost physical experience. This mind-bending book sheds new light-or rather, new darkness-on the intense power of love in a poisoned world. You must read it. Prepare to be mesmerized, riveted, terrified, and changed.'
* Helen Phillips, author of The Beautiful Bureaucrat *
'In spare, lucid prose, Schweblin demonstrates again and again that she knows the weight of what is left unsaid in the comings and goings of everyday life. Then, in the turn of a phrase, she forces the reader to shift perspective; she has a gift for sketching comfortable worlds and then disrupting them with images of dark, startling power.'
* Electric Literature *
'[Samanta] has a unique, inventive voice.'
* Daniel Alarcon, author of At Night We Walk in Circles *
'A new twist on the horror genre, as original as it is unsettling.'
*
The Herald
*
'Packs a heavy punch in both atmosphere and psychological investment... I've found myself repeatedly drawn back to its tantalising surrealism.'
*
International Travel News
*
'Fever Dream by Samanta Schweblin captures that great gnawing fear that comes with motherhood. I read it when my child was two and felt as if my heart was being cleaved from my body. I felt the truest fear of motherhood - that we are only one terrifying moment away from losing our children.'
-- Lisa Taddeo, 'The book I wish I'd written', Guardian
You may also be interested in...
×
Download the Waterstones App
Would you like to proceed to the App store to download the Waterstones App?
Reserve online, pay on collection


Thank you for your reservation
Your order is now being processed and we have sent a confirmation email to you at
When will my order be ready to collect?
Following the initial email, you will be contacted by the shop to confirm that your item is available for collection.
Call us on or send us an email at
Unfortunately there has been a problem with your order
Please try again or alternatively you can contact your chosen shop on or send us an email at