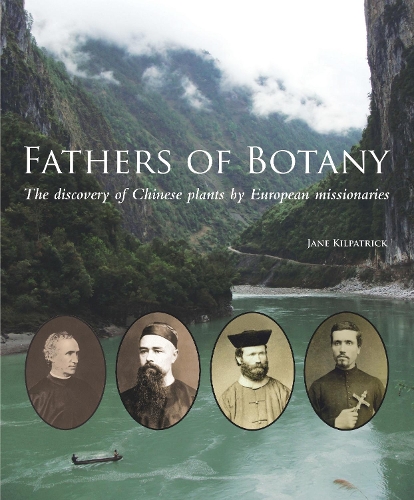 Fathers of Botany: The discovery of Chinese plants by European missionaries (Hardback)
Jane Kilpatrick
(author)
Hardback
240

Pages / Published: 13/10/2014
Many of the world's most renowned and exciting ornamental plants-including magnolias, roses, rhododendrons, tree peonies, lilies, and blue poppies-have their origins in China. In the mid-nineteenth century, professional plant hunters were dispatched by nurseries and botanic gardens to collect living botanical specimens from China for cultivation in Europe, and it is these adventurers and nurserymen who are often credited with the explosive bloom of Chinese flowers in the West. But as Jane Kilpatrick shows in Fathers of Botany, the first Westerners to come upon and document this bounty were in fact cut from a different cloth: the clergy.
Publisher: Royal Botanic Gardens
ISBN: 9781842465141
Number of pages: 240
Dimensions: 280 x 238 mm
---
MEDIA REVIEWS
Behind many successes in this superb year for gardening runs a common thread which I have only just appreciated. Maybe you can see it at once. The electrifyingly blue flowers on Corydalis flexuosa have now finished. The dark-backed petals on a mock orange blossom, Philadelphus delavayi, have never been so abundant. In mid-May I marvelled at huge bushes of wondrous blue-violet Rhododendron augustinii above carpets of bluebells in the superb woodland garden at Bowood House in Wiltshire, a yearly place of pilgrimage for those of us who cannot grow rhododendrons in our own gardens. Since then, there have been weeks of spectacular single yellow flowers on the suckering shrub rose, Rosa hugonis. My late-flowering white-flowered Viburnum henryi has taken over the limelight, an under-appreciated beauty among shrubs. Nearer ground level the deep rose-pink flowers on the incarvilleas have just stopped. I could go on, citing lilacs, especially double-flowered varieties, or many of the cotoneasters whose late red fruits are a delight in autumn. The common thread behind these plants and many more is that all of them come from natural homes in China. They are not only Chinese. All of them were found and brought into our gardens thanks to French Catholic missionaries. They were collected from the wild in an amazing span of about seventy years from 1840 until 1913. Under the imprint of Kew gardens, the garden historian Jane Kilpatrick has now explained these committed Christians' achievements with admirable clarity and freshness. Their individual stories are not new, but she draws them very ably into a related whole. Historians and gardeners can all gain from her unmissable book Fathers of Botany, about the remarkable men who took Christianity to remote parts of China and put such energy in to collecting superb plants, unknown at the time in the west. Kilpatrick is herself a keen gardener and has helped me to appreciate the separate areas of these great collectors' activity across very different zones of China by her extremely clear maps and excellent photographs. Fathers David, Delavay and Farges are only a few of the best-known Catholic priests whose names confront gardeners yearly in the names of beloved shrubs and trees. Davidias, or Pocket Handkerchief trees, Paulownia fargesii with blue flowers in May, many fine magnolias and many roses and rhododendrons came into western gardens thanks to the collections by Frenchmen who were in the field to save souls from hell. Instead, they saved western gardens from the dreariness of nothing but "native" flowering plants. Behind their commitment stood important institutional support in France. After the Napoleonic era, Catholic societies were formed to "propagate the Faith", with no intention of propagating roses and rare trees of Acer griseum. In the 1830s the Missions Etrangeres de Paris were directed by Rome to be evangelists of southern and western China as far as remote and forbidding Tibet. Members had to be under 35 years of age and ordained as priests. Nobody in the Vatican imagined for one moment that the missions' lasting legacy would be a deluge of superbly beautiful plants. As Kilpatrick rightly emphasises, all the collecting and fieldwork that we now revere was secondary to the true mission of spreading the Gospel to the ignorant and thereby saving their souls from punishment in the next world. Volunteers for these missions were putting their own lives second to the Gospels' commands to preach the word to unbelievers. When they left France, they knew they were unlikely ever to return to it again. The decision to go could devastate families, as the experiences of young Father Jean Soulie were to show. He was to die in a remote hut at 45. Few of the missionaries lived beyond 60. In a poignant memoir, an English lady visitor recalls the simple dwelling of a missionary priest whom she met in 1892 in remote west Sichuan. He was proud that he had installed panes of glass which prolonged the light by his desk when Chinese paper-windows obscured it elsewhere. He had one book still with him about the French mountains but never risked looking at it during her visit. He explained that he saw next to no westerners and the "lonely evenings in winter" were the "great trial of the first year". After that, "one got over it", but when she said goodbye, she noticed there were tears in his eyes. Seeds, cuttings and bulbs have immortalised these Catholic fathers but at the centre of their lives were worship, prayer and the Eucharist. For months on end the rains were fearful. Food was scarce and comfort unavailable. Chinese authorities nearer the coast had given them formal protection, but the Buddhist lamas on the borders of Tibet were extremely aggressive against attempts to convert their followers. As I read their extraordinary stories, I am reminded of martyrdoms in the early Christian era. Several missionaries were killed by hostilelamas or rebels. Few souls were won, unless the fathers bought their persons out of slavery to lama-owners. In 1905, the missions were ruptured by the violence against foreigners during the Boxer rebellion. Kilpatrick quotes very well a fellow father's words to the great Delavay in 1891. He greets him "in the name of the love for the dear plants that are one of the most glorious manifestations of Divine power and beauty". I have no doubt that this belief in God's Creation underlay much of the priests' devoted exploring and collecting of plants in the field. Last week I wrote admiringly of the big white-flowered Deutzia monbeigii and the profuse pink-flowered Beauty Bush. Reading Kilpatrick, I now find that both were discoveries of Catholic fathers in China. Back in France there had to be professional receivers, namers and growers. The missionaries were fortunate. In the herbarium at the Natural History Museum in Paris none was more important than Adrien Franchet, whose name lives on in the excellent Cotoneaster franchettii, better known in gardens than Kilpatrick implies. Outside Paris there was the supreme nurseryman, Maurice de Vilmorin, who raised and distributed many of the new Chinese arrivals from the Catholic fathers. A whole tradition of plantsmanship and nursery-growing flourished in France and civilised England, but became obliterated in the public's perception by the fascination with nothing but French cooking. With only a few converts and to many of us, a hopeless aim, it would be easy to write wryly of these French priests' hopes of spreading the Gospel. Excellently, Kilpatrick shows the Christian church built in Cigu in 1867, on the Tibetan borderlands, where once the fathers had struggled to give the Eucharist to only a few converts. Now there are more than 10 million Catholics in China and the faith is growing far faster than in old Europe. One day a Pope will be Chinese, but I doubt if he will bring unknown rhododendrons to the Vatican. On many of the hillsides near towns in western China they have been felled as firewood, making way for farming, not for gardening of the future.
You may also be interested in...
Simply reserve online and pay at the counter when you collect. Available in shop from just two hours, subject to availability.
Thank you for your reservation
Your order is now being processed and we have sent a confirmation email to you at
When will my order be ready to collect?
Following the initial email, you will be contacted by the shop to confirm that your item is available for collection.
Call us on or send us an email at
Unfortunately there has been a problem with your order
Please try again or alternatively you can contact your chosen shop on or send us an email at