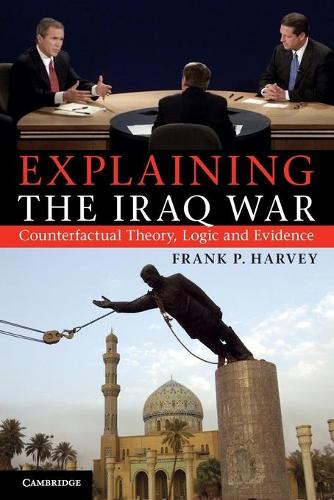 Explaining the Iraq War: Counterfactual Theory, Logic and Evidence (Paperback)
Frank P. Harvey
(author)
Paperback
360

Pages / Published: 20/10/2011
In stock online

Free UK delivery
The almost universally accepted explanation for the Iraq War is very clear and consistent - the US decision to attack Saddam Hussein's regime on March 19, 2003 was a product of the ideological agenda, misguided priorities, intentional deceptions and grand strategies of President George W. Bush and prominent 'neoconservatives' and 'unilateralists' on his national security team. Despite the widespread appeal of this version of history, Frank P. Harvey argues that it remains an unsubstantiated assertion and an underdeveloped argument without a logical foundation. His book aims to provide a historically grounded account of the events and strategies which pushed the US-UK coalition towards war. The analysis is based on both factual and counterfactual evidence, combines causal mechanisms derived from multiple levels of analysis and ultimately confirms the role of path dependence and momentum as a much stronger explanation for the sequence of decisions that led to war.
Publisher: Cambridge University Press
ISBN: 9781107676589
Number of pages: 360
Weight: 570 g
Dimensions: 228 x 153 x 20 mm
---
MEDIA REVIEWS
'Counterfactuals are too often rhetorical weapons of mass destruction rather than conceptual tools for parsing the logic of causal claims. Harvey brings much needed rigor to a particularly bitterly divisive what-if debate, that over the 2003 Bush administration's decision to invade Iraq.' Philip E. Tetlock, Annenberg University Professor, University of Pennsylvania
'A sophisticated use of counterfactuals to go beyond ideologically motivated explanations for the Iraq War. Harvey's method and its application will impress even those who are not persuaded by his argument that a Gore administration would also have gone to war.' Richard Ned Lebow, James O. Freedman Presidential Professor, Dartmouth College
'In a provocative study of the 2003 Iraq War, Harvey challenges standard interpretations that trace the origins of the war to the beliefs and personality of George W. Bush and to the influence of his neoconservative advisors. Not all readers will be convinced by Harvey's innovative use of counterfactual analysis to argue that international and domestic pressures would have also led Al Gore to a decision for war. But all subsequent analyses of the Iraq War must take this argument seriously.' Jack S. Levy, Board of Governors' Professor, Rutgers University
'Harvey serves up an interesting cocktail. He combines a provocative thesis about the relatively minor role of George Bush in the explanation of the 2003 Gulf War with one of the most methodologically sophisticated counterfactual analyses I have seen.' Gary Goertz, University of Arizona
'Frank P. Harvey has written a lucid, penetrating, and provocative account of the origins of the Iraq War. Regardless of where one stands on this controversial set of decisions, it is a must read.' Janice Gross Stein, Director, Munk School of Global Affairs
'Using sophisticated counterfactual arguments, Frank Harvey presents an imaginative, bold, and provocative reinterpretation of the US-led invasion of Iraq in 2003. Basing his analysis on a wide variety of documentary sources and other empirical evidence, he carefully and methodically challenges, and dismantles, the standard explanations for the war that overwhelmingly locate causality within the administration of George W. Bush. This book not only makes an important contribution to our understanding of the 2003 war, a conflict whose effects continue to impact global politics; more importantly, it demonstrates how path dependence and counterfactual theorizing, rigorously and imaginatively applied, can enhance our understanding of international relations.' Canadian Political Science Association International Relations Book Prize 2013 Jury Report
'For this reviewer at least, the tightness of Harvey's argument, the extent of the evidence that he supplies, and the care and fastidiousness with which he presents his conclusions combine to produce a book that mercilessly assaults the notion that the responsibility for the 2003 war in Iraq falls squarely on the shoulders of Bush and the neocons, and on their misguided priorities and intentional deceptions ... Harvey vigorously challenges an intellectual position that has become so enduring that it had achieved the status of a truth. And if this book does not, at a minimum, sow doubts in the minds of believers, then nothing will.' Adeed Dawisha, Perspectives on Politics
'Harvey's work is both commendable and welcome, and should lead to much soul-searching among the academy, policymakers, and interested citizens, not to mention this country's two million or so Iraq War veterans who are often told that they fought because of a war-mongering president. By eliminating 'Bush and the neocons' from the explanation of the Iraq War, Harvey re-centers attention on the factors that international relations theorists should have been focused on all along: US unipolarity and the effects of the 9/11 attacks ... Airport bookshops may thrive on contingent accounts of history ... But like them, the theory that George W. Bush caused the Iraq War represents an astonishing failure to show that changing one variable would make all other variables irrelevant. Harvey reminds us to take history, and politics that makes it, more seriously.' Bruce Gilley, Perspectives on Politics
'Frank Harvey has written a provocative and interesting book that admirably questions the conventional wisdom that Al Gore would not have initiated the Iraq War. His arguments raise often unacknowledged and untested assumptions about the counterfactual alternative of a Gore foreign policy after 9/11.' Elizabeth Saunders, Perspectives on Politics
'Earlier this summer, Canada's political scientists chose as their top prize winner a book that provocatively refutes the dominant theory around one of the worst public policy disasters of the twenty-first century, the Iraq War ... Counterfactual theory is a widely used tool for analyzing public accounts of historical events, or testing social science theories of causation. Here it is deployed with a rigour seldom seen before. Harvey uses counterfactual argument to advance that the answer is no, Al Gore in the White House would not have been enough to avoid war.' Andrew Steele, The Globe and Mail
'Frank Harvey's award-winning book challenges the postwar prevailing wisdom on the second 2003 war and its aftermath ... His book, while certainly very scholarly, is a major contribution to the understanding of events that still haunt us.' Guy Pothier, Frank Magazine
You may also be interested in...
"Neocon Jaw-Jaw is Not Better than Gore-War Counterfactual "
By far and away the most popular "What if" questions in alternate histories feature Adolf Hitler and John F. Kennedy – and it is easy to see why: the former's bungling of Operation Barbarossa in 1941 and the latter's... More
Simply reserve online and pay at the counter when you collect. Available in shop from just two hours, subject to availability.
Thank you for your reservation
Your order is now being processed and we have sent a confirmation email to you at
When will my order be ready to collect?
Following the initial email, you will be contacted by the shop to confirm that your item is available for collection.
Call us on or send us an email at
Unfortunately there has been a problem with your order
Please try again or alternatively you can contact your chosen shop on or send us an email at