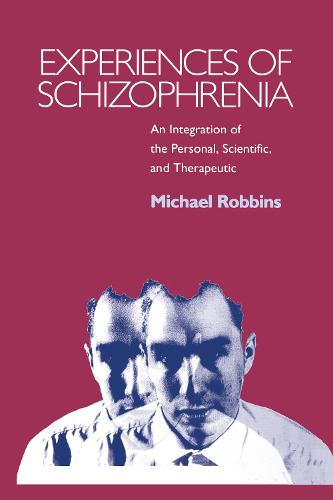 Experiences Of Schizophrenia: An Integration Of The Personal, Scientific And Therapeutic (Hardback)
Mandy Robbins
(author)
Hardback
511

Pages / Published: 24/08/1993
In this important new volume, Michael Robbins presents an explication of schizophrenia unique in both its breadth and depth. His work renders this mysterious condition much more comprehensible, and offers both theoreticians and clinicians of different scientific orientations new possibilities for treatment and interdisciplinary collaboration. The book interweaves an explication of the nature and treatment of schizophrenia, drawn from interlocking perspectives including organic, psychological, interpersonal, familial, and socio-cultural, with five of the most detailed case reports of treatment to be found in the literature. This volume is aimed at psychiatrists, psychoanalysts, clinical psychologists, and social workers working with persons with schizophrenia and other severe pathologies.
Publisher: Guilford Publications
ISBN: 9780898629972
Number of pages: 511
Weight: 1142 g
Dimensions: 241 x 165 x 36 mm
---
MEDIA REVIEWS
"In 1974 Silvano Arieti's National Book Award -- winning classic, "Interpretation of Schizophrenia," was hailed as the 'preeminent work on the subject, the governing reference for decades to come.' And for two decades it was. Now, however, the student of the human mind in general, and of schizophrenia in particular, has a comtemporary work to read and study that while not the last work, is unsurpassed in its completeness and scientific balance and scholarliness, and in its strength of compassion toward this subject and these people. It will surely help swing the pendulum in an evolutionary, if not revolutionary, manner away from neurobiologic reductionism toward multileval pluralism. And finally, it will gently lead the reader down an enlightened path on which no one and nothing can be scapegoated or blamed for the suffering, but on which much understanding can be achieved and much pain and suffering alleviated." --"American Journal of Psychoanalysis"
.,."this is a must book for anyone involved in or interested in the treatment of severely ill psychotic patients....For psychiatric residents and psychologists training in a hospital setting, I cannot imagine a better and more thoughtful and informative guide to understanding the complexity of their therapeutic task. For other interested readers, they can anticipate a profound and informative introduction to the world and experience of the schizophrenic." --"Psychoanalytic Books: A Quarterly Journal of Reviews"
"A strength of this book is its integration of the biological and psychological underpinnings of schizophrena. The author does an excellent job describing the complex psychological issues involved in treatment through theuse of detailed, insightful accounts of long-term psychotherapies of five persons...I would recommend this book to all mental health providers working with persons with schizophrena." --"Bulletin of the Menninger Clinic"
.,."provides a comprehensive history of ideas about schizophrenia, including a clinical description which differentiates it from manic-depressive psychosis and other primitive mental states...Robbins is...thorough in his examination of the various implications for treatment of these theories, and he delineates the advantages and disadvantages of the psychotherapeutic process, the psychological and pharmacologic, as well as the influence by institutions and families on each of these. One of the most valuable aspects of Robbins' book for psychoanalytic candidates is his clinical material, in which he presents a full description of his work with five cases, some of which were successful and others of which were not." --"Modern Psychoanalysis"
.,."simply the best and most important book on the subject to come to print in decades." --"American Journal of Psychoanalysis"
.,.".An excellent work....What makes Robbins so exciting is his clear grasp of the hierarchical approach to this condition, and his personal style in discussing the syndrome and its treatment. Interwoven in the examination of this condition are five case reports. These studies are remarkable for their detailed descriptions of patients, treatments, and reporting of patients' opinions of their therapists. Unlike many others, Robbins shares with readers his errors, doubts, and uncertainties in the course of treatments that extended over nine years. He demonstrates a remarkable gift for sharinghimself with patients." --"Academy Forum"
"This book will be a valuable source of information for everyone in the human sciences who is interested in the study and treatment of mental illness. It explains various aspects of schizophrenia including a definition, viewpoints, and treatments. Three different cases are described along with future research." --"Biosis"
"In a psychiatric era in which biological reductionism runs rampant, this impressive new volume by Michael Robbins demands attention. With erudition, grace, and sophistication, he reminds us that persons with schizophrenia live out their lives in an internal psychological world that cries out for understanding. Although a psychoanalyst, the author avoids the trap of privileging psychology over biology. With an extraordinary command of the literature and superb scholarship, he compellingly demonstrates the importance of thinking pluralistically about the treatment of schizophrenia. Robbins is one of a handful of clinicians who has devoted his professional career to the intensive psychotherapeutic treatment of severely disturbed patients. This book, the crowning achievement of his life's work, should be read and re-read by all clinicians who work with psychotically disturbed patients." --Glen O. Gabbard, M.D., Medical Director, C. F. Menninger Memorial Hospital
"In this very important and timely work, Michael Robbins offers us the harvest of a long, dedicated, and unusual career in the psychoanalytic treatment of schizophrenic patients. He candidly offers his failures and credibly presents his successes and shows his unusual gift for integrating a psychoanalytic model of understanding and treatment with neurobiological, social, and psychological perspectives. His work constitutes a clarion call to revive interest in an all but lost focus of treatment, and he offers his long, hard-won experience to support his message." --James Grotstein, M.D.
"Dr. Robbins documents his extraordinary experience in this therapeutic realm with engrossing narrative, gripping candor, and eloquent scholarly perspective. The data is timeless and provides an uncommon text for personal or group study in the assessment of psychotherapy's role in the long-term treatment of schizophrenia." --Sheldon Roth, M.D., Harvard Medical School
"At long last, we have a book integrating the perspectives of every relevant discipline about the conundrum of schizophrenia! Michael Robbins writes with passion and clarity; EXPERIENCES OF SCHIZOPHRENIA is destined to be the standard reference of this decade for clinicians ready to do reparative work with patients who suffer from this syndrome. In addition to splendid case reports illustrating a variety of outcomes, Robbins offers a persuasive clinical theory explicating the pathogenesis of schizophrenia, including biological, psychological, and familial determinants. This is essential reading for those of us concerned with developing a comprehensive theory of mental functions." --John E. Gedo, M.D.

You may also be interested in...
Simply reserve online and pay at the counter when you collect. Available in shop from just two hours, subject to availability.
Thank you for your reservation
Your order is now being processed and we have sent a confirmation email to you at
When will my order be ready to collect?
Following the initial email, you will be contacted by the shop to confirm that your item is available for collection.
Call us on or send us an email at
Unfortunately there has been a problem with your order
Please try again or alternatively you can contact your chosen shop on or send us an email at