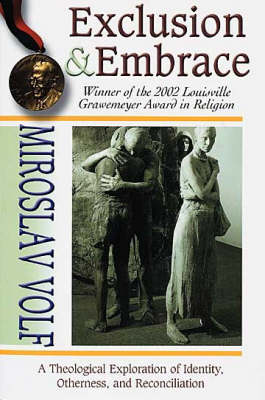 Exclusion and Embrace: Theological Exploration of Identity, Otherness and Reconciliation (Paperback)
Miroslav Volf

(author)

,

Mr. Miroslav Volf

(author)
Paperback
Published: 01/01/1994
Life at the end of the twentieth century presents us with a disturbing reality. Otherness, the simple fact of being different in some way, has come to be defined as in and of itself evil. Miroslav Volf contends that if the healing word of the gospel is to be heard today, Christian theology must find ways of speaking that address the hatred of the other. Reaching back to the New Testament metaphor of salvation as reconciliation, Volf proposes the idea of embrace as a theological response to the problem of exclusion. Increasingly we see that exclusion has become the primary sin, skewing our perceptions of reality and causing us to react out of fear and anger to all those who are not within our (ever-narrowing) circle. In light of this, Christians must learn that salvation comes, not only as we are reconciled to God, and not only as we "learn to live with one another," but as we take the dangerous and costly step of opening ourselves to the other, of enfolding him or her in the same embrace with which we have been enfolded by God. Is there any hope of embracing our enemies? Of opening the door to reconciliation? Miroslav Volf, a Yale University theologian, has won the 2002 Louisville Grawemeyer Award in Religion for his book, Exclusion & Embrace: A Theological Exploration of Identity, Otherness, and Reconciliation (Abingdon, 1996). Volf argues that exclusion of people who are alien or different is among the most intractable problems in the world today. He writes, It may not be too much to claim that the future of our world will depend on how we deal with identity and difference. The issue is urgent. The ghettos and battlefields throughout the world in the living rooms, in inner cities, or on the mountain ranges testify indisputably to its importance. A Croatian by birth, Volf takes as a starting point for his analysis the recent civil war and ethnic cleansing in the former Yugoslavia, but he readily finds other examples of cultural, ethnic, and racial conflict to illustrate his points. And, since September 11, one can scarcely help but plug the new world players into his incisive descriptions of the dynamics of interethnic and international strife. Exclusion happens, Volf argues, wherever impenetrable barriers are set up that prevent a creative encounter with the other. It is easy to assume that exclusion is the problem or practice of barbarians who live over there, but Volf persuades us that exclusion is all too often our practice here as well. Modern western societies, including American society, typically recite their histories as narratives of inclusion, and Volf celebrates the truth in these narratives. But he points out that these narratives conveniently omit certain groups who disturb the integrity of their happy ending plots. Therefore such narratives of inclusion invite long and gruesome counter-narratives of exclusion the brutal histories of slavery and of the decimation of Native American populations come readily to mind, but more current examples could also be found. Most proposed solutions to the problem of exclusion have focused on social arrangements what kind of society ought we to create in order to accommodate individual or communal difference? Volf focuses, rather, on what kind of selves we need to be in order to live in harmony with others. In addressing the topic, Volf stresses the social implications of divine self-giving. The Christian scriptures attest that God does not abandon the godless to their evil, but gives of Godself to bring them into communion. We are called to do likewise whoever our enemies and whoever we may be. The divine mandate to embrace as God has embraced is summarized in Paul s injunction to the Romans: Welcome one another, therefore, just as Christ has welcomed you (Romans 15:7). Susan R. Garrett, Coordinator of the Religion Award, said that the Grawemeyer selection committee praised Volf s book on many counts. These included its profound interpretation of certain pivotal passages of Scripture and its brilliant engagement with contemporary theology, philosophy, critical theory, and feminist theory. Volf s focus is not on social strategies or programs but, rather, on showing us new ways to understand ourselves and our relation to our enemies. He helps us to imagine new possibilities for living against violence, injustice, and deception. Garrett added that, although addressed primarily to Christians, Volf's theological statement opens itself to religious pluralism by upholding the importance of different religious and cultural traditions for the formation of personal and group identity. The call to embrace the other is never a call to remake the other into one s own image. Volf who had just delivered a lecture on the topic of Exclusion and Embrace at a prayer breakfast for the United Nations when the first hijacked plane hit the World Trade Center will present a lecture and receive his award in Louisville during the first week of April, 2002. The annual Religion Award, which includes a cash prize of $200,000, is given jointly by Louisville Presbyterian Theological Seminary and the University of Louisville to the authors or originators of creative works that contribute significantly to an understanding of the relationship between human beings and the divine, and ways in which this relationship may inspire or empower human beings to attain wholeness, integrity, or meaning, either individually or in community. The Grawemeyer awards given also by the University of Louisville in the fields of musical composition, education, psychology, and world order honor the virtue of accessibility: works chosen for the awards must be comprehensible to thinking persons who are not specialists in the various fields. "
Publisher: Abingdon Press
ISBN: 9780687002825
Weight: 490 g
Dimensions: 230 x 153 x 21 mm
You may also be interested in...
×
Download the Waterstones App
Would you like to proceed to the App store to download the Waterstones App?
Reserve online, pay on collection


Thank you for your reservation
Your order is now being processed and we have sent a confirmation email to you at
When will my order be ready to collect?
Following the initial email, you will be contacted by the shop to confirm that your item is available for collection.
Call us on or send us an email at
Unfortunately there has been a problem with your order
Please try again or alternatively you can contact your chosen shop on or send us an email at