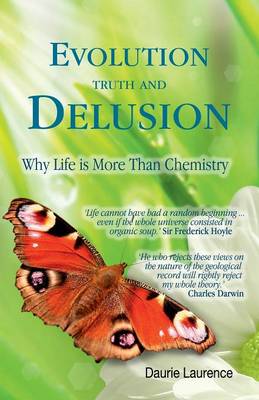 Evolution Truth and Delusion: Why Life is More Than Chemistry (Paperback)
Daurie Laurence
(author)
Paperback
Published: 21/02/2013
Is Life on Earth just a very long running 'accident,' as many believe Darwin showed it to be, or is it, as some scientists now argue, an intelligent process? There are two basic philosophies of existence: materialist and idealist. The materialist view, dominant in biology today, is that only matter is real, and that Mind and Life are simply 'accidents' of Mindless, Lifeless matter. The idea is that 'by accident' atomic matter eventually became 'alive,' conscious, human shaped and capable of doing science - and the purpose of that science is to intelligently explain the (allegedly) meaningless and unintelligent Cosmos and Nature from which we emerge - it's all simply a vast accident. Darwin's theory was an attempt to provide a purely materialist, nointelligence- involved, god-not-needed, explanation of Life on Earth. Yet, as Michael Denton pointed out in Evolution: A Theory In Crisis, Darwin was not 'able to point to one bona fide case of natural selection having actually generated evolutionary change in nature - " In Shattering the Myths of Darwinism, Richard Milton noted that 'no transitional species showing evolution in progress between two stages has ever been found.' Even Darwin himself admitted that the lack of confirmatory fossil evidence was the 'most obvious and gravest objection which can be urged against my theory.' Traditionally, it was the world's religions who argued that Life and Mind were more than matter alone, yet, increasingly, today, various non-religious thinkers are also starting to question the Darwinian, 'accidental particles to accidental people' view of existence. Continuing their discussion of these controversial matters begun in The Delusions of Evolution, two friends, Oliver and Alisha, argue that, while clearly, evolution of some kind is a fact, it's an intelligent fact not a meaningless one. They note that even Alfred Russell Wallace who, along with Darwin, co-invented the idea of random, blind-watchmaker evolution eventually concluded that his and Darwin's theory didn't work. He realized that their theory could not account for very Life itself - the Life Force and the Soul in all things. It could not account for Consciousness and Mind, nor could it account for Nature's incredible, 24/7-dynamic processes and transformations, such as the astonishing metamorphosis of the caterpillar into a butterfly.
Publisher: The Choir Press
ISBN: 9781909300057
Weight: 353 g
Dimensions: 216 x 140 x 16 mm
You may also be interested in...
Simply reserve online and pay at the counter when you collect. Available in shop from just two hours, subject to availability.
Thank you for your reservation
Your order is now being processed and we have sent a confirmation email to you at
When will my order be ready to collect?
Following the initial email, you will be contacted by the shop to confirm that your item is available for collection.
Call us on or send us an email at
Unfortunately there has been a problem with your order
Please try again or alternatively you can contact your chosen shop on or send us an email at