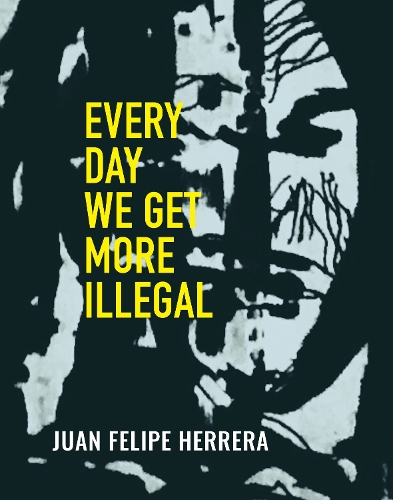 Paperback
96

Pages
Published: 05/11/2020
Voted a Best Poetry Book of the Year by Library Journal
Included in Publishers Weekly's Top 10 Poetry Books of the Year
One of LitHub's most Anticipated Books of the Year!
A State of the Union from the nation's first Latino Poet Laureate. Trenchant, compassionate, and filled with hope.
"Many poets since the 1960s have dreamed of a new hybrid art, part oral, part written, part English, part something else: an art grounded in ethnic identity, fueled by collective pride, yet irreducibly individual too. Many poets have tried to create such an art: Herrera is one of the first to succeed."-New York Times
"Herrera has the unusual capacity to write convincing political poems that are as personally felt as poems can be."-NPR
"Juan Felipe Herrera's magnificent new poems in Every Day We Get More Illegal testify to the deepest parts of the American dream-the streets and parking lots, the stores and restaurants and futures that belong to all-from the times when hope was bright, more like an intimate song than any anthem stirring the blood."-Naomi Shihab Nye, The New York Times Magazine
"From Basho to Mandela, Every Day We Get More Illegal takes us on an international tour for a lesson in the history of resistance from a poet who declares, 'I had to learn . . . to take care of myself . . . the courage to listen to my self.' You hold in your hands evidence of who we really are."-Jericho Brown, author of The Tradition
"These poems talk directly to America, to migrant people, and to working people. Herrera has created a chorus to remind us we are alive and beautiful and powerful."-Jose Olivarez, Author of Citizen Illegal
"The poet comes to his country with a book of songs, and asks: America, are you listening? We better listen. There is wisdom in this book, there is a choral voice that teaches us 'to gain, pebble by pebble, seashell by seashell, the courage.' The courage to find more grace, to find flames."-Ilya Kaminsky, author of Deaf Republic
In this collection of poems, written during and immediately after two years on the road as United States Poet Laureate, Juan Felipe Herrera reports back on his travels through contemporary America. Poems written in the heat of witness, and later, in quiet moments of reflection, coalesce into an urgent, trenchant, and yet hope-filled portrait. The struggle and pain of those pushed to the edges, the shootings and assaults and injustices of our streets, the lethal border game that separates and divides, and then: a shift of register, a leap for peace and a view onto the possibility of unity.
Every Day We Get More Illegal is a jolt to the conscience-filled with the multiple powers of the many voices and many textures of every day in America.
"Former Poet Laureate Juan Felipe Herrera should also be Laureate of our Millennium-a messenger who nimbly traverses the transcendental liminalities of the United States . . ."-Carmen Gimenez Smith, author of Be Recorder
Publisher: City Lights Books
ISBN: 9780872868281
Number of pages: 96
Dimensions: 177 x 139 mm
Edition: Bilingual edition
---
MEDIA REVIEWS
PRAISE FOR EVERY DAY WE GET MORE ILLEGAL:
"Every Day is a hard-hitting, witnessing collection about trauma, living as an immigrant in the US, the US-Mexico border wall, ICE detention centers, and physical familial separations."-Gabriela Portillo Alvarado, Jacket 2
"The better angels of his nature: In Every Day We Get More Illegal, Juan Felipe Herrera doubles down on hope."-David Ulin, Alta
"What began in Herrera's Every Day We Get More Illegal as a quiet portrayal of witnessing the effects and experiences of migrating north, soon becomes an edgy yet soulful expression that shows the spectrum of suffering and marginalization of those who are undocumented."-Francisco A. Lomeli, The Los Angeles Review of Books
"Every Day We Get Illiegal is filled with poems of unflinching wisdom. . . . Herrera has perfected being direct and beautiful while knitting history into the current time."-Barbara Berman, The Rumpus
" . . . furious, evocative, and urgent, until, with a sort of quiet peace, Herrera opens the book up to his hope for a better, kinder future, and graciously invites the reader into his vision of it."-Arianna Rebolini, BuzzFeed Books
"With his latest collection, Every Day We Get More Illegal, Herrera offers a kind of spiritual style guide for a time when solidarity itself is stymied by social distancing."-Roberto Ontiveros, The Austin Chronicle
"With hands firmly rooted in the soil, he reasserts the value of individual lives and stories, including his own. 'First I had to learn. Over decades-to take care of myself,' he writes. Sweeping yet precise, Every Day We Get More Illegal is an intimate and urgent call to collective action."-Poets & Writers Magazine
"The timely, urgent book from Herrera pays homage to the 'migrant children,' 'immigrant children,' those 'who died in custody,' and those 'separated on the road north,' highlighting societal issues while exploring the nuances of how silence operates within a larger political discourse. . . . Herrera's formal versatility lends subtlety and nuance to essential political considerations."-Publishers Weekly, *Starred Review*
"This latest collection from Herrera continues his legacy as poet, performer, and activist after his having served as U.S. Poet Laureate from 2015 to 2017. . . . A timely and propulsive work; for all collections.-Karla Huston, Library Journal, *Starred Review*
"One of Herrera's great gifts is his ability to treat this continental divide simultaneously as a conceptual abstraction-'The Wall / it is more than an arbitrary stop or as it is called The Border it is / an arrangement of agreements of always-war'-while also humanizing its inhabitants: 'every human being in the village is an ever-opening story.'"-Booklist
"Every Day We Get More Illegal (City Lights, 2020), the slender, ferocious, tender new volume by Herrera, the first Xicano poet laureate of the United States. . . . He doesn't need violent winds to knock down the illusion of the border-he does this with the puffs of breath from all the people he conspires to give voice to in his songs."-"Reflections on Juan Felipe Herrera, my homeboy laureate," by Luis Alberto Urrea for the Poetry Foundation
"Juan Felipe Herrera breaks open language to convey unspeakable pain alongside unfathomable strength."-Emma Ramadan, co-owner, Riff Raff Bookstore, Providence, RI
"Few poets have more laurels upon which they could rest than Juan Felipe Herrera. As the former Poet Laureate of the United States he's done more for poetry, on the page and off, than most anyone living. But in his new Every Day We Get More Illegal, Herrera not only stretches, complicates, broadens his own oeuvre, he challenges and expands what might be possible in the space of a poem."-Kaveh Akbar, author of Calling a Wolf a Wolf
"A prolific voice for justice, Herrera continues to see the world with compassion, a goofy sort of humor, and a liberationist's roving kind of care. These are warm poems for hard times."-John Freeman, Lit Hub Executive Editor
"Juan Felipe Herrera upholds and elevates the great ancestral lineage of our Mexicano/Chicano/World/Word Masters. The Border lives in this man. The Border(s) will never leave him. He is the son of soul anarchy, the lost stories of my America. He is the trickster magician who lifts the mirror to our faces-and allows us to see truth. When he breaks stride in this great walkabout of his, he tumbles the false world down while always showing us the Better Way. These are poems fierce and compassionate. His Journey has served him well."-Denise Chavez, owner, Casa Camino Real Bookstore, Las Cruces NM
You may also be interested in...
×
Download the Waterstones App
Would you like to proceed to the App store to download the Waterstones App?
Reserve online, pay on collection


Thank you for your reservation
Your order is now being processed and we have sent a confirmation email to you at
When will my order be ready to collect?
Following the initial email, you will be contacted by the shop to confirm that your item is available for collection.
Call us on or send us an email at
Unfortunately there has been a problem with your order
Please try again or alternatively you can contact your chosen shop on or send us an email at