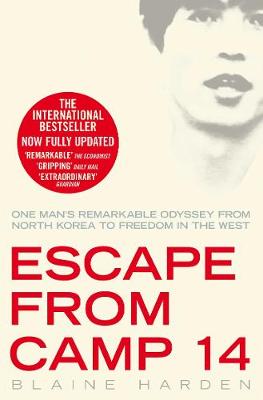 Paperback
252

Pages / Published: 30/07/2015
The fully updated story of Blaine Harden's international bestseller Escape From Camp 14.
Twenty-seven years ago, Shin Dong-hyuk was born inside Camp 14, one of five sprawling political prisons in the mountains of North Korea. Located about 55 miles north of Pyongyang, the labor camp is a 'complete control district,' a no-exit prison where the only sentence is life.
No one born in Camp 14 or in any North Korean political prison camp has escaped. No one except Shin. This is his story.
A gripping, terrifying memoir with a searing sense of place, Escape From Camp 14 will unlock, through Shin, a dark and secret nation, taking readers to a place they have never before been allowed to go.
'This is a story unlike any other' Barbara Demick, author of Nothing to Envy: Ordinary Lives in North Korea
Now a major documentary film
Publisher: Pan Macmillan
ISBN: 9781509803309
Number of pages: 252
Dimensions: 197 x 130 mm
---
MEDIA REVIEWS
`This is a story unlike any other because Shin is one of the few, if not only, long-term prisoners to have escaped from the North Korean gulag. It is most harrowing not only because it is true, but because the conditions it describes persist to 2011 in North Korea, where a vast gulag is home to hundreds of thousands of slave laborers, including children bred in captivity, like Shin. More so than any other book on North Korea, including my own, Escape from Camp 14 exposes the cruelty that is the underpinning of Kim Jong Il's regime. Blaine Harden, a veteran foreign correspondent from The Washington Post, tells this story masterfully. Harden doesn't flinch from the darker side of the story. He takes straight-on questions about Shin's credibility and explains methodically how he went about corroborating his story. He doesn't try to make Shin - a difficult and damaged person - more likeable. The integrity of this book, shines through on every page' Barbara Demick, author of Nothing to Envy: Ordinary Lives in North Korea
`Harrowing . . . Harden's account of Shin's extraordinary, perilous journey through North Korea and into China (which has a history of sending asylum seekers back to North Korea) and later to South Korea is gripping stuff . . . bearing witness will be Shin's legacy' Daily Mail
`Harden sheds light on the horrors of North Korea, with a gripping account of the story of Shin In Geun' Financial Times - Favourite Books of 2012
'Until recently, full accounts of life in this famine-riven dystopia were hard to come by. Then a couple of years ago, Barbara Demick's Nothing to Envy provided excoriating testimonies of refugees who had managed to escape into China and then on to South Korea. The picture those witnesses drew of North Korea was of one vast and brutal gulag. Now comes Escape From Camp 14, a still more harrowing account of the gulag within the gulag, the huge prison camps that litter the more remote provinces of this benighted country. Written by Blaine Harden, an experienced American journalist, it tells the extraordinary story of Shin Dong-hyuk, the only person born in the gulag to have escaped' Guardian
`Harden knows a lot about North Korea and he wears his knowledge lightly . . . Harden deserves a lot more than `wow' for this terrifying, grim and, at the very end, slightly hopeful story of a damaged man still alive only by chance, whose life, even in freedom, has been dreadful' Literary Review
`Harrowing story of a young man's flight from one of the slave labor camps where as many as 200,000 political unreliables - a category that includes not just those who run afoul of authority but their relatives for three generations - are sent to be starved, tortured and ultimately worked to death. Harden's story of Shin Dong-hyuk differs from the best previous refugee narratives - "The Aquariums of Pyongyang" by Kang Chol-hwan, Barbara Demick's "Nothing to Envy" - because Shin was in every sense a product of Camp 14. Born in captivity to a pair of inmates picked by camp commanders for a loveless bit of procreation, Shin grew up with no awareness of anything beyond the electrified fences. He is like the boy-narrator of Emma Donoghue's novel "Room," whose entire world is the backyard shed where he and his kidnapped mother are held captive. Except that the boy in "Room" knows love. Harden's book, besides being a gripping story, unsparingly told, carries a freight of intelligence about this black hole of a country' New York Times
`A skilfully researched piece of book-length journalism uncluttered, as far as seems reasonable, with emotion. It is old now, the saying that for evil to exist, good men must do nothing. And that is what you take away, more than anything, from Harden's book. More than why the crimes against humanity are happening in the first place, more than whose responsibility it is to stop them, the question is why - for the sake not of politics but of mankind - is nobody in power doing anything about it?' Spectator
`Shin's existence in the camp and his escape to the unknown world beyond its fences is the remarkable and harrowing tale that former Washington Post reporter Blaine Harden recounts in spare, unadorned prose in Escape From Camp 14 . . . while the horrors of the Russian gulag, Nazi genocide and Cambodian mass murders have been amply documented, North Korea's grisly conditions remain shadowy and under-publicized. In depicting the depravity of North Korean prison life, Harden's book is an important portrait of man's inhumanity to man' Washington Post
You may also be interested in...
"An eye opener!"
This should be read by all!
Perhaps there is a chance that it is not entirely 100% accurate? However, this remains a very important book.
"Read this and weep"
The World should know what is happening in North Korea and this book offers a tiny glimpse into the despotic regime which makes a pretence at governing the Country. A government based on fear and privilidge where the... More

"Fantastic"
I'm only halfway through this book, but wow, it is so eye-opening. I'm ashamed to admit that I don't know very much about what is going on in North Korea and I know even less about what is happening in... More
Simply reserve online and pay at the counter when you collect. Available in shop from just two hours, subject to availability.
Thank you for your reservation
Your order is now being processed and we have sent a confirmation email to you at
When will my order be ready to collect?
Following the initial email, you will be contacted by the shop to confirm that your item is available for collection.
Call us on or send us an email at
Unfortunately there has been a problem with your order
Please try again or alternatively you can contact your chosen shop on or send us an email at