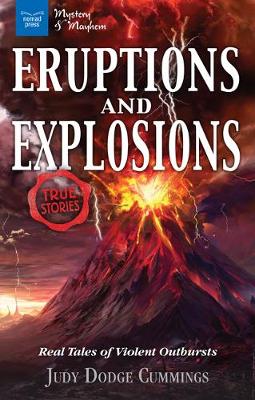 Eruptions and Explosions: Real Tales of Violent Outbursts - Mystery & Mayhem (Hardback)
Judy Dodge Cummings
(author)
Hardback
124

Pages / Published: 15/02/2018
The energy released when volcanoes erupt, engines combust, or bombs explode both thrills and fascinates people. But this power also kills. Eruptions and Explosions: Real Tales of Violent Outbursts recounts the history of five blowups that continued to rattle the world long after the smoke had cleared and embers cooled. For example, in 1815, a mountain in Indonesia called Tambora erupted. This volcano unleashed a monstrous cloud of ash and gas into the upper atmosphere. For three years, the cloud played with the global environment, causing never-ending winters and famine that killed thousands. Some of the world's most devastating explosions cannot be blamed on nature, but on human failings. In 1865, the steamship Sultana exploded while transporting thousands of federal soldiers just freed from Confederate prisoner of war camps. The greatest maritime disaster in United States history was caused as much by greed as a faulty boiler. A discussion about explosions wouldn't be complete without mention of nuclear bombs. A desire to end the bloodshed of World War II led the United States to drop an atomic bomb on Hiroshima, Japan, in 1945. The bomb hastened the end of war, but also killed hundreds of thousands of Japanese civilians and launched the nuclear age. This nuclear age brought a catastrophic explosion at a power plant in the former USSR in 1986. When a reactor blew at a facility in Chernobyl, radioactive fallout spread throughout Europe, creating a contamination zone unfit for human life for centuries. Powerful forces lie within the Earth and people who try to extract that power pay a high price. In 2010, a series of errors led the Macondo oil well to rupture. For three months, millions of barrels of oil gushed into the Gulf of Mexico, destroying plant and animal life and devastating the economy of the region. This is the eighth book in a series called Mystery & Mayhem, which features true tales that whet kids' appetites for history by engaging them in genres with proven track records-mystery and adventure. History is made of near misses, unexplained disappearances, unsolved mysteries, and bizarre events that are almost too weird to be true-almost! The Mystery and Mayhem series delves into these tidbits of history to provide kids with a jumping-off point into a lifelong habit of appreciating history. The five true tales told within Eruptions and Explosions are paired with maps, photographs, and timelines that lend authenticity and narrative texture to the stories. A glossary and resources page provide the opportunity to practice using essential academic tools. These nonfiction narratives use clear, concise language with compelling plots that both avid and reluctant readers will be drawn to. Nomad Press books in the Mystery & Mayhem series introduce readers to historical concepts and events by engaging them in an extremely popular genre-real-life adventure and mystery. Readers ages 9 to 12 are fascinated with the strange-but-true tales that populate history, and books in this series offer compelling narrative nonfiction paired with concise language that appeals to both voracious and reluctant readers. Nomad's unique approach to the study of history uses tantalizing tales based in factual knowledge that encourage a lifelong curiosity in the historical events that shape our world. Titles in the series include: Pirates and Shipwrecks; Survival; Weird Disappearances; Daring Heists; Rebels & Revolutions; Great Escapes; Tomb Raiders; Eruptions and Explosions; Epidemics and Pandemics; and Earth, Wind, Fire, and Rain.
Publisher: Nomad Press
ISBN: 9781619306295
Number of pages: 124
Weight: 318 g
Dimensions: 235 x 152 x 13 mm
---
MEDIA REVIEWS
Kirkus Reviews: Pirates and Shipwrecks
Five true tales of pirates and shipwrecks spare none of the intriguing and grisly details. Employing a casual, conversational tone that reads easily, McCarthy spins five yarns of bloodthirsty pirates and harrowing shipwrecks. The first offering portrays the terrifying experience of sailors who survive a shipwreck only to land on a beach of decapitated, sun-bleached skeletons. The next, another account of nautical distress, tells of a lost ship, reports of possible cannibalism, and the expedition that set out to learn the truth. The third recounts the tales of two fierce female pirates who were just as ruthless and bloodthirsty as their male counterparts. The fourth and fifth deliver more tales of maritime mayhem and cutthroat (quite literally) pirates, keeping up the lively pace already established. McCarthy shows a good sense for the interesting and gory detail, offering up plenty of blood-soaked action while keeping it appropriate for a young readership. Included after each vignette are other notable facts of the time period, and at the end of the offering is a glossary and resources. Releasing simultaneously is Survival, a volume that follows the same format and offers accounts of events such as the Donner Party disaster. Recommend this to fans of the I Survived... series who might be seeking a bit more fact and a little less fiction. A breezy offering just right for fans of survival tales. (Nonfiction. 7-12)
Booklist Survival
Warning: these feats aren't for the faint of heart. From icy depths and scorching valleys to the rumored consumption of human flesh, this entry in the Mystery & Mayhem series examines notorious survival stories. In five succinct chapters, each bookended by annotated expedition maps and a brief bill of historical context, McCarthy covers Ernest Shackleton's voyage from Plymouth, England, to Antarctica; William Bligh's trek to Timor; William Lewis Manly's slog through Death Valley; Charlotte Picard's course to Senegal; and the Donner Party's infamous tussle with an early winter. Although speculative musings ("Imagine how the remaining crew . . . felt") at times offset hard facts and direct quotations, the conversational tone, hair-raising anecdotes, and fairly comprehensive glossary make this a handy primer for any budding thrill seeker.
School Library Connection: The Underground Railroad
The third title in Cumming's Build It Yourself series leads students in an exploration of the tens of thousands of African-American men, women, and children who escaped slavery on the Underground Railroad with the help of those who risked their lives in the years before the Civil War. The book is filled with maps, timelines, graphs, charts, and primary sources of information. QR codes in each chapter lead students to further information sources. Each of the eight chapters is organized around an essential question, and thought-provoking sidebars are imbedded throughout. Twenty-five activity projects, easily identified by their colorful borders, allow students to explore even further and get real hands-on experience. In addition to the glossary, vocabulary is defined on each double-page spread. This book is an excellent resource for helping students understand the troubling times prior to the Civil War and could serve as a resource for an entire unit of study. Highly Recommended.
You may also be interested in...
Simply reserve online and pay at the counter when you collect. Available in shop from just two hours, subject to availability.
Thank you for your reservation
Your order is now being processed and we have sent a confirmation email to you at
When will my order be ready to collect?
Following the initial email, you will be contacted by the shop to confirm that your item is available for collection.
Call us on or send us an email at
Unfortunately there has been a problem with your order
Please try again or alternatively you can contact your chosen shop on or send us an email at