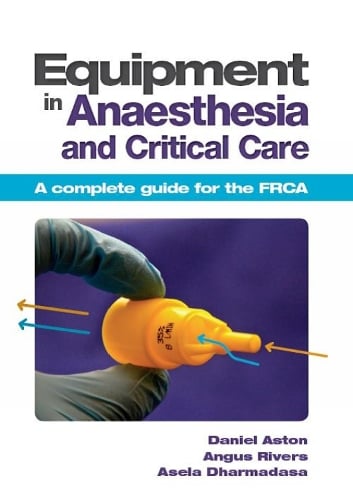 Paperback
416

Pages / Published: 15/10/2013
In stock

Free UK delivery
Highly commended in the Anaesthesia category of the 2014 BMA Medical Books awards!

From reviews:
"Altogether, this textbook offers an excellent detailed overview of basic principles, mechanics, and physics of technical equipment used in anaesthesia and intensive care medicine." Critical Care, Feb 2014

"This book is excellent. I have read a number of equipment related books and found most of them stale and filled with minutia. Instead this fresh look at equipment really makes it interesting to read and keeps your attention. With sections that give quick answers to how things work, advantages and disadvantages, in an easy to read format you get exactly what you want to know RIGHT away. In addition the full color photos and well done charts really add to the depth of this book. It is my opinion this may be one of the best books on the market for quick review of anesthesia and critical care equipment. Let's be honest, no one is sitting at home reading equipment books for pleasure so when you NEED the information you likely need it right away. This book does exactly that; easy format, clear and concise information with everything you need to know about a piece of equipment easy to find and within a page or two. I would recommend this to all trainees in anesthesia but also for those providers who like to be prepared in the operating room to deal with any issue that might arise." www.nurse-anesthesia.org, 8 Feb 2014

Equipment in Anaesthesia and Critical Care specifically follows the syllabus published by the Royal College of Anaesthetists and is the perfect guide for candidates studying for their FRCA qualifications.

The book is beautifully illustrated and features high quality colour photographs throughout. The text is engaging and comprehensive, relating each piece of equipment back to its basic physics, mechanics and clinical context. The clear, concise and standardised format means that information is easy to access and perfect for revision. Every major piece of equipment is featured alongside colour photos, reproducible line diagrams, and information on its uses, how it works, pros and cons, and safety considerations.

The authors, all senior registrars in anaesthesia and critical care, appreciate exactly what candidates need to know to pass the FRCA exam. They have identified and tackled difficult subjects which are often glossed over or omitted in other resources, to produce a book that is comprehensive, engaging and to the point. In addition to FRCA candidates, the book is also suitable for operating department practitioners, critical care staff, and physicians with an interest in anaesthesia or critical care.
Publisher: Scion Publishing Ltd
ISBN: 9781907904059
Number of pages: 416
Weight: 889 g
Dimensions: 244 x 172 x 17 mm
---
MEDIA REVIEWS
Five-star reviews:

OSCE/SOE life saver "Just passed my primary and this book saved my skin...
Well laid out with colour photos supported by simple diagrams of inner workings/underlying concepts with easy to understand text covering the principles, key points and advantages/disadvantages. What is not to like?
Having trawled my way through various books on this subject I have no doubt this bad boy will soon be the anaesthetic equipment book of choice for trainees." Amazon reviewer

A must have for the exams "This is my first amazon review but I felt compelled to write this as I thought that this was such a good text. There are other equipment books out there (I own a few of them!) but none of the others bridge the gap between the technical aspects of the piece of equipment and the applied knowledge of it that is tested in the FRCA exams like this one. A perfect example is the ECG chapter, I had this question in my FRCA viva and everything that I needed to know about the topic was actually in this chapter. Infact the examiners questions almost worked through the headings as presented in the chapter in sequential order. I feel that this is a good book with the right level of detail for the exams. It also covers the obscure topics which are really hard to find elsewhere such as filters,pacemakers and decontamination. Ignore this book at your peril!" Amazon reviewer

Essential! "This new book covers all the equipment and measurement for the primary FRCA, particularly invaluable for the OSCE. The content is comprehensive. Each section is laid out extremely clearly and concisely, with sections on pros, cons and safety issues for each bit of equipment. Although my senior colleagues recommended older books, I am glad I chose this one and I am sure it will become one of THE textbooks for primary FRCA. I have been recommending it to my peers." Amazon reviewer

At last! "When I sat the primary FRCA there was, in all honesty, no really useful text for the equipment part of the syllabus. The current books at the time were disorganised in their layout and just didn't answer the kind of questions that come up especially in the viva/OSCE.
This new equipment book has most definitely filled that gap. It's easy to navigate, readable, includes clear and reproducible diagrams and,crucially, affordable. The 'at a glance' style layout makes for efficient revision on your own and with friends, and I particularly like the pros/cons sections at the end of each. The fact that the authors are all senior registrars with recent exam perspective really shines through.
My only tiny negative comment is that the paper quality is a little thinner than other textbooks which makes it less robust for those of us who walk around with a book in our bag at work / risk spilling tea on it etc - but if this is the biggest problem I can find then it's surely still worthy of 5 stars!
Now revising for the final and looking forward to using this book to make some of those new equipment topics e.g. cardiopulmonary bypass that bit easier to learn.
Also highly recommended for ODPs/trainee ODPs, non-anaesthetists doing a stint of critical care. I'll definitely be recommending this to other trainees in my department!" Amazon reviewer

Refreshingly clear and well written "A refreshingly clear and well-written book! It looks great, with colour photos, diagrams and a crisp, uncluttered layout. I love the standardised format which makes dipping in and out of the book a breeze. The list of advantages and disadvantages for each bit of kit is a particularly nice touch that, in my opinion, gives the reader a better feel for the equipment in practise. I've only read a few chapters so far, but they seem to be set out in a logical manner with useful chapter introductions. My only gripe is that the authors have not (yet?) released a Kindle/ electronic version of the book.
In summary, this was money well spent and I'm sure the book will become a firm favourite amongst trainees tackling the FRCA." Amazon reviewer

Best equipment book for Primary FRCA "Structured on the exam syllabus, with very synthetic style and yet complete. Would recommend 100%" Amazon reviewer

Great "Didn't do anaesthetics in the end but this was a fantastic book for trying to get to grips with all the bloody machines that go beep!" Amazon reviewer

Five Stars "Good concise book, great for revision" Amazon reviewer

Solid "A solid book that is perfect for MCQs, vivas and OSCEs. Nice looking, wide-ranging and easy to read- it 'does exactly what it says on the tin'. It now sits proudly on my shelf alongside similar FRCA big hitters like Cross & Plunkett, Peck Hill & Williams and A to Z. I wish this book had been available when I sat my primary last year." Amazon reviewer

A 'must have' "Excellent book. Covers a wide range of equipment in more detail than other books of its kind. Great for anaesthetic trainees... a 'must have' I would say!" Amazon reviewer

Easy to understand basic principles of physics "It has almost all equipments we use in our anaesthesia/ ICU practice. I would say if you want to understand anaesthesia/ICU equipments this is must read book. I would really appreciate good effort by author." Amazon reviewer

Invaluable revision tool! "Very clearly written book with good layout and photos. Useful pros and cons sections and questions which helped consolidate the information. I found it an Invaluable revision source for FRCA exam." Amazon reviewer

I don't intend to revise for more exams, but if I did, I'm sure this would help... "I passed my final FRCA a few years ago and happened to stumble across this book a few days ago. It's lay out is concise and well structured with most new topics/subtopics being organised on a new page. It has good photos and illustrations and I found the prose very easy to follow without becoming overwhelmed by dry information.
It is sometimes difficult to predict what depth of knowledge you actually need to acquire about some of the more uncommon pieces of anaesthetic equipment (especially if you've never seen them in clinical practice before!) but I think this book gives an appropriate account of most things. Finally, it's a convenient size to carry in a ruck sack making it suitable for on-the-job revision when you actually encounter a new piece of kit.
I don't intend to revise for any more exams but if I did I'm sure this book would be a useful addition to the library." Amazon reviewer



You may also be interested in...
×
Download the Waterstones App
Would you like to proceed to the App store to download the Waterstones App?
Reserve online, pay on collection


Thank you for your reservation
Your order is now being processed and we have sent a confirmation email to you at
When will my order be ready to collect?
Following the initial email, you will be contacted by the shop to confirm that your item is available for collection.
Call us on or send us an email at
Unfortunately there has been a problem with your order
Please try again or alternatively you can contact your chosen shop on or send us an email at