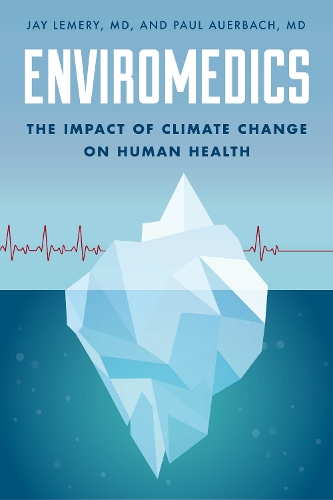 Hardback
232

Pages / Published: 16/12/2017
We can order this from the publisher
Many of us have concerns about the effects of climate change on Earth, but we often overlook the essential issue of human health. This book addresses that oversight and enlightens readers about the most important aspect of one of the greatest challenges of our time. The global environment is under massive stress from centuries of human industrialization. The projections regarding climate change for the next century and beyond are grim. The impact this will have on human health is tremendous, and we are only just now discovering what the long-term outcomes may be. By weighing in from a physician's perspective, Jay Lemery and Paul Auerbach clarify the science, dispel the myths, and help readers understand the threats of climate change to human health. No better argument exists for persuading people to care about climate change than a close look at its impacts on our physical and emotional well-being. The need has never been greater for a grounded, informative, and accessible discussion about this topic. In this groundbreaking book, the authors not only sound the alarm but address the health issues likely to arise in the coming years.
Publisher: Rowman & Littlefield
ISBN: 9781442243187
Number of pages: 232
Weight: 481 g
Dimensions: 236 x 158 x 23 mm
---
MEDIA REVIEWS
There is a growing understanding that climate change is impacting a broad range of health outcomes. Two emergency medicine experts have assembled evidence from several disciplines to demonstrate that politically motivated national and corporate behavior is creating dire consequences for global health. The information is presented in 15 chapters that tackle such diverse topics as vector-borne diseases, extreme weather, mental health, algal blooms, and food and water security. All in all, this is a brief book; its 146-page text is annotated with extensive references. The authors believe human-caused changes to our environment may soon "become irreversible," and their evidence is compelling. Though their backgrounds are in medicine, the authors' climate science is sound, with an appropriate emphasis on biodiversity and environmental justice. The examples are straightforward, and the writing is intended for a popular audience. The authors' prescription for the future requires acceptance of "the science" to unite people in the pursuit of a common future. Summing Up: Recommended. All readers. * CHOICE *
Global warming is hazardous to human health. Lemery and Auerbach, emergency-medicine physicians and past presidents of the Wilderness Medical Society, invent the word enviromedics to describe the medical consequences of environmental change, and argue that droughts, floods, hurricanes, forest fires, pollution, and toxic waste jeopardize the future of humankind. "Earth will go on, no matter what we do to it," they say. "The more pertinent question is, will we?" Flooding causes allergenic mold, and hotter temperatures lead to, among other things, disease-carrying mosquitoes spreading to more locations. Despite detailing a scary list of horrors, the authors beg people not to give up. After all, they say, 42 percent of U.S. adults smoked 50 years ago, and only 17 percent do today. They credit regulations (bans in public places), economics (the increased cost of cigarettes), and awareness of medical science (media campaigns). Could a similar approach work when it comes to global warming? They give the last word to young people, such as Caroline Spears, co-director of Students for a Sustainable Stanford. "I can either give up or be inspired," she says. "I choose the latter." In their well-researched, fact-filled treatise, Lemery and Auerbach passionately make the case for how the continuation of the human species depends on people taking better care of the planet by investing in renewable energies, consuming wisely, voting for motivated public officials, and speaking out to give future generations a chance. It's a sobering and empowering message. * Booklist, Starred Review *
Lemery and Auerbach, of the schools of medicine at the University of Colorado and Stanford University, respectively, adopt a no-nonsense 'doctor's approach' as they survey the effects of climate change on public health. As 'doctors on the front line,' the authors regularly observe the medical ramifications 'of climate change, pollution, and the reduction of biodiversity.' Their aim here is to spotlight how changing environments affect health, using a 'fusion science' they call 'enviromedics.' The authors document manifestations of climate change alongside medical case histories that support their bleak conclusion that climate change will worsen preexisting health problems. The patients profiled include Sid, an elderly man with lung disease whose condition is exacerbated on days with an unhealthy air-quality index; Mark, who contracted malaria (one of several tropical diseases creeping into higher latitudes) from mosquitoes in New Jersey; Amanda, whose already severe allergies are bound to worse as pollen counts are predicted to 'more than double by 2040'; and John, who suffered a reaction to mussels tainted by an algae bloom, itself a result of elevated oceanic carbon dioxide levels. Climate science will continue to evolve, Lemery and Auerbach concede, but 'if Earth is warming because of global climate change, then human health will suffer.' * Publishers Weekly, Starred Review *
The real crisis of climate change is one of public perception, and far too few of us realize the catastrophe that we're headed into. Lemery and Auerbach bring forth the human element from climate change - they bring us to the bedside and force us to rethink our risk assessment. For that reason alone, Enviromedics is one of the most important books of the year. -- James Balog, Director, Extreme Ice Survey and Earth Vision Institute
It isn't remotely possible to remove your body, and its health, from the environment you live in, air you breathe, food you eat. Enviromedics persuasively explains what we have done to our planet, and how we are already paying a price for climate change with our health. Heed Lemery and Auerbach's message, before it's too late. -- Laurie Garrett, Pulitzer Prize-winning writer; author of I Heard the Sirens Scream
In anticipating the consequences of climate change, there has been insufficient discussion of the discrete medical consequences and the arising health care challenges. This thoughtful book provides a framework upon which to categorize, anticipate, and understand such critical medical issues. Lemery and Auerbach's work is pioneering and will be the standard in this field. -- Abraham Verghese, MD, MACP, Professor of Medicine, Stanford University; recipient of the National Humanities Medal; author of Cutting for Stone
With this book, Lemery and Auerbach do what physicians do best: assess the patient's presenting symptoms, consider and apply the evidence at hand, and prescribe a path forward. They demonstrate the unique value that a medical perspective brings to the greatest health threat of the 21st century - climate change. -- Nick Watts, Executive Director, Lancet Commission: Tracking Progress on Health and Climate Change
Climate change is a medical issue. That's the starting point for Jay Lemery and Paul Auerbach in their compelling new book. They write about what doctors will face as more and more patients walk through their doors feeling dizzy and vomiting from heat stress, with burns from fighting wildfires, or with a mosquito-borne disease that never used to be found in these parts. It's already happening and can only get worse, much worse. Their message is vital to the health of this and future generations. -- Clive Hamilton, Professor of Public Ethics at Charles Sturt University; author of Earthmasters
Lemery and Auerbach have done a superb job demonstrating how and explaining why climate change threatens everyone. They have taken an issue understood by very few people and - in a clear and compelling fashion - shown why this needs to be regarded as a central aspect of global health and well-being. -- Mark Plotkin, PhD, LHD, President, Amazon Conservation Team; author of Medicine Quest: In Search of Nature's Healing Secrets
Many adolescents have the delusion that pretending to be invincible makes one so. They soon learn: taking risks with no benefits is often future-wrecking. America and other nations can no longer behave that way. They cannot ignore the evidence of impending collapse: ruined oceans, lands, and atmospheres, and thus sick people. During "teachable moments" in the emergency room, doctors sometimes confront people who are endangered by self-inflicted disease. With Enviromedics, these experienced and accessible doctors are intervening at a moment of urgency, offering their informed concerns and asserting the changes that their patient, all of us, must make. Every person, young and old, should read Enviromedics. -- Richard J. Jackson, MD MPH, Professor, Fielding School of Public Health at the University of California, Los Angeles; author of Making Healthy Places; host of the PBS series "Designing Healthy Communities"
Enviromedics is the most important book ever written about how the changes in our environment affect human health. Doctors understand the effects of diet, stress, lack of exercise, and sleep on health and disease. But our health care system mostly ignores the effects of pollution and climate change on human health. As the authors point out, Earth will survive these insults, but human life itself may not. This book should be read by everyone, including policy makers, health care professionals, and anyone who cares about their personal health. -- Mark Hyman, MD, Director, Cleveland Clinic Center for Functional Medicine; author of 10-Day Detox Diet
It's difficult for many Americans, particularly in this politically charged period, to know how to think about global climate change. Often they have no contact with scientists or environmentalists, and probably little confidence in their views. But they know and trust their doctors and nurses. And they care about the health of their families. That is why Lemery and Auerbach's explanation of the link between climate change and personal health is such an important and useful contribution. And, as a bonus, it's an easy read. -- Frank Loy, Former United States Under Secretary of State for Global Affairs
An eloquent, gentle, compassionate, humble, logical and clear communication - just the sort that all of us want from our doctors. The language and logic are easy to understand and, by not being 'preachy'- the book is all the more persuasive. This is an important book that, like Atul Gawande's Being Mortal, should be read by all members of the public as well as by the medical profession. -- Hugh Montgomery, MD, FRCP, FRGS, FRSB, FFICM, Professor of Intensive Care Medicine; Director of the Institute for Human Health and Performance, University College London
Climate scientists often speak about the impacts of climate change in reference to aspects of our ecosystem, such as rising temperatures, rising seas, and more frequent extreme weather events. In Enviromedics, Doctors Lemery and Auerbach successfully identify the ominous links between climate change and human health, including mental health. This incredibly well-researched and well-written book by subject matter experts from the health field provides great insight into why we ALL should care deeply about preventing the worst effects of climate change. -- Bill Ritter, former Governor of Colorado
Doctors Lemery and Auerbach have done the world a great service by providing a straightforward and understandable must-read book that clearly connects human health with an often overlooked and unavoidably essential variable - our environment! -- Richard Carmona, MD, MPH, FACS, 17th Surgeon General of the United States; Distinguished Professor of Public Health, University of Arizona
Jay Lemery and Paul Auerbach's book reads like the plot of a disaster movie - but that is exactly what climate change is. It brings to life the human element and the reasons why we really need to worry and take immediate action. It is a must-read for global policy makers. -- Vivek Wadhwa, Distinguished Fellow, Carnegie Mellon School of Engineering; syndicated columnist, The Washington Post
The health of humans and environmental conditions on Earth are profoundly intertwined. I am immensely impressed by this book. Enviromedics takes the reader beyond debates about environmental change and its causes to a thoughtful, science-based discussion about the relationship between climate change and human health. This is a worthy conversation to be had among health care providers, and even more importantly, among our general populations. The authors take their Hippocratic oath seriously for the benefit of society and our precious planet. -- Chad P. Dawson, Professor Emeritus, State University of New York, College of Environmental Science and Forestry; Editor-in-chief, International Journal of Wilderness; co-author, Wilderness Management: Stewardship and Protection of Resources and Values
Smoking tobacco was a scourge to human health. In January 1964, the U.S. Surgeon General issued a report on smoking and human health. This courageous physician and others spoke their minds independent from global industrial interests, and their efforts triggered a series of concerted efforts by government and nongovernmental organizations to reduce the toll of cigarette smoking. With Enviromedics, Lemery and Auerbach bring to light a considerably greater threat. They describe hazards that are associated with global warming and the consequences for humanity, whether now or in the future. "Earth will survive. It is the living creatures that may perish." We simply cannot ignore this possibility. The authors are emergency physicians who practice on the front lines and each day see the repercussions of global climate change. As experts in wilderness medicine, they know better than most the impacts of nature on human welfare. This amazing book is worth reading for anyone who is not afraid to contemplate what we are doing and how we must reverse course for the benefit of planet Earth. -- Hermann Brugger, MD, Head of the Institute of Mountain Emergency Medicine, EURAC research, Bolzano, Italy; President of the International Society of Mountain Medicine
Enviromedics is a very successful effort by Doctors Lemery and Auerbach that teaches us the effects and consequences of the impacts of environmental change upon human health. This comprehensive collection of information puts forth an easily understood critical concept that will undoubtedly be discussed, debated, and researched. Regardless of your opinion on climate change, it is essential to understand how environmental change could alter the reality of your day-to-day ability to function in an optimally healthy way. As physicians and global healthcare advocates, the authors make a convincing case that climate change creates definable causes and distribution of illnesses that will impact the human condition. Their point is that to treat these illnesses is not enough. The ability of mankind to survive resides in humans treating the environmental in the same way that we care for each other. If you are looking for a thorough understanding of environmental change and how it might be impacting your, your family's, and your world's health, this book is a must-read. -- Dan Orr, MS, President Emeritus, Divers Alert Network Foundation; President, Academy of Underwater Arts and Sciences
Enviromedics is a timely and lucid account of the health effects caused by human-induced environmental change. The current and future consequences of this health crisis are widespread and monumental in their scale and scope. The world's poorest people are the most severely impacted yet the most obviously under-addressed by anything approaching climate justice. Enviromedics should be required reading for anyone who has an interest in better understanding this unprecedented heath care crisis and how to address it. -- David Breashears, Executive Director, GlacierWorks; acclaimed filmmaker, author, and mountaineer
Enviromedics is a compelling dive into the essential topic of health in a changing climate. Through a readable tour of the science and gripping examples, Lemery and Auerbach highlight the ways that shifting climate and related extreme conditions, heat waves to flooding, are affecting people. Whether the connections are direct or indirect, they are exceeding human limits for tolerance across global geographies. The authors underscore a key implication - responding effectively to the climate challenge can build vibrant societies with safety, health, and well-being at the core. -- Katharine Mach, PhD, Senior Research Scientist, Stanford Woods Institute for the Environment
You may also be interested in...
×
Download the Waterstones App
Would you like to proceed to the App store to download the Waterstones App?
Reserve online, pay on collection.
Or,
add to basket
, pay online, collect in as little as 2 hours, subject to availability.
Thank you for your reservation
Your order is now being processed and we have sent a confirmation email to you at
When will my order be ready to collect?
Following the initial email, you will be contacted by the shop to confirm that your item is available for collection.
Call us on or send us an email at
Unfortunately there has been a problem with your order
Please try again or alternatively you can contact your chosen shop on or send us an email at