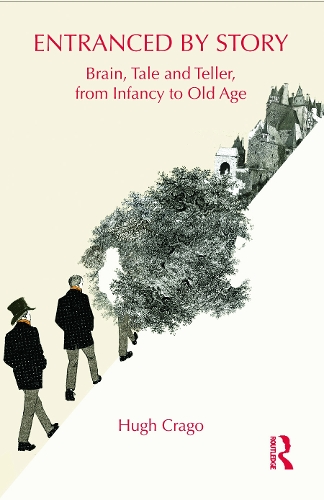 Entranced by Story: Brain, Tale and Teller, from Infancy to Old Age (Hardback)
Hugh Crago
(author)
Hardback
270

Pages / Published: 06/06/2014
We live in a world of stories; yet few of us pause to ask what stories actually are, why we consume them so avidly, and what they do for story makers and their audiences. This book focuses on the experiences that good stories generate: feelings of purposeful involvement, elevation, temporary loss of self, vicarious emotion, and relief of tension. The author examines what drives writers to create stories and why readers fall under their spell; why some children grow up to be writers; and how the capacity for creating and comprehending stories develops from infancy right through into old age.
Entranced by Story applies recent research on brain function to literary examples ranging from the Iliad and Wuthering Heights to Harold and the Purple Crayon, providing a groundbreaking exploration of the biological and neurological basis of the literary experience. Blending research, theory, and biographical anecdote, the author shows how it is the unique structure of the human brain, with its layering of sophisticated cognitive capacities upon archaic, emotion-driven functions, which best explains the mystery of story.
Publisher: Taylor & Francis Ltd
ISBN: 9780415741705
Number of pages: 270
Weight: 499 g
Dimensions: 229 x 152 x 15 mm
---
MEDIA REVIEWS
"This is an individual book, although very much `on trend', by an individualist: Hugh Crago has spent his career on the periphery of academic disciplines, pushing at boundaries and making unusual links, and so what we have here is a product of a lifetime of originality. It is coherent, logical, and inspiring - positively glittering with ideas. The mix of theory, science, literary reference, anecdote and empiricism is difficult to resist." -- Peter Hunt, University of Cardiff, UK (Emeritus)
"Even though many of its examples and detailed analyses are drawn from English literature, and unfamiliar to me, I still read this book with great pleasure and profit. It is not necessary to know the quoted works in detail in order to follow Crago's argument, especially as his style is graceful and accessible. Reading the book is like listening to an experienced and entertaining guide. Clearly, this is the sort of book that is driven by the author's authentic interest. Such a book can't be written as some sort of a commissioned piece. In this respect, the book is not merely a repository of ideas on literary content and themes, but in itself constitutes an elegant example of the richness opened up by a passionate, committed quest for meaning in human culture. I heartily recommend this book, particularly since it might be overlooked compared to the run-of-the-mill literature that professionals must constantly scan. Its advantage is that it opens up a wide vista, and beckons us towards a perspective on human existence that is both far-reaching and enduring." -- Wolfgang Loth, in Zeitschrift fur Systemische Therapie und Beratung (September 2015): 135-136.
"This is a book of extraordinary scope and ambition. Hugh Crago aims for nothing less than a `unified theory of Story' (230) integrating left and right hemispheres, author and reader, genre and aging. He is intrigued with something that seems beyond the purview of modern literary criticism: shared entrancement, the sensation experienced both by the inspired and compelled author and by the identifying reader who merges Story to their childhood experience. Crago is brilliant, erudite, knowledgeable about authors and readers, a commanding storyteller himself, and a meticulous editor." --Ralf Thiede, The University of North Carolina at Charlotte, Children's Literature Association Quarterly 40, 1 (Spring, 2015): 85-88.)
"Crago's ground-breaking book has all that one expects of a visionary work: it teems with fresh ideas, sheds new light on the long-debated questions of creativity or readerly entrancement and contains bold political statements about the marginalisation of Old Brain narratives, `naive' readers and psychologism in literary criticism. More importantly, it does fulfill its central aim of grasping the essence of story without depriving that story of its magic ... Crago's non-fiction story about story is to entrance, inspire and provide a stimulating starting point for further research." --Mateusz Mareki, University of Wrocklaw, Poland, International Research in Children's Literature, May 2015: 97
"I can find no other book in the same genre as Entranced by Story. Crago's book is an innovative approach, which applies psychoanalytic theory and developmental psychology to understand the engagement of writers and readers in story. Who should read this book? Those who write, those who read, and those who want to know more about their own inner world and its unconscious themes and plots." --Ione Lewis, Australian College of Applied Psychology, Psychotherapy in Australia 21, 1: November, 2014: 112
"A unique and intriguing look at what stories do not only for those who read them but especially for those who write them. To explore this question Hugh Crago weaves together recent research on brain function with the lives of story-makers beginning with toddlers' babbling, moving through childhood, adolescence, and adulthood, as each stage brings with it changes in the ways stories are told and the motivations that inspire the telling. This book makes an invaluable contribution to our understanding of the importance of stories in human life." - Cristina Bruns, Chapman University, USA
"This important and thought-provoking contribution to the world of ideas is an extremely well-written book. While unusually cross-disciplinary, it is also easy to read: Crago wears his scholarship lightly as he points out multiple research links. He writes about "story" in general, not just about children's stories -- although of course that's where it all begins. Adults who are young at heart will be entranced by this voyage of discovery into why it is that we all love stories and what they mean to our lives." - Jessica Milner Davis, University of Sydney, Australia
"The most stimulating book I've read so far this year ... Crago draws from a seemingly endless knowledge of stories in all forms, and their creators, to not only illuminate the inner quests of the story's creator, but also to uncover the emotional, psychological and cognitive effect stories have on those reading/viewing them ... It's such a wonderfully readable yet intricately woven book that I've delighted in dipping back into it ever since finishing it." -- James lePaul in The Gleaner, September, 2014
You may also be interested in...
Simply reserve online and pay at the counter when you collect. Available in shop from just two hours, subject to availability.
Thank you for your reservation
Your order is now being processed and we have sent a confirmation email to you at
When will my order be ready to collect?
Following the initial email, you will be contacted by the shop to confirm that your item is available for collection.
Call us on or send us an email at
Unfortunately there has been a problem with your order
Please try again or alternatively you can contact your chosen shop on or send us an email at