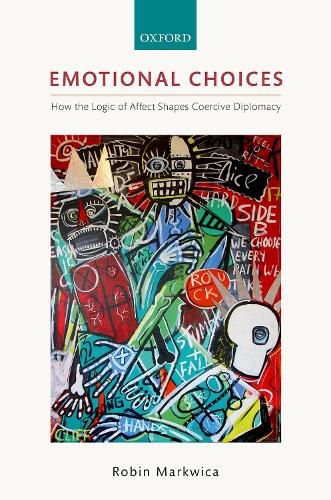 Emotional Choices: How the Logic of Affect Shapes Coercive Diplomacy (Hardback)
Robin Markwica
(author)
Hardback
384

Pages / Published: 15/03/2018
Why do states often refuse to yield to military threats from a more powerful actor, such as the United States? Why do they frequently prefer war to compliance? International Relations scholars generally employ the rational choice logic of consequences or the constructivist logic of appropriateness to explain this puzzling behavior. Max Weber, however, suggested a third logic of choice in his magnum opus Economy and Society: human decision making can also be motivated by emotions. Drawing on Weber and more recent scholarship in sociology and psychology, Robin Markwica introduces the logic of affect, or emotional choice theory, into the field of International Relations. The logic of affect posits that actors' behavior is shaped by the dynamic interplay among their norms, identities, and five key emotions: fear, anger, hope, pride, and humiliation. Markwica puts forward a series of propositions that specify the affective conditions under which leaders are likely to accept or reject a coercer's demands. To infer emotions and to examine their influence on decision making, he develops a methodological strategy combining sentiment analysis and an interpretive form of process tracing. He then applies the logic of affect to Nikita Khrushchev's behavior during the Cuban missile crisis in 1962 and Saddam Hussein's decision making in the Gulf conflict in 1990-1 offering a novel explanation for why U.S. coercive diplomacy succeeded in one case but not in the other.
Publisher: Oxford University Press
ISBN: 9780198794349
Number of pages: 384
Weight: 738 g
Dimensions: 240 x 163 x 28 mm
---
MEDIA REVIEWS
Restoring emotions to the central place that they deserve, Robin Markwica deploys mastery of the literature in both psychology and international politics to enrich our understanding of the way states react to coercion. His analyses of Nikita Khrushchev's behavior in the Cuban missile crisis and Saddam Hussein in the Gulf conflict use original sources and make original arguments, showing the value of his path-breaking approach. * Robert Jervis, Adlai E. Stevenson Professor of International Affairs, Columbia University *
Robin Markwica develops an impressive emotion-based action model for understanding foreign policy and responses to coercive diplomacy. He applies it convincingly, and with great skill, to two critical confrontations: the Cuban missile crisis and the 1990-91 Gulf conflict. This is a must read for scholars and policymakers alike, as both consistently err in ignoring how anger, concern for self-esteem, and fear of being seen as weak affect the responses of leaders under threat. * Richard Ned Lebow, Professor of International Political Theory, King's College London, and James O. Freedman Presidential Professor Emeritus, Dartmouth College *
Although almost all academics endorse the need for truly interdisciplinary research, few have the ability to execute it well. Robin Markwica's new book reveals that he is one of the rare scholars who has this talent. Bringing a breath of fresh air into international relations theory, he cleverly integrates the latest science on emotion and decision-making. Moving well beyond simple predictions about positive versus negative emotion, Markwica draws on the Appraisal-Tendency Framework to link specific emotions to specific decision processes of great significance. Anyone interested in understanding how micro processes (e.g., mind, brain) scale up to global political events will want to read this book. * Jennifer S. Lerner, Professor of Public Policy and Psychology, Harvard University *
The heart not only has its reasons, it has a logic that can help policy-makers engaged in coercive diplomacy. Robin Markwica exploits new research on emotion to create an original argument about emotional choices that he then examines in two fascinating case studies. An ambitious, important, and provocative book. * Jonathan Mercer, Professor of International Relations, University of Washington *
Many scholars accept that fear, anger, and humiliation may influence decision-makers, especially in crisis situations. The problem is how to address emotions in a coherent way. Robin Markwica's book significantly advances this program. Building on an encyclopedic knowledge of a wide variety of literatures on emotion, Markwica's research aims to integrate a logic of affect with the rational choice logic of consequences and the constructivist logic of appropriateness. Empirically, Markwica illustrates how his approach can broaden our understanding of variation in outcomes in important cases of coercive diplomacy. One of Markwica's most important contributions is his highly original methodological strategy for inferring emotions from external representations. Markwica's research will be of interest to a wide variety of international relations scholars, emotion researchers, and historians. * Roger Petersen, Arthur and Ruth Sloan Professor of Political Science, MIT *
Robin Markwica provides an important corrective to formal theories of crisis bargaining that build on rational choice. He makes a compelling argument about the role that emotion plays in decision-making and draws important implications for strategy. An important book in our troubled world. * Janice Gross Stein, Belzberg Professor of Conflict Management, University of Toronto *
Markwica brilliantly combines the latest insights from neuropsychology and international relations to produce an excellent framework for understanding how emotions can affect state leaders under the most stressful circumstances. His findings have great theoretical value and provide policy makers with insight on the psychological processes involved in coercive diplomacy, their relevance, and the great caution they should induce. * Matthew R. Costlow, Strategic Studies Quarterly *
Emotional Choices excels in integrating disparate literatures from cognate fields and in developing an emotion-based action model that covers both the cultural context of emotions and their impact on state behavior. [...] [It] is a must read for anyone who is interested in how emotions shape decisions in international politics. * Payam Ghalehdar, Peace Review *
Emotional Choices is a long-overdue and successful attempt to conceptualise the logic of affect in the discipline of International Relations. [...] [It] combines the painstaking work of crafting a theory, establishing a methodology for its application and then applying it, demonstrating the combination of theoretical innovation and empirical contribution in its best form. * Ignas Kalpokas, LSE Review of Books *
Emotional Choices advances an original theoretical framework, the logic of affect, for understanding how emotions shape the way in which policy-makers form judgements and take decisions when the countries they represent are the subject of coercive diplomacy [...] [It] is a welcome addition to the growing literature informing the recent 'emotional turn' in the international relations discipline. A well-written book that scholars and graduate students will find enlightening in understanding the complex mechanism by which emotions may exert influence on decision-making, especially in times of crisis [...] The methodology the author proposes for inferring actors' emotions and the related typology of emotional signs are particularly useful for tracing the influence of emotions in strategic or individual contexts; they also hold out the promise of application in areas outside the specific theme of the book. * Corneliu Bjola, European Review of International Studies *
Robin Markwica's Emotional Choices is one of the most powerful books ever written in the field of International Relations on the role of affect in shaping the coercive use of force. [...] The case studies are compelling in the accounts they offer and show that an emotional lens proves a useful, additional approach to understanding the decision-making process of leaders. [...] The theory and methodological approach Markwica uses are novel and significantly advance not only our understanding of [emotions'] role in decision-making but also how to study them systematically. [...] Emotional Choices should be a required reading not only to anyone who is interested in understanding the logic of coercive diplomacy, but also to students seeking to explore how to make sense of the messy world of emotions and systematically apply those insights to understand the political behavior of leaders. * Keren Yarhi-Milo, Princeton University, Political Psychology *
Robin Markwica's impressive book, Emotional Choices, tackles an important and challenging aspect of decision-making by providing an over-arching theoretical argument about the influence of emotion on both the process and content of coercive diplomacy. The influence of emotion on decision making has generated increasing interest and attention in the last decade or so as a useful corrective following the apex of the cognitive revolution in psychology in the 1990s. But most scholars have considered it too daunting to try to create a comprehensive approach, assuming that such a task would have to await a much more extensive ability to use MRI technology to locate the sources of emotional influence on decision. But such technological innovation proved to be not necessary. Markwica has provided a thorough, clear, comprehensive and extremely well-organized account. * Rose McDermott, Brown University, H-Diplo/International Security Studies Forum (ISSF) Roundtable Review *
Robin Markwica's Emotional Choices is an intellectual tour de force that takes on the often appreciated, but rarely systematically articulated, role of affect in international relations. [...] Chapters 2 and 3 should be required reading for anyone in the social sciences who is doing applied research that features a role for emotions. These chapters will help scholars think analytically about the work that emotion is doing in your theory. And also help them think through your empirical strategies. [...] Scholars from the rational choice tradition would also benefit from the clear explication of how to think about emotion in strategic contexts. [...] In sum, Emotional Choices is a great book that scholars with a range of substantive interests and methodological approaches will enjoy. * Dustin Tingley, Harvard University, H-Diplo/International Security Studies Forum (ISSF) Roundtable Review *
A major contribution to the field that unifies cognition and emotion to develop a logic of emotional choice that connects to broader cultural and social theories. The book develops a clear set of theoretical expectations and tests them against evidence from two cases of coercive diplomacy with rich documentary evidence. [...] The most comprehensive analysis of the psychological literature on emotion and its applications to foreign policy decision-making. * Janice Stein, "Psychology and Foreign Policy", Oxford Bibliographies *
You may also be interested in...
Simply reserve online and pay at the counter when you collect. Available in shop from just two hours, subject to availability.
Thank you for your reservation
Your order is now being processed and we have sent a confirmation email to you at
When will my order be ready to collect?
Following the initial email, you will be contacted by the shop to confirm that your item is available for collection.
Call us on or send us an email at
Unfortunately there has been a problem with your order
Please try again or alternatively you can contact your chosen shop on or send us an email at