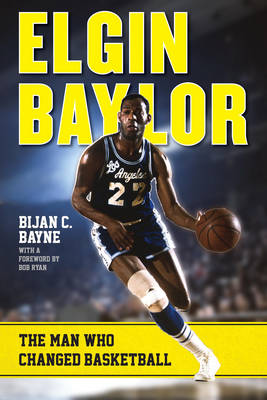 Hardback
292

Pages / Published: 13/08/2015
NBA Hall of Fame player Elgin Baylor was an innovator in his sport, a civil rights trailblazer, and a true superstar. He influenced future NBA All Stars such as Michael Jordan and Kobe Bryant, and is considered by many to be one of the most important players in NBA history. A prolific scorer who baffled opponents with his twists and turns and inventive moves, Baylor was a force both on and off the court for the Minneapolis and Los Angeles Lakers. In Elgin Baylor: The Man Who Changed Basketball, Bijan C. Bayne tells the story of how a kid from the streets of segregated Washington, DC, who didn't attend college until he was over twenty, revolutionized basketball and stood up for his rights. In a time when few nationally prominent black athletes spoke out about racial inequality in the United States, Baylor refused to tolerate discrimination. On the court, with his balletic moves and urban style of play, Elgin Baylor lifted the game of basketball off the floor and into the air. Elgin Baylor: The Man Who Changed Basketball includes personal reflections from Baylor's old schoolyard companions, former teammates, players he coached in the NBA, and noted sports journalists, bringing to life his childhood, college career, and professional life with intimate detail. Basketball fans, historians, and those interested in the impact of sports on the Civil Rights Movement will all find this first-ever biography of Elgin Baylor both fascinating and inspirational.
Publisher: Rowman & Littlefield
ISBN: 9781442245709
Number of pages: 292
Weight: 572 g
Dimensions: 236 x 162 x 29 mm
---
MEDIA REVIEWS
Elgin Baylor, one of the premier superstars in the NBA, gets his first biography courtesy of Bayne, a Washington, D.C., sportswriter, who makes the case for considering Hall of Famer Baylor among the most elite players with his signature gravity-defying 'hesitation' jump shot. Born in 1934 in segregated D.C., Baylor didn't play basketball until high school, quickly gaining notice on the Phelps Vocational High School team. When the High Court struck down integration in1954, Baylor transferred to another school, where a press notice called him 'literally unstoppable,' before joining teams at the College of Idaho and Seattle University, scoring big points and media attraction. During the 1958 NBA draft, Baylor was selected first overall and signed with the Minnesota Lakers, only to face Jim Crow laws when it came to hotels; the Lakers sat out a game in hopes of influencing team owners to create a nondiscrimination policy. Bayne writes expertly of Baylor's golden era with the newly relocated Los Angeles Lakers, his team-up with sharpshooter Jerry West, their rivalry with the Boston Celtics, his play in seven NBA finals and 11 All-Star games, and his decision to retire in 1971 due to bad knees. Bayne's gracious biography of a media-savvy, high-profile ex-sportsman shows the man as much more than his patented spin moves and one-legged jumpers. * Publishers Weekly *
While often cited by current NBA superstars as being one of basketball's most athletically gifted and influential players of all-time, Elgin Baylor (b. 1934) is not a household name for many of today's fans. This biography from Bayne (Sky Kings) chronicles Baylor's on-court heroics during the 1960s as a Minneapolis and then L.A. Laker, giving insight into why the versatile, acrobatic, high-scoring power forward is so revered within NBA circles. Baylor's greatest games during the peak of his playing career, his mostly friendly rivalries with Bill Russell and Wilt Chamberlain, and the Lakers' status as perennial bridesmaids to the hated Boston Celtics are covered in impressive detail. . . .VERDICT Surprisingly, this is the first biography devoted to the Hall of Famer. * Library Journal *
The new book Elgin Baylor: The Man Who Changed Basketball gives us a look at the revolutionary man from his early childhood to his time both on and off the court in the NBA. The first biography on the Hall of Famer, author Bijan C. Bayne takes us through Baylor's life giving us the most rounded look at a man that stood tall in basketball and in life. Elgin Baylor: The Man Who Changed Basketball is out now. Get out and read something on one of the architects of the game. * North Pole Hoops *
I was prompted to read Bijan C. Bayne's biography, simply titled Elgin Baylor with the realization I knew virtually nothing of this basketball icon. Not only was he playing in pre-ESPN days, with all the adulation that prompts, he was also a modest man. Elgin was a high school and college phenom when black athletes were just starting to emerge from mainstream media invisibility. Jackie Robinson had begun the change, but in Washington DC, an African American teen was ignored by the city's dailies. Unlike today. I think I was started hearing about LeBron James at his conception. Bayne's biog reveals Baylor as a decent family man, politically involved and responsible. More than anything else, for over a decade (the 60's), he dominated nearly every game in which he played. . . . It is sufficient to recall Elgin as a man well placed in the pantheon of basketball greats. * WBAI-FM *
The basketball fan . . . might like unwrapping [this book as a gift], Elgin Baylor: The Man Who Changed Basketball by Bijan C. Bayne (foreword by Bob Ryan). * QSaltLake *
Sometimes I am amazed at how many basketball fans are unaware of elite players from earlier eras. It appears that these people think there was no professional basketball players before Micheal Jordan, Larry Bird and Magic Johnson came into the league in the 1980's. One of these forgotten players was considered one of the best all time in the 1960's, Elgin Baylor. His story is captured in this excellent biography. . . .Elgin Baylor was one of the first true superstars of the NBA, with his best years coming during the late 1950's and early1960's for the Minneapolis/Los Angeles Lakers. This biography of the man by Bijan C. Bane is the most complete book about Baylor. It is a well-researched and well written account of Baylor's entire basketball career. . . .Bayne captures the spirit of Baylor's game with exciting accounts of the skills he would show off. . . .Like Baylor's game, the book is filled with beautiful passages similar to this one. . . .[T]his is an outstanding book on a man that is often overlooked when the greatest players in the history of the game are mentioned. While that is a shame, this book does justice to show that Baylor truly is one of the game's elite players and the reader will come away with much respect for both Elgin Baylor the player and the man. * The Guy Who Reviews Sports Books *
The basketball fan on your list might like unwrapping Elgin Baylor: The Man Who Changed Basketball by Bijan C. Bayne (foreword by Bob Ryan). * Tribune *
One of the NBA's most underrated superstars has never been the subject of a biography until now. Bayne, author of previous books about American sports, race and ethnicity, explains how the soft-spoken Baylor was a more influential proponent for racial equality than his demeanor would indicate. * Sports Biblio: The Athletic Experience in Books, History and Culture *
Bijan Bayne's latest contribution to basketball history fills a perplexing gap: that is, why wasn't there a good, well-researched biography of Elgin Baylor before this? Although Bayne doesn't answer the question, he does provide a readable, interesting, and significant biography of one of the greatest and most innovative players who ever played . . . Bayne has utilized a great number of resources (newspapers, magazines, and books) to put together a reasonably seamless and well-organized look at Baylor. . . .[T]his is a book that deserves reading by historians of basketball and American culture. * Journal of Sport History *
Fifty years ago Los Angeles Lakers great Elgin Baylor would have not needed an introduction anywhere, and certainly not in a book review. . . Baylor and his legion of fans, however, need not worry. His place is safeguarded in American sports legend thanks, in part, to basketball writer Bijan C. Bayne, who recreates for today's reader interesting factoids in his book, Elgin Baylor: The Man Who Changed Basketball. * Sport in American History *
Elgin Baylor has long deserved a book like this highlighting his exceptional career that startled the basketball world when it sprang to life in the late 1950s. He was more than a pioneer with a game that was immune to the future. It was a nasty, racist age, and he reigned supreme with great dignity. They could play the game for a thousand years, and Elgin would still be relevant. Basketball owes him much, as does society in general. Kudos to Bijan C. Bayne for bringing Baylor's story back to life for future generations. -- Roland Lazenby, author of Michael Jordan: The Life
Bijan Bayne has demonstrated he is a wise student of basketball with his elegant, richly-detailed biography of the often overlooked hoops innovator, Elgin Baylor. Bayne's absorbing book will make you want to dig up old videotape of Baylor's greatest aerial moments. It will certainly give you a better appreciation of Elgin Baylor the man. -- Kevin Merida, managing editor of The Washington Post and co-author of Supreme Discomfort: The Divided Soul of Clarence Thomas
Bijan Bayne has written one of the best basketball biographies in the history of the genre about one of the greatest players the game has ever known. A marvelous narrative that reads like a novel. Do yourself a favor and read this book. -- Kyle Keiderling, award-winning sports biographer and author of Heart of a Lion
Elgin Baylor was difficult to guard on the basketball floor and even harder to write about. He was the elusive superstar. Bijan Bayne, with his exhaustive research, makes a huge breakthrough here: He tells the most complete story of one of America's greatest sports icons. -- Dan Raley, former Seattle Post-Intelligencer sportswriter
You may also be interested in...
Simply reserve online and pay at the counter when you collect. Available in shop from just two hours, subject to availability.
Thank you for your reservation
Your order is now being processed and we have sent a confirmation email to you at
When will my order be ready to collect?
Following the initial email, you will be contacted by the shop to confirm that your item is available for collection.
Call us on or send us an email at
Unfortunately there has been a problem with your order
Please try again or alternatively you can contact your chosen shop on or send us an email at