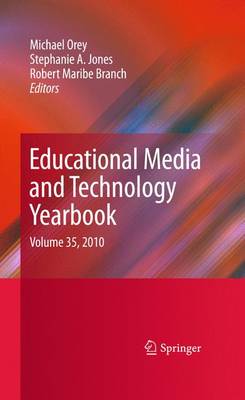 Paperback
468

Pages / Published: 03/05/2012
TheaudiencefortheYearbookconsistsofmediaandtechnologyprofessionalsin schools,highereducation,andbusinesscontexts. Topicsofinteresttoprofessi- alspracticingintheseareasarebroad,astheTableofContentsdemonstrates. The themeunifyingeachofthechaptersinthebookistheuseoftechnologytoenable orenhanceeducation. Formsoftechnologyrepresentedinthisvolumevaryfrom traditionaltoolssuchasthebooktothelatestadvancementsindigitaltechnology, while areas of education encompass widely ranging situations involving learning andteaching,whichareideatechnologies. Asinpriorvolumes,theassumptionsunderlyingthechapterspresentedhereare asfollows: 1. Technologyrepresentstoolsthatactasextensionsoftheeducator. 2. Mediaserveasdeliverysystemsforeducationalcommunications. 3. Technologyisnotrestrictedtomachinesandhardware,butincludestechniques andproceduresderivedfromscienti?cresearchaboutwaystopromotechange inhumanperformance. 4. The fundamental tenet is that educational media and technology should be usedto a. achieveauthenticlearningobjectives, b. situatelearningtasks, c. negotiatethecomplexitiesofguidedlearning, d. facilitatetheconstructionofknowledge, e. aidintheassessment/documentingoflearning, f. supportskillacquisition,and g. managediversity. TheEducationalMediaandTechnologyYearbook has become a standard r- erence in many libraries and professional collections. Examined in relation to its companion volumes of the past, it provides a valuable historical record of c- rent ideas and developments in the ?eld. Part I, "Trends and Issues in Learning, Design, and Technology," presents an array of chapters that develop some of the current themes listed above, in addition to others. Part II, "Trends and Issues in v vi Preface Library and Information Science," concentrates on chapters of special relevance to K-12 education, library science education, school learning resources, and v- ious types of library and media centers - school, public, and academic among others. In Part III, "Leadership Pro?les," authors provide biographical sketches of the careers of instructional technology leaders. Part IV, "Organizations and Associations," and Part V, "Graduate Programs," are, respectively, directories of instructional technology-related organizations and institutions of higher learning offeringdegreesinrelated?elds. Finally,PartVI,"Mediagraphy:PrintandNonprint Resources,"presentsanannotatedlistingofselectedcurrentpublicationsrelatedto the?eld. The editors of the Yearbook invite media and technology professionals to submitmanuscriptsforconsiderationforpublication. ContactMichaelOrey(mi- orey@uga. edu)forsubmissionguidelines. Foranumberofyears,wehaveworkedtogetheraseditors,andthisisthes- enth year with Dr. Michael Orey as the senior editor. Within each volume of the EducationalMediaandTechnologyYearbook(EMTY),wetrytolistallthegra- ateprograms,journals,andorganizationsthatarerelatedtobothLearning,Design, andTechnology(LDT)andInformationandLibraryScience(ILS). Wealsoinclude asectionontrendsinLDTandtrendsinILS,andwehaveasectionpro?lingsome oftheleadersinthe?eld.
Publisher: Springer-Verlag New York Inc.
ISBN: 9781461425540
Number of pages: 468
Weight: 765 g
Dimensions: 235 x 155 x 25 mm
Edition: Previously published in hardcover
You may also be interested in...
Simply reserve online and pay at the counter when you collect. Available in shop from just two hours, subject to availability.
Thank you for your reservation
Your order is now being processed and we have sent a confirmation email to you at
When will my order be ready to collect?
Following the initial email, you will be contacted by the shop to confirm that your item is available for collection.
Call us on or send us an email at
Unfortunately there has been a problem with your order
Please try again or alternatively you can contact your chosen shop on or send us an email at