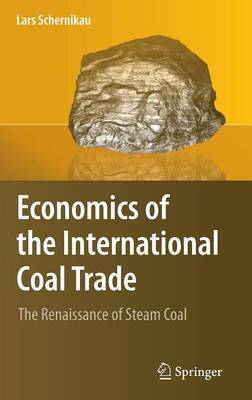 Economics of the International Coal Trade (Hardback)
Lars Schernikau
(author)
Hardback
250

Pages / Published: 01/08/2010
Coal, the catalyst of the industrial age, is now poised to shape how the world consumes energy in the twenty-?rst century. The ascendance of oil in the global economy to a looming peak is forcing countries, companies, and consumers to reconsider their relationship to something they cannot live without: energy. And whileothersourcesofenergy,suchasnuclear,naturalgas,andrenewables,willall play an ever greater role in serving demand, intelligent observers would be wise not to miss what is perhaps the clearest trend of all: the second coal era is now uponus. Thedevelopingworldisrapidlyelectrifyinginordertodriveeconomicgrowth. Andelectri?cationmeanscoal.ThisisparticularlytrueinIndiaandChina,where coaloffersthecheapestandmostreliableroutetoelectricpower.Thesetwoco- triesalonewilldrive80%ofcoalconsumptiongrowthto2030.TheInternational EnergyAgencyexpectsthatglobalcoalconsumptionwillincreaseby60%inthe nexttwodecades.LarsSchernikau'sTheRenaissanceofSteamCoalcouldnotcome atabettertime.Lars'skillintracingthelongarcofindustrialevolutionpairedwith his acute knowledge of the coal market make his arguments both insightful and highlycredible.Hebeginsbysuccinctlyframingtheproblemanddistillingourc- rentpredicament:wearecaughtbetween'theOilAge'andthe'theSolarAge'(by thishemeanstheageofrenewables). Wearealloptimiststosomedegree,butthe realistsamongusknowthatrenewableenergyisnotgoingtocompletely?llthis gapfordecades.Where,then,doesthisleaveus?ItleavesuswithTheRenaissance ofSteamCoal. Coal is now the world's fastest growing source of fossil fuel, a position it is expected to hold for the foreseeable future. Yet the coal market is far less well understoodthantheoilorgasmarkets.Academics,policymakers,andmarketp- ticipantsarefacedwiththeprospectofourcollectiveknowledgeaboutthismarket notkeepingpacewithitsincreasingrelevance.Coal,only30yearsagoalocalized fuelsource,isnowavolatileglobalcommoditywithbanksandhedgefundspiling intotheoncetraditionalbusiness.Notonlyisthecoalmarketnowmorerelevant thanever,it'salsomuchmorecomplex.
Publisher: Springer
ISBN: 9789048192397
Number of pages: 250
Weight: 573 g
Dimensions: 235 x 155 x 18 mm
You may also be interested in...
Simply reserve online and pay at the counter when you collect. Available in shop from just two hours, subject to availability.
Thank you for your reservation
Your order is now being processed and we have sent a confirmation email to you at
When will my order be ready to collect?
Following the initial email, you will be contacted by the shop to confirm that your item is available for collection.
Call us on or send us an email at
Unfortunately there has been a problem with your order
Please try again or alternatively you can contact your chosen shop on or send us an email at