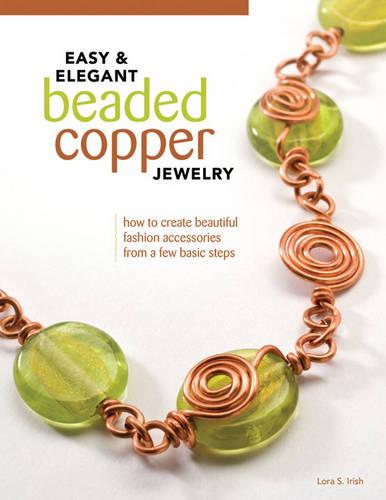 Easy & Elegant Beaded Copper Jewelry (Paperback)
Lora S. Irish
(author)
Paperback
256

Pages / Published: 01/04/2011
This title allows readers to master the basics before becoming more complex in detail. Designs that appeal to today's consumer, projects galore and a well proven author make this book a must have for anyone interested in crafting handmade jewellery to keep, share or sell. Using inexpensive wire and tools commonly found around the home, readers will learn how to bend, twist and coil wire to create an endless variety of shapes for attractive necklaces, bracelets and earrings. Once readers master the basic wire shapes, they will learn how to create finished pieces by incorporating fasteners, earring hooks and cording. When these basic building blocks are mastered, readers will learn how to embellish their designs with beads and more complex designs. It provides practice projects, step by step instructions and a gallery of designs that will show readers just how easy it is to get started in this fun and rewarding craft.
Publisher: Fox Chapel Publishing
ISBN: 9781565235144
Number of pages: 256
Weight: 930 g
Dimensions: 9 x 11 x 15 mm
---
MEDIA REVIEWS
Easy and Elegant Beaded Copper Jewelry is a comprehensive book with all the information that you need to make your own copper jewelry. It is written by Lora Irish, who has authored several other art and crafting books. It begins with explaining the items that are necessary for you to have in your tool kit and what materials you will need. Lora then explains the various tools and how to use them. Throughout the book she also gives alternate household items that you can use if some of the tools are unavailable. The book covers the different types of wires and which ones you may need for different projects. There is also has a guide to beads, cord and twines. The book is built on the principal that there are 14 basic bent-wire links. The instructions for the basic shapes are shown and then all other links and projects are combinations and variations of this. You will even learn how to make your own jump rings and clasps for the jewelry. For the beginner, that makes tackling large pieces of jewelry accessible. The best part of the book is chapter seven where she has 364 different variations on the basic links that you will use in the projects. All the projects in the book can be completed using that guide. Simple projects from earrings to exquisite necklaces are provided at the end of the book. The format, which is a softcover with durable thick cover, is over 250 full-size pages. The book is full color glossy pages with amazing photography.
A fabulous introduction for a beginner to wire jewelry (like me), but I think this will also be very useful for more experienced crafters. The set of 300+ pictured wire links (accompanied by detailed photos and creation instructions) is invaluable and will probably prompt some creative ideas even for casual browsers.
Okay, some of you know I like to dabble in jewelry. Granted I'll never be showing my stuff on the red carpet (well, unless I install some in my home) but I loved to have fun with it. So, when I had the chance to review this book... I grabbed my tools and took a chance! What I loved about this book is that it went through the complete basics. It shows you how to do simple links, links with beads, and even jump rings. Sometimes that is useful if you want to use the same materials to create an even finish. Along with the basics you also find out how to create more complicated type of wire work and wire work that involves wrapping. It really isn't harder, but it is a bit more involved. It ends with several projects you can do. There are earrings, necklaces and bracelet projects. There is even a section which helps you change parts of a project to make it your own. It was fun and easy and I tried a project myself. Now, I had some tools and just had to get some extra wire. I didn't get anything expensive since I was just trying it out. I tried one of the earring projects... I'd have to say one tool I didn't have was one that holds it without damage. The metal part is usually padded by plastic or nylon. So, I did strip some of the color off the red. However, other than that, it was a fairly easy and quick project.
Learn to create many kinds of jewelry findings from copper wire and beads. Book chapters begin with large photographs; small photographs (missing from the preview copy) demonstrate each step in the process. Clear language and ample white space make this a low-stress, visually appealing introduction. Recommended.
"Easy & Elegant Beaded Copper Jewelry" by Lora S. Irish is one of the best jewelry design books that I have come across in my 8 years of jewelry making. Designing jewelry can be a great career or past time. Knowing the ins and outs of the tools, materials and techniques can save designer headaches from material costs to designing hours. Easy & Elegant Beaded Copper Jewelry takes some of the guess work out of wire designing. This is definitely the must buy book for anyone interested in learning the basics of wire working for creating stunning wire jewelry designs. The books contain some of the most comprehensive how-to content that I have found in one source. Its full color and step by step instructions make designing wire based jewelry a snap. The book does an outstanding job of introduces a new hand-made jewelry designer/crafter to the basic tools of the trade, the assorted styles of beads available and the terms of the industry. The book also does an excellent job of showcasing the many different types of wire wrapping techniques and includes some really awesome designs with complete step by step illustrations on how to change the design to fit one's personal preference. While my library already includes many jewelry designing technique guides, some very good ones and well let's just say some others; I can always use a new one. If you are interested in designing jewelry using wire wrapping techniques, then "Easy & Elegant Beaded Copper Jewelry" is a must. I highly recommend it.
Clear and detailed pictures with easy to follow instructions, make this a great book for a beginner in wire wrapping or beaded jewellery. If you are a little more advanced, fear not, this book has 346 links listed, most with detailed instructions, and some are them are not for the faint hearted beginner! More than just a book of instructions, this is a book of inspiration. Yes, there are projects and detailed instructions, but by giving the reader the tips and tricks and details for each link, Easy & Elegant Beaded Copper Jewelry is opening up the inner jeweler, and harnessing your inner creativity. Excellent book for beginners and a great book for intermediate craft workers fed up with spending hours on the internet trying to work out how to move to the next level.
Honestly I have not had the chance to try out some of the goodies in this book, but I did read the whole thing and I love how it goes step by step with Photos to walk you through each step of each design. I like to make jewelry and have not tried to make anything with just wire, but I plan to very soon. This book is fantastic for people like myself who want to learn the art of Wire bending and making decorative jewelry out of wire. I know it says Copper but you could do these designs with just about any wire I would assume. I am glad I had the chance to review this book, and if your like me and need pictures to see what they are telling you to do then this book is for you. I rate this 5 out of 5.
"Easy and Elegant Beaded Copper Jewelry" is a wonderful book for anyone interested in making their own jewelry. With just a few basic tools and this book full of precise instruction and pictures, anyone can make beautiful jewelry pieces from copper wire and beads for themselves or for others as gifts. The author, Lora S. Irish, starts by introducing the basic tools required. With detailed pictures and instructions, she explains step-by-step how to create over 300 links to transform into beautiful jewelry pieces. She demonstrates many different link/bead and clasp designs to get anyone started in creating their own wire and bead designs. This book would be great for a beginner just starting to make jewelry.
This book reminded me a little of Sara Withers' "The encyclopedia of wire jewellery techniques." However, it is even more detailed and gives even clearer instructions about bending and shaping wire. It consists of three parts. The first is about the necessary tools and materials to create jewelry, the second is about the techniques, the third about projects that you can create with the newly learned abilities. The techniques part is the biggest one and the amount of shapes is incredible. It starts with the easiest side-loop and continues to the most complicated looking spiral links. All shapes are shown with a number of clear and detailed images so that the instructions are easy to follow. All links used in the book are listed in a chart complete with numbers and name of the link. This helps when you get to the projects part. For every project you will find a list of links used, a supply list and instructions. The projects go from easy to elaborate and cover earrings, bracelets and necklaces, either made completely with wire and beads, or with additional cord. I liked how the book was structured, the clear pictures and the overall look of it. I personally prefer silver to copper jewelry, but all instructions can be used for silver wire as well. If you are only interested in creating beautiful bead necklaces using bought wire elements, this book is not for you. If you are looking for a beginner's book for working with wire, this is perfect.
Like most wirework jewelry books, Easy & Begant Beaded Copper Jewelry delivers introductory chapters on tools, supplies, and basic techniques while the back third of the book features step-by-step jewelry designs. But what makes this book a standout is its middle: Chapter 7 is a visual index of no less than 346 wirework links, dangles, focals, clasps, and earring findings, many sporting beads. Pick a design, then pick another to pair with. You'll soon be hatching necklace, bracelet, and earring designs you would have otherwise never dreamed of.
Easy and Elegant Beaded Copper Jewelry by Lora S. Irish is another of many books to teach you how to make jewelry with wire and beads. What sets Lora's book apart from the rest is how she takes you through the basics (tools, materials, and practice pieces) and then sets you on the path to designing your own pieces right away so you can free your inner jewelry artist by the end of the book. Lora says in her book,"modern bent-wire jewelry offers the crafts artisan two very specific features - quick, easy-to-learn techniques and quick-to-complete, unlimited design possibilities." Easy and Elegant Beaded Copper Jewelry helps you learn the 14 simple wire bends. Once you have mastered them, you are ready to begin designing your own wire jewelry with the best feature in this book - thumbnail photos of 346 wire link variations to help you in creating your own designs. This visual resource of ideas will help you to make unique and beautiful bent-wire jewelry. Each project in Lora's book uses some of these 346 wire links as components to form her colorful, elegant pieces. ...thank you Fox Chapel Publishing for sharing this great title with us at Craft Gossip!
Bend, twist, and coil inexpensive, easyto-find wire into beaded copper jewelry. Many jewelry makers like to use real metals, but the price of gold and silver is skyrocketing. Happily, copper is the perfect economical, pliable, and beautiful alternative. With Easy & Elegant Beaded Copper Jewelry by Lora S. Irish, you'll learn all sorts of inspiring ways to create beautiful fashion accessories with a few basic steps, a jewelry-makers tool kit consisting of common household tools (such as a set of pliers, a wire cutter and a ruler), and this most affordable medium. Ample step-by-step photos and easy-to-follow instructions guide you through the creation of chain links, findings, spirals, dangles and a fantastic variety of necklace, bracelet and earring projects, making this an ideal beginner's guide to wirework.
You may also be interested in...
Simply reserve online and pay at the counter when you collect. Available in shop from just two hours, subject to availability.
Thank you for your reservation
Your order is now being processed and we have sent a confirmation email to you at
When will my order be ready to collect?
Following the initial email, you will be contacted by the shop to confirm that your item is available for collection.
Call us on or send us an email at
Unfortunately there has been a problem with your order
Please try again or alternatively you can contact your chosen shop on or send us an email at