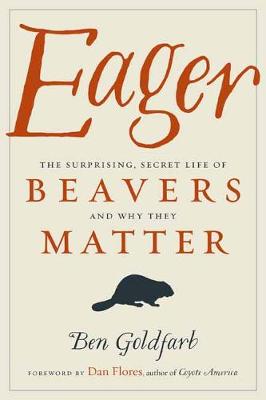 Eager: The Surprising, Secret Life of Beavers and Why They Matter (Hardback)
Ben Goldfarb
(author)
Hardback
240

Pages / Published: 20/07/2018
In Eager, environmental journalist Ben Goldfarb reveals that everything we think we know about what a healthy landscape looks like and how it functions is inaccurate a historical artefact produced by the removal of beavers from their former haunts. Across the Western Hemisphere, a coalition of `beaver believers - including scientists, government officials, and farmers have begun to recognize that ecosystems with beavers are far healthier, for humans and non-humans alike, than those without them, and to restore these industrious rodents to streams throughout North American and Europe. It s a powerful story about one of the world s most influential species, how North America was settled, the secret ways in which our landscapes have changed over the centuries and the measures we can take to mitigate drought, flooding, wildfire, biodiversity loss, and the ravages of climate change. And ultimately, it s about how we can learn to co-exist, harmoniously and even beneficially, with our fellow travellers on this planet.
Publisher: Chelsea Green Publishing Co
ISBN: 9781603587396
Number of pages: 240
Dimensions: 229 x 152 mm
---
MEDIA REVIEWS
"Eager is a revelation! If we only let them live, beavers are the solution to many of our nation's ecological problems. Ben Goldfarb's wonderful book will make you an even bigger fan of these intelligent, inventive, resilient rodents than (if you have any sense) you are already--and might just tail-slap a politician or two into realizing how much we need them to restore our critical wetlands."--Sy Montgomery, author of The Soul of an Octopus and coauthor of Tamed and Untamed
"Eager is the stunning story of beavers--so integral to early human landscapes of North America--and their function in support of people and later the American economy. Literally nature's "Corps of Engineers," beavers today play vital roles in restoring watersheds, landscapes, and flood control throughout the continent. To view them just as a cute animal with a flat tail is to trivialize a central player in both history and modern day landscape ecology."--Thomas E. Lovejoy, University Professor of Environmental Science and Policy, George Mason University
"Eager brilliantly presents the role of the American beaver in shaping the landscape of our continent and preserving its ecological integrity and diversity--and does so in clear, readable prose. My Native ancestors--before the cultural disruptions of the fur trade--saw the beaver people as a nation worthy of the greatest respect. I believe that any thoughtful person who reads this book will come away with a much deeper appreciation of this sacred being's place in the America of the past and, we hope, the future."--Joseph Bruchac, coauthor of Keepers of the Earth
"With the perfect blend of science and storytelling, Ben Goldfarb takes us on a remarkable journey to discover the myriad ways beavers have shaped our landscapes and history--and, if we are willing, could help us fix our broken water cycle. An absorbing and eye-opening book that comes at a crucial time."--Sandra Postel, author of Replenish
"Beavers do matter. Contrary to the popular image of beavers as trouble-making 'varmints' on the land, these hardworking animals play many critical roles in nature, including rewetting creeks in dry country. That might seem counterintuitive--beavers are famous dam builders after all--but as Ben Goldfarb explains in his riveting new book, the engineering prowess of these mighty rodents is essential to healthy riparian areas. And they do their work for free!"--Courtney White, author of Grass, Soil, Hope and Two Percent Solutions for the Planet
"In this beautifully written tribute to beavers, Ben Goldfarb paints a vivid and captivating portrait of two of nature's most fascinating species, Castor canadensis and Castor fiber. Seamlessly combining history, ecology, biology, politics, and compelling stories of those battling over the proper role of beavers in today's anthropocentric world, Eager resoundingly proves that these magnificent rodents do indeed matter a great deal. In so doing, this gem of a book offers hope not only for the beavers' future, but also our own."--Eric Jay Dolin, author of Fur, Fortune, and Empire and Black Flags, Blue Waters
"Beavers are easy to caricature, and they're a bit comical. But they've got their serious side, too. European settlers who cut, plowed, and shot their way west also trapped the country nearly clean of mammals. Almost killing off beavers--the continent's major water engineers and dam builders--caused widespread problems for wildlife and people. Now, though, beavers are on the rebound, and the how and who of that story, as told in Eager, will give you a new and completely different concept of the continent."--Carl Safina, author of The View From Lazy Point and Beyond Words
"This witty, engrossing book will be a classic from the day it is published. No one who loves the landscape of America will ever look at it quite the same way after understanding just how profoundly it has been shaped by the beaver. And even the most pessimistic among us will feel strong hope at the prospect that so much damage can be so easily repaired if we learn to live with this most remarkable of creatures."--Bill McKibben, author of The End of Nature
"Long trapped for their fur and maligned as pests, beavers are finally recognized for their role in keeping water in the landscape. Goldfarb's spirited, well-researched account tells the story of humanity's relationship with beavers and highlights innovative efforts to ally with them to restore rivers and wetlands and boost ecological resilience. Our winsome, paddle-tailed friends could have no better champion."--Judith D. Schwartz, author of Cows Save the Planet and Water in Plain Sight
"There are a number of books that focus on a single species, but the amazing story of the beaver, as told by Ben Goldfarb, is in a class all its own. Dear reader, prepare yourself to be awed by a rodent!"--Tom Wessels, author of Reading the Forested Landscape and Granite, Fire, and Fog
"One of the best things that can be said about a book is that it is both necessary and good. Not many are, but this one is."--Richard Manning, coauthor of Go Wild
"In Eager Ben Goldfarb demonstrates that beavers are more than just a fascinating and mysterious rodent--they're also an 'animal that doubles as an ecosystem.' Optimistic and exciting, the book suggests a future where rather than destroying nature, or trying to dominate it with heavy-handed management, we collaborate with species like beavers to create a wilder, more diverse, and surprising world. Eager will make a Beaver Believer out of you!"--Emma Marris, fellow at the UCLA Institute of the Environment and Sustainability; author of The Rambunctious Garden
"An important and engaging book about the nature of beavers, the forces of nature, and the hubris of humans. While I've read many books about how Homo sapiens extirpated species around the globe historically, and how we've wiped out birds such as turkeys and beasts such as bison and elk in the recent past, I had not read a book about beavers. This book is an eye-opening contribution with great examples of the power of beavers to restore ecosystems."--Fred Provenza, author of Nourishment
Foreword Reviews--
"Environmental journalist Ben Goldfarb's lively and educational Eager: The Surprising, Secret Life of Beavers and Why They Matter shows why beavers should be respected as 'ecosystem engineers.'
Goldfarb is a fan of beavers, but he admits that they are not loved by all. To some, he writes, 'beavers still appear more menacing than munificent.' This book is an excellent antidote to that attitude. It traces the history of beavers, tying their evolution to the colonization of North America, and shows their positive impact on the natural environment. Goldfarb also uncovers how humans who recognize beavers' importance help by relocating them to areas where they can do the most good.
In addition to being enlightening, Eager is filled with unusual beaver-related stories. One can learn about 'the world's largest collection of beaver-themed' items (it's located in Martinez, California), and 'one of the largest beaver relocations ever undertaken' (it took place from 1986 to 1999 to the north of Yellowstone National Park).
Perhaps most interestingly, Eager addresses both the positives and negatives of the beaver-human-ecology relationship in a thought-provoking way. Goldfarb ponders important issues, suggesting, for example, 'whether it's appropriate to build artificial beaver dams in national parks is an ethical question as much as a scientific one.' He also discusses the possible downside of beaver-based restoration: 'The landscapes where beavers can do the most good aren't always ready for them.'
The author perceptively and eloquently concludes that, while beavers were almost obliterated in the early twentieth century and were saved by humans, now 'it's we who need their help--to store and clean water, to rebuild flood defenses, to repair degraded rivers, to revive biodiversity.'
Eager offers rare insight into the history of beavers and their behavior, qualities, and characteristics. Even more importantly, Eager explores the animals' complex relationship with humans, and the essential role they play in developing ponds and streams that support wildlife."
Publishers Weekly-
"In this diverting volume, environmental journalist Goldfarb sings the praises of beavers, who, though 'targets of a multicentury massacre' and besieged by urban sprawl, still manage to 'flourish... not only in Walmart parking lots, but in stormwater ponds and golf course water hazards.' He sheds light on beaver habits and habitats in the United States, England, and Scotland, focusing on the roles they play within ecosystems and likening them to 'ecological and hydrological Swiss Army knives, capable, in the right circumstances, of tackling just about any landscape-scale problem." Chapters deal, for instance, with how beavers approach infrastructure and build dams by laying foundations with "mud, stones and sticks set perpendicular to the stream's flow.' Goldfarb also acknowledges the mischief beavers can create, recounting the tale of a beaver who gnawed through fiber-optic cable and knocked out cell phone service in Taos, N.Mex., and a beaver 'barging into a Maryland department store and rifling through its plastic-wrapped Christmas trees.' Goldfarb also calls attention to the work done by dedicated wildlife biologists, scientists, land managers, and other self-proclaimed 'beaver believers' like Heidi Perryman, founder of the nonprofit Worth a Dam, a 'comprehensive clearinghouse for beaver science and coexistence techniques.' These folks lend personality to an affectionate portrait of these 'hardy rodents.'"
Kirkus, Starred Review--
"Unlike a children's book that makes beavers seem like cute little dam builders, this one takes a serious look at the creatures and their critical importance to ecosystems across North America. Goldfarb, a freelance environmental journalist with a master's degree in environmental management, takes readers from the days of the fur trade, which drew trappers and then settlers across the continent and saw beavers killed by the millions, to current conservation efforts. As he reports, the disappearance of beavers altered the landscape dramatically, drying up wetlands, killing off species, fostering erosion, and changing the courses of streams. While the focus is on North American beavers, the author also offers a brief look at a sister species in Great Britain and conservation efforts there. To research this book, Goldfarb traveled widely with scientists, activists, naturalists, wildlife managers, engineers, cattle ranchers, and beaver rescuers and re-locaters, and he shares his findings in lucid and entertaining prose. Beavers, he writes in his introduction, 'are ecological and hydrological Swiss Army knives, capable, in the right circumstances, of tackling just about any landscape-scale problem you might confront. Trying to mitigate floods or improve water quality? There's a beaver for that. Hoping to capture more water for agriculture in the face of climate change? Add a beaver. Concerned about sedimentation, salmon runs, wildfire? Take two families of beaver and check back in a year.' The author consistently convinces readers of the truth of this assessment. It's vital, he writes, that we learn to coexist with these ecosystem engineers because they can help restore our rivers, forestall the loss of biodiversity, and reduce the damages of climate change. An eight-page photograph insert further brings beavers and their world to life. Filled with hard facts and fascinating people (and animals), this is an authoritative, vigorous call for understanding and action."
Booklist, Starred Review--
"Envision a perfect stream. Most people picture a clear, fast-moving creek with a narrow course and lots of rocks. This vision, award-winning environmental journalist Goldfarb informs us in this fresh, historically grounded look at North America's largest rodent, is wrong. Before the ' furpocalypse, ' during which trappers decimated the once enormous beaver population, streams were mostly murky swamps backed up to cover several acres by beaver-built wooden dams and dotted with beaver lodges constructed out of sticks. The disappearance of beavers severely altered watersheds and contributed to the drying of the West. After attending a conference on beaver ecology, Goldfarb became a beaver acolyte and here writes eloquently of the return of this industrious, habitat-enriching animal, its conflicts with humans and their property, and of the ways both elegant and Rube Goldbergian in which beaver and human needs can be balanced. Goldfarb traveled the country to observe researchers, beaver damage mitigators, county engineers, hydrologists, and wildlife biologists, all working with beavers and studying their positive effects on ecosystems from the western deserts to the replenishing forests of the east. Beavers are kind of magical, Goldfarb tells us: they can make wetlands appear."
"This book lodges itself among the ranks of the best sort of environmental journalism."--The Boston Globe
Library Journal--
"Environmental journalist Goldfarb makes the case that beavers are a keystone species vital for ensuring healthy ecosystems. For example, beaver lodges have proven to be instrumental in trumpeter swan survival as they provide an elevated habitat that deters prey. Beavers can also create their own food source by damming waterways to promote both aquatic plant and fish growth. Yet, their notoriety as a nuisance species is hard to overcome, even given their important ecological role. Goldfarb introduces us to beaver advocates; environmental activists determined to reverse this negative perception; engineers who construct flow devices that enable beaver dams to coexist with human landscapes, ecologists who have uncovered the important niche the species have in ecosystems, and scientists who have unearthed evidence proving that beavers have a long history in the United States. Beginning with the early fur traders who depleted beaver populations and leading to those attempting to reverse the negative opinion about beaver's detrimental influence, this comprehensive book provides a well-rounded consideration of a frequently misunderstood species. VERDICT: Even if you don't think you have an opinion on beavers, this engaging book will make you a beaver believer."
"Eager takes us inside the amazing world of nature's premier construction engineer...and shows us why the restoration of an animal almost driven to extinction is producing wide-ranging, positive effects on our landscapes, ecology, and even our economy."--National Geographic
You may also be interested in...
Simply reserve online and pay at the counter when you collect. Available in shop from just two hours, subject to availability.
Thank you for your reservation
Your order is now being processed and we have sent a confirmation email to you at
When will my order be ready to collect?
Following the initial email, you will be contacted by the shop to confirm that your item is available for collection.
Call us on or send us an email at
Unfortunately there has been a problem with your order
Please try again or alternatively you can contact your chosen shop on or send us an email at