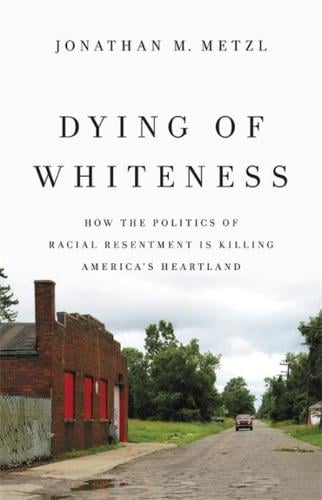 Dying of Whiteness: How the Politics of Racial Resentment Is Killing America's Heartland (Hardback)
Jonathan M. Metzl
(author)
Hardback
352

Pages / Published: 28/03/2019
Dying of Whiteness is What's the Matter with Kansas but with an emphasis on public health. In the backlash conservatism of the Trump era, physician Jonathan M. Metzl argues that lower- and middle-class white Americans who vote for policies that promise to protect their embattled "way of life," in fact damage their own health and well-being. Through focus groups and interviews with ordinary Americans and statistical analysis of population health and life expectancy, Metzl shows how anti-government and pro-gun policies win support due to white racial resentment, and how such policies raise mortality risks for white Americans and for our society as a whole.
Metzl's quest to understand the health implications of what he calls "backlash governance" focuses centrally on three hot-button issues: the spread of pro-gun laws supported by the NRA, efforts to oppose and repeal of the Affordable Care Act (ACA), and sweeping cuts to taxes and public spending. Raised in Missouri and Kansas and a long-time resident of Tennessee, he focuses on these three states, each of them once known for bipartisan cooperation but more recently dominated by conservative ideologues. In Missouri, a state that dramatically relaxed once-strict handgun laws, he speaks with families of gun suicide victims and documents soaring rates of death and injury by gun. In Tennessee, once a pioneer in healthcare provision, he examines the ramifications of the state's intense resistance to the ACA's Medicare expansion, embodied by one man who refused to sign up for "Obamacare" even as he was dying of Hepatitis C. And in Kansas, he shows how enormous income tax cuts led to extreme austerity in the state's public schools, increasing drop-out rates and reducing life expectancy among black and white alike.
With President Trump's election and other Republican victories in 2016, these state-level controversies have become national flashpoints-and, Metzl argues, the health risks that accompany a politics warped by racial resentment have only grown. To move forward, we must understand how systems of racial hierarchy hurt us all, and that policies promising to shore up the position of whites at the expense of minorities will only hasten our demise.
Publisher: INGRAM PUBLISHER SERVICES US
ISBN: 9781541644984
Number of pages: 352
Weight: 540 g
Dimensions: 240 x 158 x 38 mm
---
MEDIA REVIEWS
"Dying of Whiteness unveils how the very policies marketed to white people as 'making America great again' end up harming the well-being of whites as a demographic group. This is must reading for anyone interested in understanding the current racial landscape of the United States."--Jelani Cobb, Ira A. Lipman Professor of Journalism, Columbia Journalism School
"In this paradigm-shifting tour de force, Jonathan M. Metzl brilliantly illuminates the shocking ways that white supremacy, through backlash governance, kills white people too. Moving deftly between mountains of data and compelling storytelling, Dying of Whiteness makes a vital contribution to our national conversation about racism and its discontents. Metzl uncovers the contemporary paradox of whiteness: a struggle to preserve white privilege in the midst of the declining value of whiteness. This is a must-read if you want to understand how race and the color line operate in twenty-first-century America."--Dorian Warren, president, Community Change, and co-chair, Economic Security Project
"Policy makers, scholars, and the public at large need to read Jonathan M. Metzl's Dying of Whiteness. He forcefully but with empathy demonstrates how poor and working class whites are literally killing themselves by supporting policies on guns, health care, and taxes framed as defending white authority but which, in truth, benefit the white elite."--Eduardo Bonilla-Silva, James B. Duke Professor of Sociology, Duke University
"As a progressive Missouri state legislator, I applaud Jonathan M. Metzl's dive into policies and agendas which are destructive to those most in need. He is correct in that racial resentment is the primary reason Medicaid expansion was not allowed to be debated on the House floor the past eight years. He is also correct in exposing racism as a primary reason why my home state of Missouri has loosened gun restrictions even though suicides, accidental, and domestic shootings have skyrocketed in every zip code-including in predominantly white areas. Racial overtones also color healthcare and gun legislation debates in the Capitol, as well as many lobbying efforts. Dying of Whiteness boldly exposes the devastating consequences of these politics for everyone, and calls on us to push back against racial resentment for the benefit of all."--Hon. Stacey Newman, Missouri House of Representatives, 2010-2018
"Jonathan M. Metzl goes to Missouri, Tennessee, and Kansas to understand why people support gun, health, and school policies they will suffer from. An informative snapshot of how 'the other half' live and die."--Dr. Alfredo Morabia, editor-in-chief, American Journal of Public Health
"In his pathbreaking and provocative book, Jonathan M. Metzl draws on his dual acuity as physician and social scientist to help make sense of the urgent issue of our time: how individuals not only act against their self-interests, but also support policies that contribute to their own early demise. A threadbare social safety net, further unraveled by virulent racism, has given way to an ailing body politic. Empathetic and poignant, this vital work exposes how an investment in whiteness works to the deficit of us all."--Alondra Nelson, Columbia University and Social Science Research Council
"Copious data have long shown us the deadly effects of racist health policies on African Americans. But in Dying of Whiteness, Jonathan M. Metzl powerfully shows us this coin's reverse: the deadly effects on white populations of contemporary policies promulgated by vengeful politicians to 'restore' an imaginary white superiority, and embraced by resentful, marginalized whites. Dying of Whiteness illuminates the dual devastation wrought by policies that limit access to care for the poor of every race."--Harriet A. Washington, author of Medical Apartheid
"Groundbreaking.... Metzl methodically and adeptly marshals statistical evidence that policies promising to bolster white Americans' status have instead made life 'sicker, harder, and shorter' for all."--Publishers Weekly (starred review)
"Traveling through the American heartland, a physician deconstructs how right-wing policies have fatal consequences, even for the voters they purport to help. Metzl paints a blistering portrait of a subculture so in thrall to racist ideology that they willingly invite raising gun suicides, poor healthcare, and falling life expectancies."--Esquire
"A provocative, instructive contribution to the literature of public health as well as of contemporary politics."--Kirkus Reviews
"Dying of Whiteness brilliantly demonstrates the tremendous impediment that white racism and backlash politics pose to our society's wellbeing, at a time when many white Americans quite literally would rather die than support policies they see as benefiting people of color. Jonathan M. Metzl issues an urgently needed call to acknowledge the deadly toll of investing in whiteness-and to work collectively toward a just society that would be healthier for everyone."--Dorothy Roberts, author of Killing the Black Body
"Here is the diagnosis, America, and it's not reassuring: failing health, falling graduation rates, guns everywhere. Our fantasies are driving us to an early grave, and Jonathan M. Metzl is lucid and careful and mercifully clinical in telling us exactly how this public health disaster came to be. Read it today: there's still time before the autopsy."--Thomas Frank, author of What's the Matter With Kansas? and Listen, Liberal
"Remarkable...Through field interviews, research and public-health data, Metzl shows that whites are harming themselves along with everyone else, and in drastic ways...A weighty but smooth read, devoid of polemics or jargon."--Minneapolis Star Tribune
"Provocative... brings a unique blend of psychiatric insight and data analysis -- as well as some nifty philosophical insights into what people mean by concepts of risk, cost, and community -- to a problem that will no doubt persist even beyond our current presidency."--Boston Globe
You may also be interested in...
×
Download the Waterstones App
Would you like to proceed to the App store to download the Waterstones App?
Simply reserve online and pay at the counter when you collect. Available in shop from just two hours, subject to availability.
Thank you for your reservation
Your order is now being processed and we have sent a confirmation email to you at
When will my order be ready to collect?
Following the initial email, you will be contacted by the shop to confirm that your item is available for collection.
Call us on or send us an email at
Unfortunately there has been a problem with your order
Please try again or alternatively you can contact your chosen shop on or send us an email at