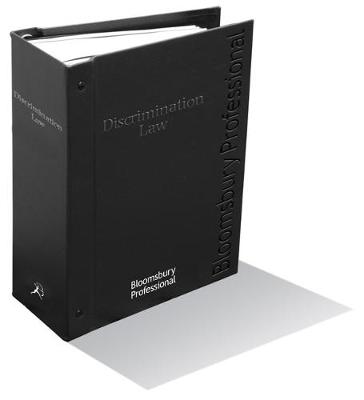 Loose-leaf
Published: 06/07/2006
Can be ordered from our supplier
This established, comprehensive and regularly updated work covers every aspect of discrimination law and follows the structure of the Equality Act 2010. Written by a team of experts in discrimination and equality law, it gives practical and detailed advice on the full range of legal equality issues. Completely restructured to follow Equality Act 2010: Following the enactment of the Equality Act 2010, Discrimination Law has been redesigned and reissued in its entirety to assist readers in navigating the various sections and Schedules of the EA10, as they apply in any given set of circumstances. Within this structure it considers discrimination in the arenas of employment law, goods and services, housing, education, and transport services across the fields of sex, race, disability, religious and sexual orientation discrimination, equal pay, and EU equality law. It also retains its very helpful commentary on practice and procedure including its own guideline to the amount of awards in discrimination claims. The restructured service will cover the provisions of the EA 2010 as it pertains to every area of discrimination law. Readers can now take advantage of a complete guide to the law as it develops under the consolidating equalities statute and associated secondary legislation together with in-depth commentary on applicable case law and practical guidance on complex areas. Helping you get to grips with characteristics of the new system: Specific sections are now included on each of the protected characteristics in the EA 2010 while discrimination concepts which are common are addressed in the opening chapters. Common concepts are considered in detail at the outset, with special sections on matters specific to some aspects of discrimination. For each protected characteristic the legacy case law is now summarised in one place with extensive cross-referencing in brief but helpful footnotes. All this provides you with a clear understanding of how the law relates to any specific circumstance as it arises in practice. Content of each issue: Editor's Bulletin; What's in force; What's not yet in force?; Recent legislative developments; Recent case law developments; Changes to the law in respect of the protected characteristics; Changes to the law in respect of the different forms of discrimination, and in respect of victimisation, harassment and equal pay; Changes to the law in respect of the areas of coverage of the Equality Act 2010; Changes to the law in respect of remedies; Any new statutes, statutory instruments or Codes of Practice.
Publisher: Bloomsbury Publishing PLC
ISBN: 9781845928667
You may also be interested in...
We would love to hear what you think of Waterstones. Why not review Waterstones on Trustpilot?