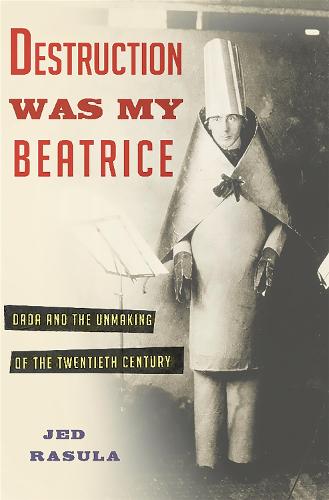 Destruction Was My Beatrice: Dada and the Unmaking of the Twentieth Century (Hardback)
Jed Rasula
(author)
Hardback
384

Pages / Published: 02/06/2015
In 1916, as World War I raged around them, a group of bohemians gathered at a small cabaret in Zurich, Switzerland. After decorating the walls with art by Picasso and other avant-garde artists, they embarked on a series of extravagant performances. Three readers simultaneously recited a poem in three languages a monocle-wearing teenager performed a spell from New Zealand another young man sneered at the audience, snapping a whip as he intoned his Fantastic Prayers." One of the artists called these sessions both buffoonery and a requiem mass." Soon they would have a more evocative name: Dada.In Destruction Was My Beatrice , modernist scholar Jed Rasula presents the first narrative history of Dada, showing how this little-understood artistic phenomenon laid the foundation for culture as we know it today. Although the venue where Dada was born closed after only four months and its acolytes scattered, the idea of Dada quickly spread to New York, where it influenced artists like Marcel Duchamp and Man Ray to Berlin, where it inspired painters George Grosz and Hannah Hoech and to Paris, where it dethroned previous avant-garde movements like Fauvism and Cubism while inspiring early Surrealists like Andre Breton, Louis Aragon, and Paul Eluard. The long tail of Dadaism, Rasula shows, can be traced even further, to artists as diverse as William S. Burroughs, Robert Rauschenberg, Marshall McLuhan, the Beatles, Monty Python, David Byrne, and Jean-Michel Basquiat, all of whom,along with untold others,owe a debt to the bizarre wartime escapades of the Dada vanguard.A globe-spanning narrative that resurrects some of the 20th century's most influential artistic figures, Destruction Was My Beatrice describes how Dada burst upon the world in the midst of total war,and how the effects of this explosion are still reverberating today.
Publisher: Basic Books
ISBN: 9780465089963
Number of pages: 384
Weight: 640 g
Dimensions: 238 x 160 x 36 mm
---
MEDIA REVIEWS
New York Times Book Review Editors' Choice Wall Street Journal "Detailed and entertaining... Mr. Rasula captures the madcap history of this movement, born in one war and dissolved by another. The first group history of Dada, Destruction Is My Beatrice draws on letters and memoirs in several languages and archival debris from the cities to which the movement spread." New York Times Book Review "Rasula uncovers why Dada didn't expire along with the isms it either spawned or incorporated... One of [his] insights is to reveal Dada's kinship to jazz, and thus to the specifically American 'modernist' outlook that blossomed throughout the century but was more acceptable in Europe than in its birthplace ... [a] meticulous investigation." The Economist "An eloquent new history." Washington Post "Excellent and comprehensive... Rasula handles his deeply researched material fluidly. He harnesses many fine details and puts them in a larger context. The result is a book that ultimately humanizes what might seem like a senseless and antagonistic period of art history." Daily Beast "It's quite a feat to recapture the thrill of a century-old cultural insurgency, but Jed Rasula pulls it off with gusto in Destruction Was My Beatrice, a marvelous history of the non-art non-movement that dynamited complacency and conventionality across Europe and across the Atlantic in New York for a few heady years during and after World War I. Rasula enfolds Dada's inconsistencies and eccentricities in a lover's embrace while treating its key people, publications, exhibitions, and events to the informed assessment of a scholar." Los Angeles Review of Books "Rasula's brilliant work of art history tells the story of the people, places, and ideas of Dada, and its long-lasting impact on our world... Rasula's primary goal is to place Dada in an artistic and political context, but beauty and fun were as much a part of the movement as its history, and so it is only fitting that the author include fun and beauty in his prose. Nonetheless, an art movement without the art is just a party -- therefore the historian must also be a critic, interpreting as well as narrating for his reader. And Rasula as a critic is Rasula at his best. Without Rasula's insightful perspective on the work, the story of Dada would have all the significance of barroom braggadocio, but he shows how the movement revalued the possibilities of art in the world." Pittsburgh Post-Gazette "Well researched and engagingly written." Brooklyn Rail "Adroitly weaving historical and cultural analysis with engaging cosmopolitan anecdotes, Rasula has created a big, rich, amiably peopled work of art history that also happens to be as entertaining as a novel. This is not to slight its academic rigor; rather, Destruction is that rare bird of scholarly work that is both impeccably researched and compulsively readable, a bona fide page-turner that isn't afraid to show off its erudition." Shelf Awareness "[An] insightful contribution to art history... Filled with fascinating details and memorable personalities. A thoroughly enjoyable and accessible history of Dada." Library Journal "This comprehensive study covers everything from the irreverence of the art and performances to fights among key players. [A] detailed look into the rise and fall of Dada." Publishers Weekly "Rasula's focus on Francis Picabia and Kurt Schwitters covers new ground in addition to illustrating how well-known artists such as Man Ray, Max Ernst, and Marcel Duchamp fit into the collective movement. The book is also a fascinating history of place, as it traces the spread of Dada from the cabarets of Switzerland to the cafes of Paris, art fairs of Berlin, and galleries of New York. This accessible yet rigorous and comprehensive study outlines the history of a movement whose irreverence and inventiveness still influence our world today." Kirkus Reviews "This comprehensive study of artists, exhibits, writings, and events is a heady trip... A well-researched survey that shows the scope of Dada and its influence on the art world." Greil Marcus, author of Lipstick Traces "'Only imbeciles and Spanish professors care about dates,' Hans Arp once wrote about Dada. Jed Rasula knows about dates, but unlike so many, he feels Dada on his skin. He writes and thinks from inside this crystallization of modernism, and he can follow its light anywhere." Geoffrey O'Brien, author of Sonata for Jukebox and Stolen Glimpses, Captive Shadows "Jed Rasula's mercurial curiosity and awesome erudition make him the ideal guide to that brief, mysterious moment when Dada became an international phenomenon whose provocations continue to reverberate. The exhilarating collaborations and equally frequent conflicts among a cast of amazing personalities make for a compelling and eye-opening narrative." Anne-Marie O'Connor, author of The Lady in Gold: The Extraordinary Tale of Gustav Klimt's Masterpiece, Portrait of Adele Bloch-Bauer "A fascinating, splendidly detailed portrait of an era when poems and paintings mattered, vividly peopled by the stars of the incendiary artistic movement whose liberating legacy can be felt in the work of everyone from T.S. Eliot and James Joyce to the Beatles and Talking Heads. In an art world overshadowed by celebrity brands and market valuations, Jed Rasula allows us to relive a moment when artists promised to be 'thoroughly new and inventive' and 'rewrite life every day.'" Marjorie Perloff, author of The Futurist Moment: Avant-Garde, Avant-Guerre, and the Language of Rupture "Dada: a familiar word we all toss around. But who were the Dadaists really? What did they accomplish? How did Dada relate to other avant-garde movements like Constructivism? Was Dada a historical phenomenon or is it a state of mind? The great feat of Jed Rasula's extraordinarily lively and compelling narrative is to defamiliarize Dada so that we see its evolution as if for the first time. A genuinely delightful book!" Francis M. Naumann, curator and author of The Recurrent, Haunting Ghost: Essays on the Art, Life and Legacy of Marcel Duchamp "An informative, lively, and entertaining narrative of Dada. A virtual biography of an enormously influential art movement on the 100th anniversary of its birth." Timothy O. Benson, Curator, Robert Gore Rifkind Center for German Expressionist Studies, Los Angeles County Museum of Art "A readable narrative that rejoices in the spirit of Dada's fleeting existence, never alighting on the precast definitions that have often shackled previous explanations. Rasula brings the Dadaists to life in vivid accounts of their interactions, aspirations, mishaps, and triumphs."
You may also be interested in...
×
Download the Waterstones App
Would you like to proceed to the App store to download the Waterstones App?
Reserve online, pay on collection.
Or,
add to basket
, pay online, collect in as little as 2 hours, subject to availability.
Thank you for your reservation
Your order is now being processed and we have sent a confirmation email to you at
When will my order be ready to collect?
Following the initial email, you will be contacted by the shop to confirm that your item is available for collection.
Call us on or send us an email at
Unfortunately there has been a problem with your order
Please try again or alternatively you can contact your chosen shop on or send us an email at