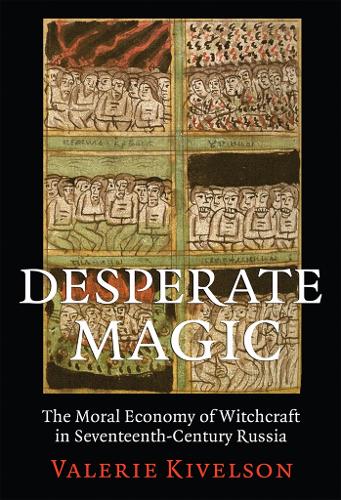 Desperate Magic: The Moral Economy of Witchcraft in Seventeenth-Century Russia (Hardback)
Valerie A. Kivelson
(author)
Hardback
376

Pages / Published: 02/10/2013
In the courtrooms of seventeenth-century Russia, the great majority of those accused of witchcraft were male, in sharp contrast to the profile of accused witches across Catholic and Protestant Europe in the same period. While European courts targeted and executed overwhelmingly female suspects, often on charges of compacting with the devil, the tsars' courts vigorously pursued men and some women accused of practicing more down-to-earth magic, using poetic spells and home-grown potions. Instead of Satanism or heresy, the primary concern in witchcraft testimony in Russia involved efforts to use magic to subvert, mitigate, or avenge the harsh conditions of patriarchy, serfdom, and social hierarchy.
Broadly comparative and richly illustrated with color plates, Desperate Magic places the trials of witches in the context of early modern Russian law, religion, and society. Piecing together evidence from trial records to illuminate some of the central puzzles of Muscovite history, Kivelson explores the interplay among the testimony of accusers, the leading questions of the interrogators, and the confessions of the accused. Assembled, they create a picture of a shared moral vision of the world that crossed social divides. Because of the routine use of torture in extracting and shaping confessions, Kivelson addresses methodological and ideological questions about the Muscovite courts' equation of pain and truth, questions with continuing resonance in the world today. Within a moral economy that paired unquestioned hierarchical inequities with expectations of reciprocity, magic and suspicions of magic emerged where those expectations were most egregiously violated.
Witchcraft in Russia surfaces as one of the ways that oppression was contested by ordinary people scrambling to survive in a fiercely inequitable world. Masters and slaves, husbands and wives, and officers and soldiers alike believed there should be limits to exploitation and saw magic deployed at the junctures where hierarchical order veered into violent excess.
Publisher: Cornell University Press
ISBN: 9780801451461
Number of pages: 376
Weight: 794 g
Dimensions: 235 x 156 x 28 mm
---
MEDIA REVIEWS
"Kivelson has produced a thorough study of witchcraft trials in 17th-century Russia that draws on over 200 court cases and a wealth of scholarship unavailable in English. She employs the concept of 'moral economy' to emphasize the function of witchcraft in early modern Russia's social hierarchy, with accusations erupting at points of tension and trials serving to police and preserve a rigid sense of order that proceeded from God to czar to subjects. The author examines prescriptive religious and political documents, trial procedure and the use of torture, and various gender and class dynamics at play in the extant records. Kivelson carefully considers the broader literature on early modern witch-hunts, demonstrating that the Russian cases defy patterns observed in western Europe. She highlights contrasts between Latin and Orthodox intellectual frameworks, finding Russians far less interested than their western counterparts in sorting out theological inconsistencies. Broadly suggestive regarding the relationships among religion, law, political culture, and social relations, the book will be valuable for a variety of specialists. Summing Up: Recommended." -J.W. McCormack, Choice (June 2014)
"Desperate Magic is a good value, reasonably priced considering the fact that it has color plates. It has a good bibliography and index and would be an excellent choice for a graduate seminar on the cross-cultural analysis of witchcraft and witch-hunting"-William E. Burns, Sixteenth Century Journal (Autumn 2014)
"Desperate Magic is a triumphant crowning of years of careful work and wide-ranging inquiry. It is a milestone in the study of witchcraft in the European east, and it will certainly give those who work on the "centers" much to ponder."-David Frick, Slavic Review (Winter 2014)
"Valerie Kivelson has provided the goods splendidly here, filling out another corner of our picture of Europe's witch hunts with a fine study which is the more important for the manner in which so many of its features run counter to the continental norm."- Ronald Hutton, Pomegranate: The International Journal of Pagan Studies (2014)
"Early modern Russia shared with its European neighbors an intense fear of witches. Yet the characteristics of witches and witchcraft in Russia sharply diverged from those most frequently identified in the West... In articles over the past twenty years Valerie Kivelson has developed new approaches to this topic. In this long-awaited monograph, Kivelson goes further, enunciating an original and compelling thesis about the occurrence of witchcraft in early modern Russia."-Eve Levin, Nova Religio (February 2015)
"In her new monograph, Valerie Kivelson fulfils the promise of her earlierarticles on Russian witchcraft by producing an impressive study of the subject.Kivelson's work is grounded in the analysis of two hundred and thirty trialsinvolving about five hundred people-the most exhaustive list of seventeenth-centurycases yet compiled. Though the examination of the cases themselveswould be a considerable contribution to the field, the book also serves as aninsightful investigation into the nature of Russia's social fabric in one of its most pivotal centuries. . . . [Desperate Magic] is exhaustive in its breadth, informative in its erudition,and inspiring in its ability to raise new questions about Russian history.Both scholars of witchcraft and of early modern Russia have much tolearn from her work."-Matthew Romaniello, English Historical Review (October 2015)
"Full of material that illuminates fascinating corners and major issues in late-Muscovite Russia, the author's latest book is the definitive source for information on witchcraft and witch trials in the seventeenth century.... Kivelson makes the reader think more about how hierarchy and protection worked in Muscovy and when and how they failed to keep social order." -Robert W. Thurston, The Historian (78:1)
"Desperate Magic is an outstanding achievement from a brilliant and erudite scholar who has a knack for interpreting historical facts in a highly original fashion. Valerie Kivelson provides a chilling analysis of a society bound by a strict but fragile hierarchical system based on patriarchy, patronage, bondage, and social inequality, in which magic played a formidable role. She sets the Muscovite story squarely within a comparative framework, delineating both the features that seventeenth-century Russian witchcraft shared with other societies and its unique characteristics. Desperate Magic will appeal to anthropologists and historians of witchcraft around the world as well as to a broader audience."-Christine D. Worobec, Board of Trustees and Distinguished Research Professor Emerita, Northern Illinois University, author of Possessed: Women, Witches, and Demons in Imperial Russia
"Desperate Magic will surely take its place as a major resource for understanding the hitherto understudied world of late medieval Muscovite witchcraft. Based on incisive analyses of hundreds of documented secular court cases, Valerie Kivelson's in-depth study reveals an extraordinary tapestry of spells, potions, herbal remedies, and magic identified primarily with male witches. These all-knowing ved'my have little truck with the diabolism and anarchy so commonly associated with Western European witchcraft. Rather they emerge as threats to the perceived fragility of the moral order of society, top to bottom. The book stands as a compelling testament to the intricate complementarities of Muscovite and Western European witchcraft."-Michael S. Flier, Oleksandr Potebnja Professor of Ukrainian Philology, Harvard University
You may also be interested in...
Simply reserve online and pay at the counter when you collect. Available in shop from just two hours, subject to availability.
Thank you for your reservation
Your order is now being processed and we have sent a confirmation email to you at
When will my order be ready to collect?
Following the initial email, you will be contacted by the shop to confirm that your item is available for collection.
Call us on or send us an email at
Unfortunately there has been a problem with your order
Please try again or alternatively you can contact your chosen shop on or send us an email at